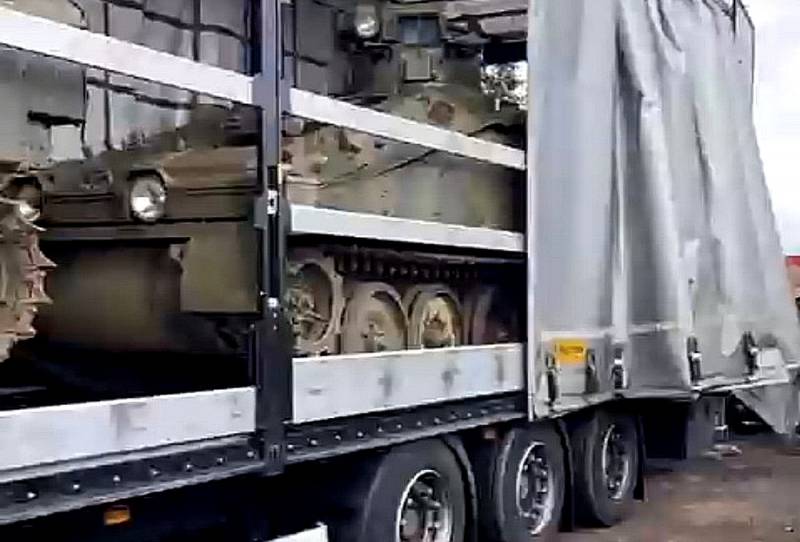 Kyiv uses civilian vehicles to deliver military equipment from the territory of neighboring countries. A video with British armored vehicles loaded into the cars of the Ukrainian company Nova Poshta appeared on the Web.
The Ukrainian "Nova Poshta", which unites logistics companies, operates not only in Ukraine, but also in Poland, and also plans to open its representative offices in Germany, the Czech Republic and Romania. This is very convenient for the transfer of military equipment and various weapons to Ukrainian territory. Russian troops, even knowing about the transfer of equipment, will not strike at civilian vehicles.
The video, which was distributed by Ukrainian resources, shows how British Spartan armored vehicles are placed in civilian trucks so that the nature of the cargo being transported is not visible. On board one of the trucks, the red symbol of the Nova Poshta company is clearly visible. The use of conventional vehicles allows you to hide the real number of transferred to Kyiv
weapons
and armored vehicles, the transportation itself cannot be tracked either from satellites or from
drones
.
In August last year, footage of the placement of armored vehicles in civilian trucks for transfer to Ukraine also appeared on the Web. As you know, all Western military equipment, weapons and ammunition are first delivered to Poland, which acts as a logistics hub, and then delivered to Ukraine by rail or road.
Earlier it was reported that a special repair unit of the US Army was deployed to Poland, whose task is to dismantle military equipment so that it can be brought to Ukraine by civilian vehicles.