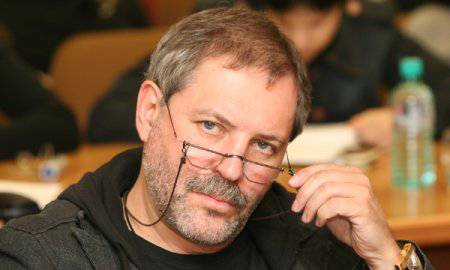 We used on the cover the image of the respected Gennady Grigorievich Onishchenko - Chief Medical Officer - not so much due to his growing personal danger (which even Duma deputies noticed now), but rather because this image most clearly and accurately embodies the last trends in Russian politics.
The opinion is spreading before our eyes that, as a result of various toughening and invasion of legislation, Russia becomes almost a totalitarian state in the moral and ethical sphere and is about to fall into the Middle Ages. It is obvious to any unbiased observer that this is utter nonsense. Both the state of society, and the state of the state and its institutions absolutely exclude any "toughening" that is significantly tangible at the household level. Even if the mentioned law-making and the truth would contain any signs of a real tightening. It is impossible to tighten the liquid jelly. The matter is much worse: literally before our eyes, the whole process of state-building, which has noticeably intensified recently, covers an increasingly dense veil of paranoia and idiocy. It seems that someone specifically wants to make senseless and caricature the whole, even quite rational, activity of the current government.
The starting point, perhaps, can be called the abolition of the ppm, that is, the allowed blood alcohol limit for drivers. We will not repeat the arguments of kefir, kvass and autogenic alcohol that have not been refuted by anyone. One thing is certain: a person with these permissible ppm is certainly not drunk. From the point of view of a normal person. From the point of view of the manic fighter for sobriety mentioned Onishchenko, a person who drank any dose of alcohol is drunk for a month, and a person who drank once a year, the next eleven months may not be drunk, but should be considered a drinker. When such concepts form the basis of regulation, this can be regarded solely as a mockery. Not to mention that this concept completely excludes the possibility of harsh punishment for really drunk drivers. It is characteristic that attempts at a completely official level to return the situation from a manic to a normal plane did not have success.
The next step in the chosen direction was the introduction of the annual time. I remember that it was motivated by the problems of adaptation of people and cows, who allegedly could not understand when to milk them. After the blessing was not appreciated even by the happy cows, attempts were made to return time to its natural state. However, for some reason, they again did not result in any result.
In the current political season, even a certain fashion for idiocy suddenly appeared. Lawmaking has acquired a reflex character. The creators simply read a summary of the incidents and initiate tightening prohibiting measures for each. The fashion for idiocy leaves an imprint on everything, in principle, sound actions, be it a law on the protection of the feelings of believers, control over criminal activities on the Internet, etc.
However, compulsory labeling of information products by age restrictions became the height of insanity. This seemingly harmless and harmless event with completely ridiculous and absurd designations on old cartoons and Soviet film classics, on concert posters of classical music, flickering daily and every minute in front of the eyes of the population, gives reality a smack of light but constant idiocy. The easiest way to make sense
news
a program? It's pointless to stick an age restriction on it. At least 15+, at least 90–. In this atmosphere, any phenomena of reality, minor incidents and domestic incidents, acquire new and far-reaching meanings. What is the campaign to combat the Dagestan-Azerbaijani wedding shooting in the air? Domestic hooliganism takes on the size of almost an inter-civilizational conflict. And then the lawyer of the deceased Agafonov in the Mirzaev case, in response to a legally correct sentence, states that this, they say, is a signal that now Russian guys can be killed with impunity. I wonder how the defense line would be built, if Agafonov were, for example, a Jew? Or an Armenian? Though the Zulus? It was worth the "lawyer of the year" psychopath Vinogradov to carry out a massacre in the office, immediately followed the initiative to strengthen control over the legal
weapons
. Comrades do not know that the murderer, even if he is a psychopath, absolutely useless to legalize their weapons. Just as it is no secret that getting the left barrel in Russia is not a big problem. A legal weapon is needed just for those who are going to use it in self-defense. Including from a psychopath like Vinogradov.
The anti-tobacco bill is in this series separately. More precisely, it stands a separate boulder. To repeat: we have nothing against sensible sound measures to limit the spread of smoking, especially among children, and to protect those who really want it from the unpleasant effects of tobacco. However, a legislative repressive ban on smoking by smokers where it does not violate anybody's rights is an unacceptable and unacceptable interference with a person's personal space. To which no one and no one gave the right. This is a precedent, and extremely dangerous, the possibility of such intervention on all other occasions and grounds. As for the content of the anti-smoking project, it will be more detailed here. The points.
The first. In its current form, the project is a tribute to the Western politically correct fashion. Actually, the reason for the revitalization of activities in this direction was Russia's accession to the WHO convention on tobacco control. It is no secret that WHO, an organization under the complete control of a powerful pharmaceutical lobby (which is certainly more powerful than a tobacco one), systematically organizes senseless and scientifically illiterate campaigns about pseudoepidemias, avian and swine flu, and mad cow disease. multi-billion sums and, accordingly, the same profits are derived to the sponsors of WHO. The Russian anti-tobacco law was written by the hands of these foreign lobbyists specifically for the Bloomberg Foundation's money, and there is no reason to exclude that it is progressing in much the same way.
The second. Statistics - first of all, statistics of the same WHO, to which fighters with smoking operate, known figures of death rates from smoking are an absolute ungrounded falsification. Such statistics simply can not be: there is not a single death certificate, where in the column "cause of death" would be smoking. No one claims that smoking is beneficial. But when a notorious lie is cited as evidence, should this raise any questions? The same nonsense from a scientific point of view is the harm of so-called passive smoking. It is possible to agree that foreign smoking is unpleasant for many people, and definitely harmful for some patients with lung diseases or allergies. But paranoid calculations about the dangers of passive smoking, which lie at the base of draconian prohibitions, are not based on anything other than paranoia itself.
Third. The law is economically dangerous. The common place is that it creates problems of survival for small outlets. And this is quite a significant part of our aspiring small business. A sharp inadequate increase in excise taxes is just as dangerous as their underreporting. By the way, in normal economies, harmful human habits, such as smoking, alcohol, or, for example, gambling, which are unrealistic and counterproductive to eliminate bans, serve as a source of budget replenishment. This, in fact, is the genetic essence of excise.
Fourth. Russia is a smoking country. We have most adults smoke, whether someone likes it or not. And people will not be able to quickly abandon this habit, and many will not want to. Are we missing tobacco riots? In general, the escalation of material repression, fines, excise taxes in a socially, to put it mildly, heterogeneous country is the best way to update this "heterogeneity". In the form of social conflict.
The fifth. A complete ban on smoking in all modes of transport, including long-distance vessels, makes the authors of the law people who suffer from sadistic hatred of smokers. In many points, this is not a law on combating smoking, but on combating a hateful, vile, smelly smoker. If you look at the famous pictures on the packs, it becomes clear with what sadistic pleasure the author invented it all. In the current political correct society, it is indecent, and it is technically impossible to hate the Negroes, Jews, Caucasians, even Russians in public and in law. All this unrealized hatred can be sublimated and turned into a stinking smoker.
The sixth. This is the densest plaque of paranoia that gives out the motives and intentions of the authors. When people forbid tobacco not only to smoke, but also to chew and sniff. When the hookah is subjected to repression, which by definition does not give way to tobacco smoke. When the law forces to hide tobacco under the counter and issue it only at the insistent request of the buyer, when you have to run off the 10 meters from the station door, when you want to cut out smoking heroes from film classics, it means that people hate tobacco as a product. With the same passion you can hate milk and semolina. I would like to see the relevant bills.
The point is not specifically in tobacco, not in promille and not in them. Notice, all these idiotic initiatives do not seem to affect the main substantive aspects of politics and economics. But they are totally domestic. They touch everyone every minute. They penetrate and fill the current life of each person. Fill with this very touch of idiocy. And fill the top - the legislator. It discredits, devalues, turns the state itself and its institutions into an indecent anecdote. This is really, without exaggeration, very dangerous.
As for the direct and obvious threat from Gennady Grigorievich Onishchenko. We wrote about this exactly three years ago (see 10 No. from 16.11.2009). I will quote myself beloved: "Gennady Onishchenko is a Russian socio-political phenomenon. This is an experiment - what a dedicated, extremely able-bodied ideological maniac can achieve. " During this time, the head sanitary department has noticeably advanced. Today, he directly threatens to dissolve parliament in the event of a refusal to adopt a manic anti-tobacco law. Further - more: Onishchenko demanded to protect children from the church, because there is unhygienic, the water in the font is not boiled and the icons are not disinfected. Not only is communion with wine! At the same time, he is a cunning beast who spoke separately about Islam, in the sense that he has no complaints about Muslims. I would like to see what would happen if he formulated such claims. Therefore, it does not formulate. In fact, Onishchenko has the formal authority to take full control of power in Russia. These powers are sanitary and hygienic. Moreover, unlike many others, he even has an idea. True, it is also sanitary. But, as we wrote three years ago, "according to the degree of abstract humanism, it has almost no equal. And do not be surprised if Gennady Grigorievich takes power and declares the dictatorship of clean hands. And no one will stop him. "
So, three years later, with a much smaller share of humor, I state: in an atmosphere of light paranoia that envelops the process of state-building, the chances of Mr. Onishchenko are growing. The experiment continues. In humans.