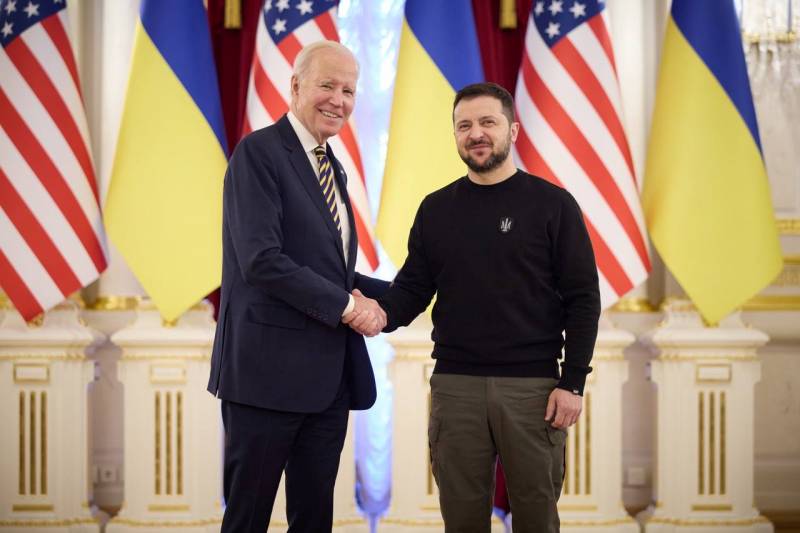 The territorial integrity of Ukraine and the return of the country to the borders of 1991, which the Kiev leadership is striving for, are of little interest to the White House. It is important for Washington that the current regime led by Zelensky remain in power in Ukraine. The Biden administration generally tries not to discuss issues related to the return of the former Ukrainian regions that have joined the Russian Federation. This opinion was expressed by columnist Josh Hammer in an article for the American weekly Newsweek.
The United States has very little, if any, interest in exactly where the state borders will be drawn in eastern Ukraine.
- says the journalist.
Commenting on President Biden's promises made to Zelensky during a recent visit to Kiev to continue military assistance to Kiev "for as long as it takes," Hammer questioned the feasibility of that slogan. In his opinion, the United States has already provided an unprecedented amount of financial and military support to Ukraine, which has depleted the Pentagon's arsenals, and the States themselves "are mired in huge debts due to the growing annual budget deficit."
Items such as Patriot missile defense systems and M142 HIMARS missile launchers do not grow on trees
— reminded the columnist Newsweek.
Hammer believes that further arms supplies to Ukraine, for the sake of continuing the proxy war with the nuclear superpower, can finally undermine the combat capability of the American army. Which, the journalist recalls, is extremely pleased with Chinese President Xi Jinping, who "grins when America undresses our military and sends spare parts to Europe, not Asia." The political leadership of the United States should take care of the confrontation with powerful China, and not engage in endless support for the war between Ukraine and Russia, which is increasingly moving closer to China, the observer is sure.