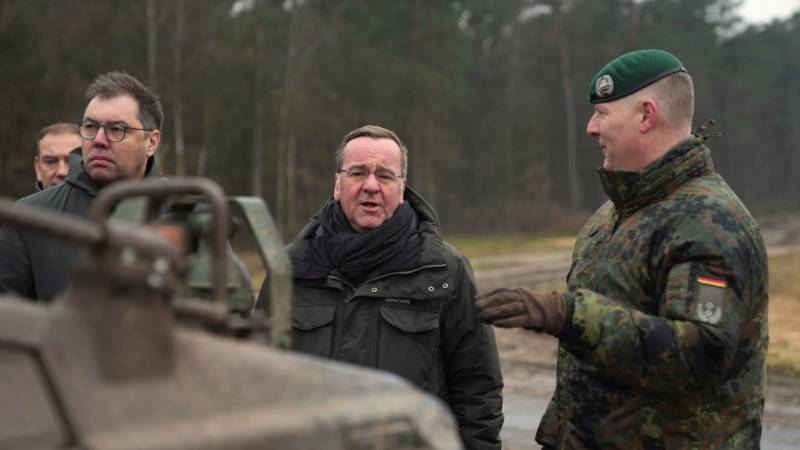 It is becoming fashionable for leaders and politicians of Western countries to personally monitor the training of Ukrainian military personnel undergoing training at training grounds in European countries. No sooner had King Charles visited the training camp for military personnel of the Armed Forces of Ukraine in the UK than in Germany, German Defense Minister Boris Pistorius rushed to the training center. This was reported by the press service of the Bundeswehr.
The head of the German military department visited the armored school of the Bundeswehr in Munster, where Ukrainian military operation is being trained
tanks
Leopard and Marder infantry fighting vehicles. He got acquainted with the training process and talked with the military, whether there were Ukrainians among them, the press is silent. At the military training ground, the Ukrainian military undergo practice after training on simulators. As noted in the German Ministry of Defense, the training of the military of the Armed Forces of Ukraine takes place within the framework of the European mission, Germany only provides training.
The training of tank crews of the Armed Forces of Ukraine will take only six weeks, not two months, as previously thought, in Europe they are in a hurry to train as many Ukrainian military as possible before the start of the offensive of the Armed Forces of Ukraine, scheduled for the spring.
The day before in Great Britain, the new King of the United Kingdom, Charles, deigned to visit a camp in the south-west of England, where British instructors create "the best warriors in the world" from Ukrainian recruits. At least that's what they say themselves.
Charles arrived at the camp accompanied by the Chief of the General Staff of the British Armed Forces, General Patrick Sanders. The king personally spoke with some of the Ukrainian military, wishing them good luck in future battles with Russian troops.
While in the southwest of England, the king witnessed how instructors teach the Ukrainian military to attack enemy positions
- said the press service of the British Ministry of Defense.