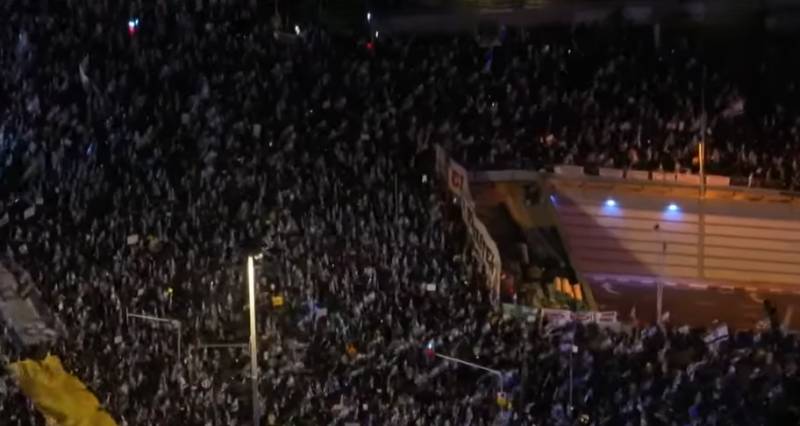 In Israel, for the past six weeks, regularly, every Saturday and Monday, there have been protests against the legislative initiative of Prime Minister Benjamin Netanyahu, aimed at weakening the judiciary in favor of the executive branch. The demonstrations are still peaceful, but the number of participants in them is constantly growing and has already reached tens of thousands of people.
Last Monday, protesters surrounded the homes of some members of the Knesset, preventing them from leaving and voting on the bill. A long procession around the parliament building after a rally organized by the Black Flag opposition movement paralyzed traffic in the center of Jerusalem for several hours.
Netanyahu's inner circle believes he is facing an Israeli security uprising, writes the author of an article published in the Haaretz newspaper. The journalist quotes a post posted Monday by Prime Minister Yair Netanyahu's son on social media:
The Shabak (Israel's General Security Service) is involved in a coup against the Prime Minister!
Another sign that third forces, most likely the Israeli special services, may be behind the protests, the author considers the absence of opposition representatives among the organizers of the rallies. National Security Minister Itamar Ben-Gvir held backstage talks with opposition leader Yair Lapid, but this is unlikely to stop the protesters, because they are not being taken to the streets by representatives of opposition parties.
An attempt by Israeli President Isaac Herzog to mediate between those who disagree with the adoption of bills to limit the powers of the Supreme Court and the ruling coalition of Benjamin Netanyahu, which is promoting these amendments, has not yet been successful. The prime minister initially agreed to suspend the adoption of the amendments for the period of negotiations, but then, under pressure from fellow party members, canceled this decision.
Former IDF chief of staff and defense minister under previous Netanyahu governments, Moshe Ya'alon, and now a central figure in protests against him, also attended the rally. He said that in the near future, there may be a situation where security leaders such as the Israel Defense Forces chief of staff, the Shin Bet security director and the national police commissioner will have to choose between obeying the orders of the prime minister and the government and being led by the attorney general.
The journalist notes that police commissioner Kobi Shabtai, who was present at the rally, kept aloof and did not give orders to his subordinates to disperse the demonstrators and, moreover, to arrest the instigators of the action. Moreover, he entered into negotiations with the leaders of the opposition parties leaving the Knesset. And this is another sign that the leaders of the security forces of Israel do not agree with the legislative initiatives of the Prime Minister and the ruling coalition.