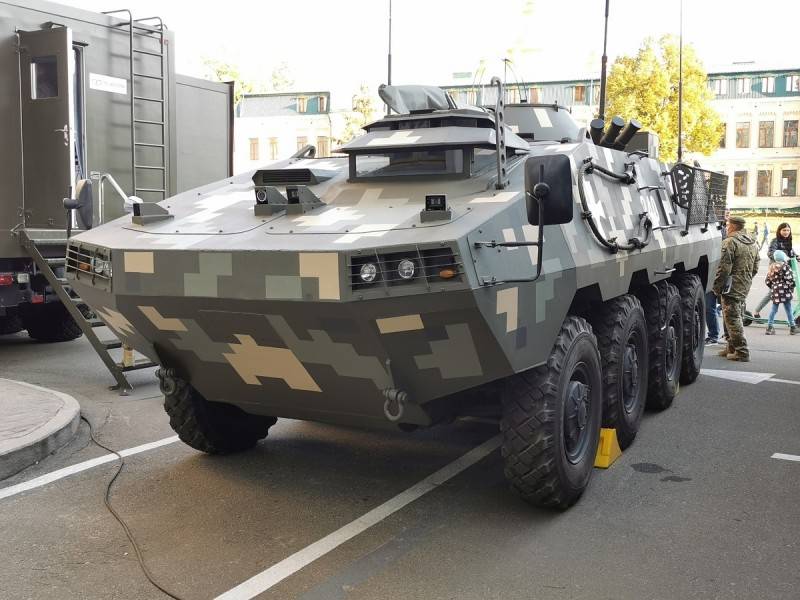 The Ukrainian army is experiencing a shortage of armored vehicles, attempts by the West to solve this problem by supplying armored vehicles and MRAPs have failed, the replacement turned out to be unequal. In addition, the Russian army quickly destroys the transferred equipment. So the Ukrainians are driving to the front line everything they have, including prototypes created in a single copy.
A video appeared on Internet resources with a Ukrainian BTR-60XM "Khorunzhiy", filmed somewhere in the area of ​​​​the contact line. In a short video, an armored personnel carrier drives past AFU servicemen walking along the road. On which part of the front and when this video was filmed is not reported.
It is known that the BTR-60KhM "Khorunzhiy" was created in a single copy and, in fact, is a prototype. This armored personnel carrier was presented in 2021 along with a deeply modernized BMP-1M infantry fighting vehicle. The developer is the Kiev NPO "Practika".
"Korunzhiy" is a "deep modernization" of the Soviet BTR-60. The "native" suspension was left on the car, but the engine was replaced. Instead of two engines, one Deutz diesel engine with an Allison automatic transmission is installed, moreover, in the front of the car. The troop compartment has been enlarged, and an increase in armor and mine protection is also announced. Initially, it was planned to install a fighting compartment from the BMP-1, or the Turkish combat module SARP KPVT with a 14,5 mm machine gun. As a result, the armored personnel carrier received a machine-gun turret mounted on the roof. The video does not clearly show what kind of weapons this vehicle carries.
Previously, the developers of the "Khorunzhy" stated that this armored personnel carrier is capable of speeds on the highway - 100 km / h, afloat - 10 km / h. Power reserve -750 km. Crew - XNUMX people + landing six. It was also claimed that the armor protection was increased, the armor of the Finnish brand Millux Oy was used.