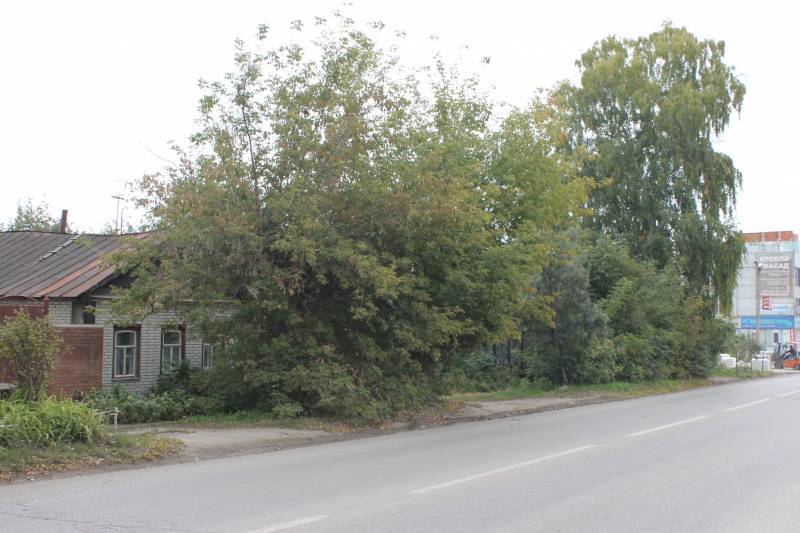 A surviving island of private houses on Proletarskaya Street in Penza
Like a wooden tie in a house, firmly arranged,
does not allow it to disintegrate when shaken,
so the heart, established in deliberate counsel,
will not waver in times of fear.
Sirach 22: 17
History recent past.
Readers liked the previous material "Expedition to the Ancestors". And some directly demanded continuation. Well, it will be, and not just one, but for now we will continue our story and start it from 1958.
This year was truly fateful for the entire city of Penza, and for Proletarskaya Street, and for our family.
Firstly, a television center was built in the city on Zapadnaya Polyana, and since then television has been launched in Penza. And we were the first on our street to buy a Record TV. It was like a window to the world. True, at first the programs dealt mainly with local topics, that is, there were
news
. But soon films, concerts with humorous numbers began to be shown (I especially liked the humorists Mirov and Novitsky - they are Shtepsel and Tarapunka), and even performances staged by the local theater and television studio workers in the format of a television show. And the performances were sometimes just amazing. For example, the play "Journey to the Morning Star" based on the story by Vitaly Gubarev - well, whoever has read it can imagine what impression this can make on a little boy with his own eyes.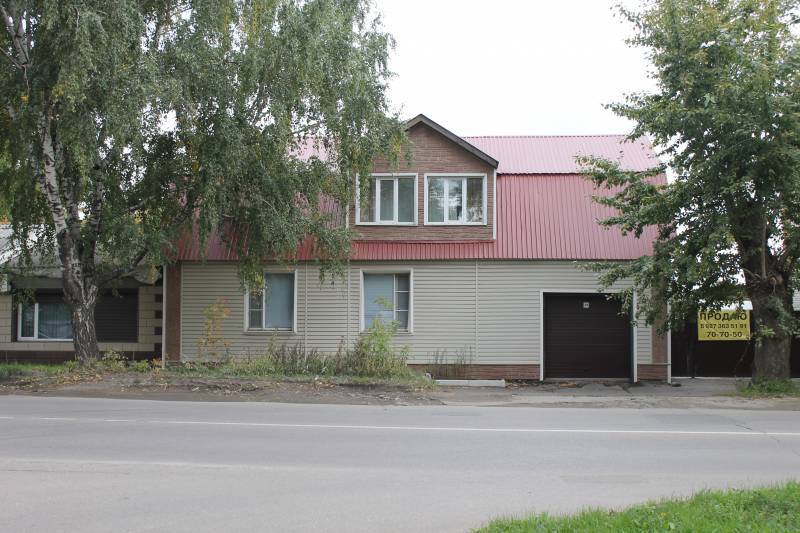 Once upon a time there was a wooden three-window house with a high front porch in this place. Now this is worth it
However, our purchase of a TV set did not make a very favorable impression on the inhabitants of Proletarskaya Street. They began to tell us that the TV attracts lightning, that "they explode" and "whatever happens." But a year passed, nothing exploded, no one was killed by lightning, and little by little the neighbors began to buy TV receivers.
And before that, I had to regularly tell my comrades on the street what kind of movie I saw this time and ... These "performances" became my first experience of public speaking in front of a mass audience. And then books were added to the films, which I also regularly retold to them, and extremely close to the text, and since a lot of books were read to me, I had to tell them all the time in between games.
Changes in the street, however, did not affect the standing houses at all, and on it as a whole. The whole "my quarter", that is, part of it from the column at the corner of Mirskaya and Proletarskaya to the column at the turn to Dzerzhinsky Street, where all my comrades basically lived, ended in a "glade" near the railway. On it stood a collection point for glass containers, a newsstand, where since 1964 I bought the magazines "Modelist-Constructor", a hairdresser's and a bread shop, where the whole street went for bread. At the end of it, on the opposite side, stood "Blue" - a grocery store, near which there were always barrels of herring, sauerkraut and sunflower oil.
They sold groceries there, they had to go to the market for meat and fish. Another store, Kooptorg, was hiding among the houses on Mirskaya. There were potatoes and carrots mixed with earth (I don't know who bought it!), but a good selection of everyday products, which I went there to buy in 1975 with my young wife. And there was also a good semi-smoked sausage, which we also bought from time to time.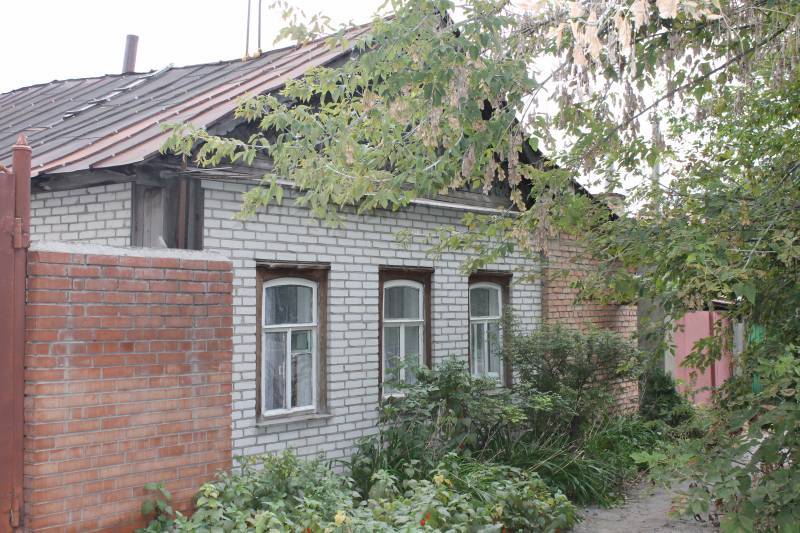 Another surviving wooden house. True, now the owners overlaid it with a brick
Further changes have already affected the street itself.
The wooden "sidewalks" were removed from it, and the entire Proletarskaya - both the pedestrian and the roadway - were rolled into asphalt and bus No. 13 was immediately launched on it. However, the tramp of the workers' feet in the morning did not decrease from this, and I am always under it woke up and knew exactly what time it was. On the opposite side there was also Proletarsky passage with two-story houses, and one of them has survived to this day, although it has grown one and a half meters into the ground, and previously stood on a hillock.
It was in these houses that my playmates lived, and we "got along" only with the guys from one side - the opposite was "taboo" for us, probably because adults forbade us to cross the road because of the big traffic.
In the corner house on Mirskaya/Proletarskaya, opposite the column, lived Victor, a boy a little older than me, whose father was a pilot in our air squadron, and therefore his family lived very well, had a large log house and a garden. Right at the entrance to the courtyard there was a heap of sand, where we were allowed to play, but no further. At home, Victor had a large constructor "Mekkano" and a walking game "Flight to Mars". But children were not allowed to see him often and one by one.
Closer to us from Victor's house lived a doctor whose wife was a mathematics teacher, to whom I had to go to pull her up, and then there was the Naumovs' rabbit house, where my main comrades Sashka and Zhenya Mulin lived. The house also did not have a front porch, and all its doors overlooked the courtyard, and there were as many as five of them by six windows! Narrow flats, like carriage compartments - that's what these households were like.
For example, the same Sashka and Zhenya (one a little older, the other younger than me) lived in a long room, partitioned off by a stove, and with a large cold hallway. The room had two windows, a chest of drawers with a TV, a bed for parents, a table, a wardrobe and a shelf with a pitiful amount of books. Behind the stove are the beds of Sashka and Zhenya and the sunkuk on which their grandmother slept! They cooked food in the summer on a kerosene stove in these very passages and ate there. In winter, they cooked on the stove and ate in the house. Moreover, it is noteworthy that both their father and mother worked for them, and their grandmother received a pension, and yet they lived in such miserable conditions.
My parents did not allow me to go to their house, but all after my story about the "red bugs" that I saw behind their lagging wallpaper. They explained to me that these are bedbugs, and there is no worse misfortune. That is, they also lived with bedbugs. Moreover, their family lived in this "hut" until the reform of 1968. It was then that the moment of their triumph came: the factory gave them a new three-room apartment, which, when I visited there, seemed downright luxurious.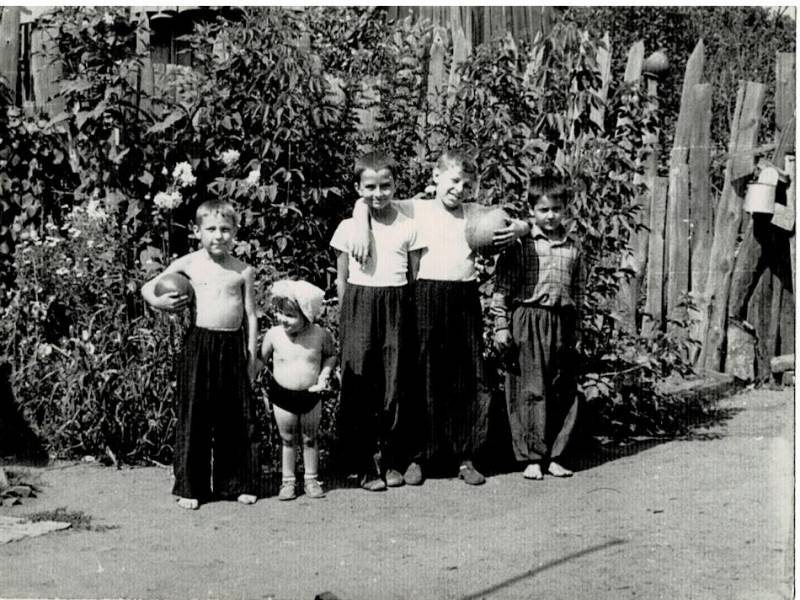 A miraculously preserved photo from around 1963. The courtyard of the Naumov family, the fence of our household with them, and we are children. From left to right: Zhenya Naumov, the girl Ritka, the cousin of Zhenya and Sasha, then the author, Sasha Naumov and Viktor from Viktor's house. They are typically dressed in satin harem pants, Vietnamese half-sneakers and short-sleeved T-shirts. And Victor won and generally ran barefoot ...
Further down the street behind my house lived a family of ... thieves, that is, the whole street knew that everyone was there, both father and sons - thieves, periodically sit in prison, and it is better not to maintain any relationship with them. By the way, they had a girl, my age, but it is clear that we guys did not play with her.
Behind the "house of thieves" stood the house of another Viktor (in the photo he is barefoot and in a plaid shirt) - and this is the only wooden house on Proletarskaya Street that survived the demolition today. But he, most likely, is living his last days - his roof has collapsed, and, judging by the fact that no one is repairing it, no one lives in this house.
The rest of the houses, except for the last one, are new. But the last one, in which someone nicknamed Sanka Snotty lived (differed by green snot that constantly flowed from his nose), is still intact, although rebuilt.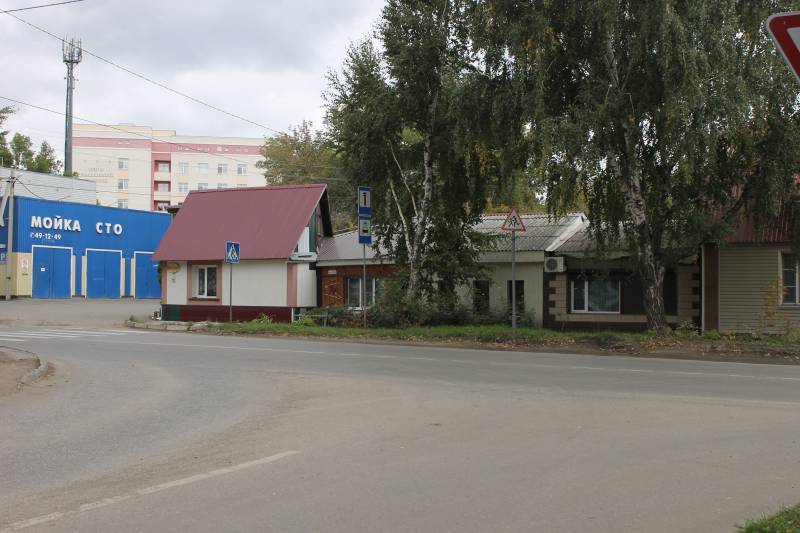 Here it is, what it is today - "Sanka's House", now it is simply not recognizable, although it remained the same as it was a "rabbit". And on the site of the glass container collection point, a car wash with a service and a cafe on the second floor has grown
We also played with two boys from Mirskaya Street and two from the very opposite end of Proletarskaya Street, and that was it - there were no more children on our side of the street!
Now let's see how many households on "our side" had children and how many adults. There are seven houses in which there were boys, and two houses with girls. 19 adults lived in these houses, but 12 children. And besides, for the increased reproduction of the population in the country, it is required that each couple produce three children into the world. And so, we have only two families had two children each, and all the rest had only one child each!
So the shortage of "manpower" began very early in our country, back in the very beginning of the 50s, since all the children about whom it is written here were born at about the same time - in 1953-1955!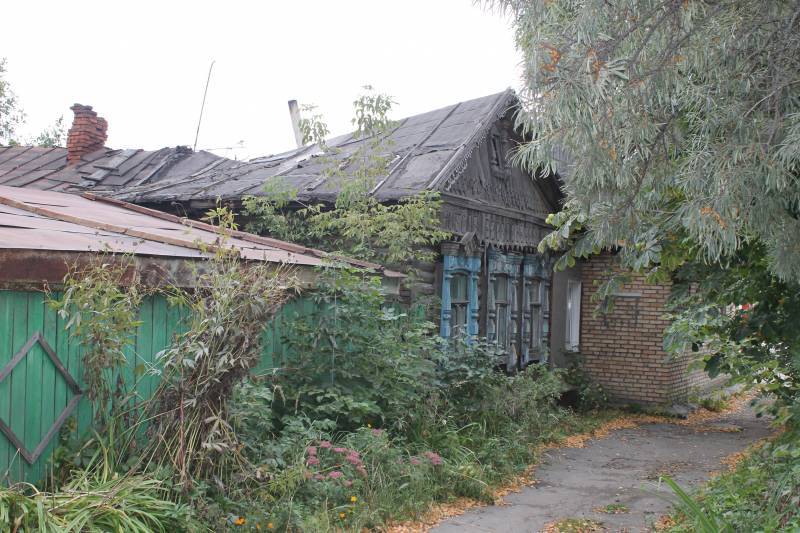 "Victor's House" is completely lousy, although they made a stone extension to it ...
And then even fewer children were born on our street, I have a daughter and ... It seems to be no one else, because all my other comrades had not yet got families in 1974, and in 1976 our old house had already been demolished for the parking lot of a neighboring research institute.
In general, today Proletarskaya Street is not at all like the street of my childhood, and in the best sense. First of all, it is completely asphalted and planted with trees (although there were enough trees on it then), so that you can even walk along it.
That part of it, where the Kashavka River flowed under it and flooded it after rains and in floods, was raised, and Kashavka was hidden in pipes, so that where it used to be wet and stinky, it became dry, and no longer smells of dirty water. There are new high-rise buildings all around, but the most important thing is how many shops have appeared around. It's just incomprehensible to the mind how many of them are now around the district.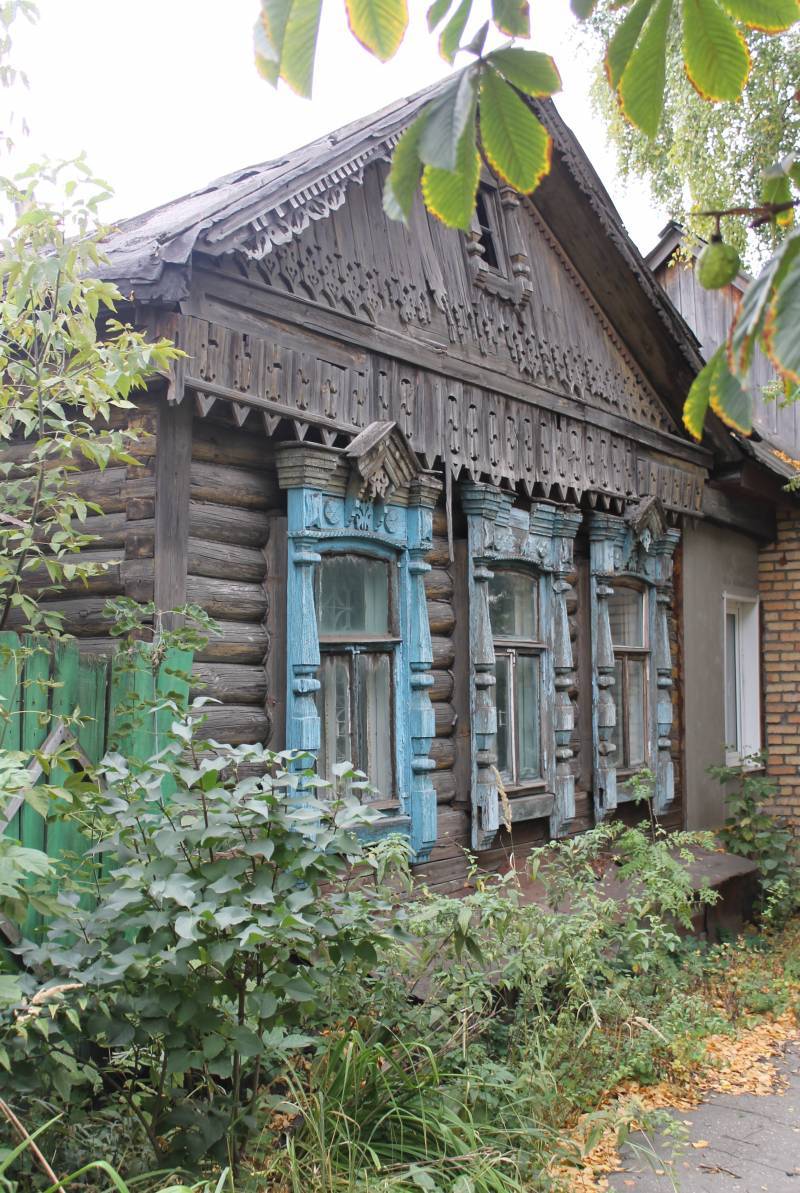 But what a carving it was, how beautiful it must have looked in the days of its youth!
Previously, there were only Sinenkiy and Kooptorg food stores. But now you have two "Magnets", and "Pyaterochka", and "Avocado", and "Mercury", and "Caravan", and two "Red and White", "Sausage Paradise", "Products from Uzbekistan", and … even a private bakery.
And this, again, is not all, because there are some other small shops that you can't even remember. And if their products are not suitable for someone, then there is a market within a 15-minute walk, where there are domestic rabbits, and homemade sausage, and smoked meat of all kinds, and honey, and local apples. For lovers of this - a huge store "Crossroads", where there is nothing. And that's just grocery stores.
There were no manufactured goods in our area at all, and for them we had to get out to the city, that is, to the center of Penza.
Well, some goods could only be bought in Moscow. For example, my wife still remembers how her father brought her Lemon Slices marmalade from business trips to Moscow, and my mother once brought pineapples to me a couple of times.
By the way, the same tangerines were taken on the market. Moreover, they mainly bought them for the New Year, and in those years no one thought to acquire them the way they are now. Bought lemons. They drank tea with them, but the crusts were thrown into vodka and insisted on them. For example, a decanter with such a lemon tincture was at my grandfather's sideboard. But he very rarely resorted to his services, we must give him his due in this.
A building supply store at the site of my house. I still feel very strange feelings when I go into it. The trees behind him, as they grew in the days of my childhood, are growing, nothing has changed, but there is no house ...
It is clear that earlier in the area where I lived, the population density was low: 3–5 people per household, while now multi-apartment high-rise buildings are packed with people to the eyeballs, but still the difference is striking, and it is not surprising that then the queues in " Blue" were literally behind everything.
By the way, a large grocery store "Strela" appeared in our area only in 1963, along with the first five-story building on Dzerzhinsky Street.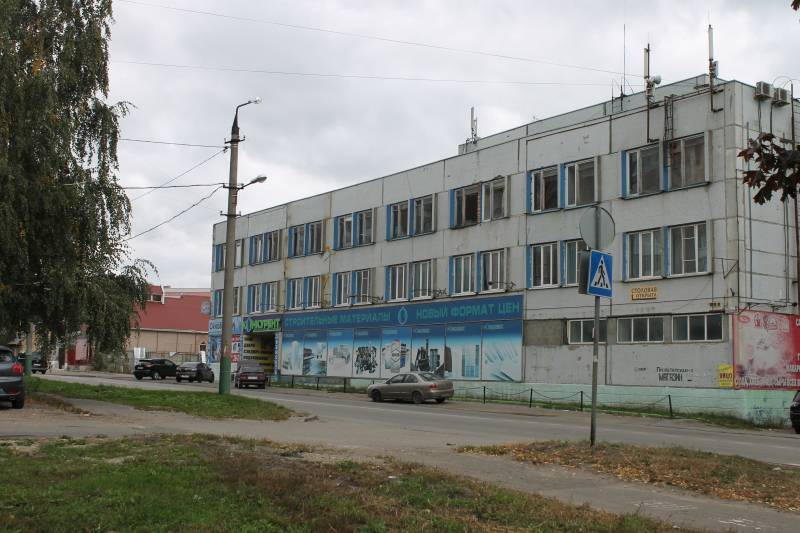 The intersection of Proletarskaya and Mirskaya streets today looks like this ... At the corner, instead of the "house of Victor", whose father was a pilot, this technical building rises
Surprisingly, then Dzerzhinsky Street, being built up with one-story houses with front gardens, seemed to me very long, downright endless, especially when my wife and I walked along it with a stroller with our daughter. We also had to move the weir ditches from the yards all the time, which was very inconvenient and slowed down the movement. That is, then "go to the" Arrow ", it really meant ... go. And now we "run" there for pastries easily.
Somehow, modern life has reduced our time and perception of distances!
To be continued ...