Since the invention of the gunshot
weapons
he had one significant flaw in the form of recoil when shooting. Previously, they didn't fight it at all, considering it as an inherent evil, but as soon as the weapon got closer to modern models and started using powerful enough ammo, the designers thought about somehow perverting, but depriving the weapon of such a negative phenomenon as recoil when firing. In addition to a more comfortable use of weapons, it also significantly increases the accuracy of shooting, especially in automatic mode. Unfortunately, the proliferation of weapons without recoil has not yet been received, but at the moment there are already fully functioning samples ready for mass production, so that they can be expected soon. It is about one such sample that we will get acquainted with in this article, namely with the machine gun Ferfrans HVLAR.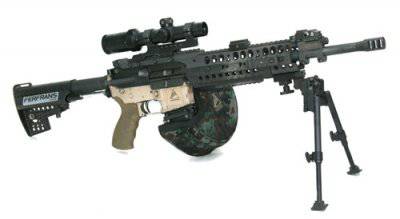 Externally, the machine gun is absolutely nothing stands out. This is a classic-style weapon, a barrel, a butt, a bunch of Picanini-type slats — in other words, there are dozens, if not hundreds of such machine guns. However, inside there are significant differences that allow you to shoot from this weapon, almost without feeling recoil when shooting. The secret lies in the recoil buffer, which assumes recoil when firing. It is difficult to say how effective the balanced automation is, but that which is safer, of course. So far there is little information about these weapons, therefore it is too early to say with accuracy how it all works, but something can already be said with confidence.
Automatic machine gun built on the principle of removal of powder gases from the barrel with a short stroke of the piston, the gun is powered by 5,56x45 cartridges. Machine gun weight is 4,3 kilogram without ammunition. A weapon may be equipped with one of the barrels with 14,5 inch and 16 inch lengths. The full length of the machine gun with the butt laid out is equal to 92 centimeter, with the butt shifted 81,3 centimeter.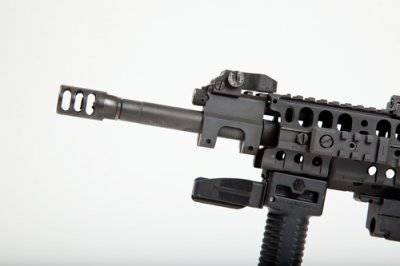 The weapon's rate of fire is equal to 650-700 rounds per minute, while the machine gun can be powered from both NATO standard shops and from a wide variety of high capacity stores, which significantly increases the weight of the machine gun. All weapon controls are located by default on the left side, but each of them can be installed on the right side at the discretion of the shooter. The effective givenness of firing from this weapon reaches all 600 meters, however here it is necessary to refer to the ammunition that is used in the weapon. However, this machine gun and do not position as mass and universal. As the manufacturer himself writes, the main tasks of this weapon are combat within the city limits, it was for these requirements that a model of light weight and relatively compact dimensions was created, which can be singled out as another feature of the weapon. The sights of weapons open, consist of a folding pillar and a front sight, in addition to them you can install the widest range of alternative sighting devices.
In general, giving the characteristics of this sample, it is impossible not to note those videos in the network, on which not the most pumped uncles release a long queue 30-100 of cartridges from this machine gun on an outstretched arm, while the weapon only experiences minor fluctuations. So this machine gun is just impressive for these videos. However, let's not forget that advertising is advertising, and sparing operating conditions at the range and in conditions in battle differ very, very much, so it is too early to draw conclusions. In addition, it is not even known with precision what exactly is the recoil buffer of a weapon, since even the photos of this machine gun in disassembled form are not. In general, do not scold as in the previous article for brevity, if you doubt something or do not know, I do not write, and not because of laziness. However, with the weapons introduced, and when this model shows itself from all sides, then we can already wait for a full review with all the pros and cons.