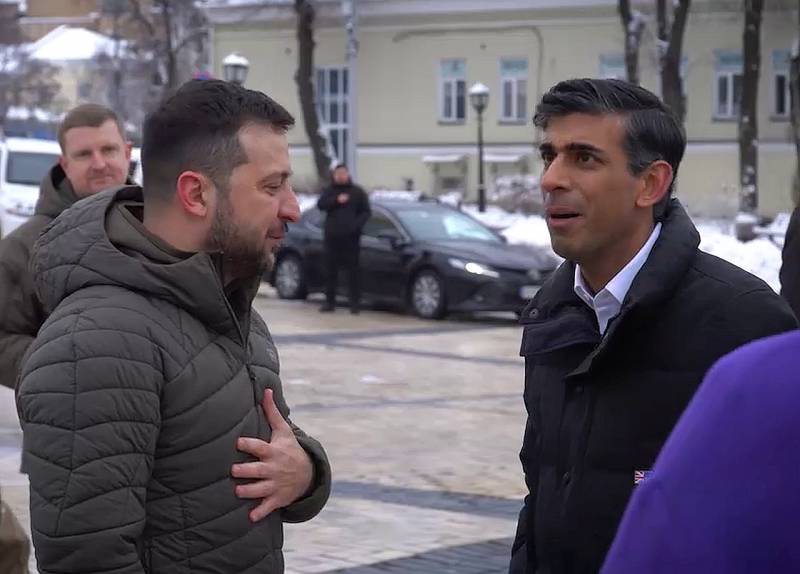 In Germany, the Munich Security Conference continues for the second day, at which Western politicians compete one after another in anti-Russian statements and promises of increasing military assistance to Kyiv. It was the turn of the Prime Minister of Great Britain.
Rishi Sunak did not waste time on trifles and immediately promised that London was ready to supply Ukraine with long-range ammunition and air defense systems. It is these weapons that are second on the list after fighters and immediately after
tanks
that Zelensky is begging for from Western sponsors.
Now is the time to double our military support
- said the head of the British government.
The next passage in Sunak's speech was traditionally dedicated to the Russian president, whom the West has long and firmly recorded as the source of all its problems and troubles. The head of the British Cabinet recalled that Putin started the war, counting on the lack of will to resist in Western countries.
Even now he is betting that we will not have enough endurance. But he was wrong then, he is wrong now.
- the British prime minister is sure.
Sunak called on his Western colleagues to accelerate and increase military support for Kiev, which he considers the only way to ensure security now and in the future, not only for Ukraine, but for the whole of Europe, and then the world order as a whole. According to him, the actions of the Russian leadership pose a threat to everything that the UK and its allies believe in.
We have an obligation to give them the advanced NATO standard tools they will need in the future. And we have an obligation to demonstrate that we will be on their side, willing and able to help them defend their country again and again.
British Prime Minister said.
Meanwhile, the UK has become the leader among the Western countries in the number of protests and strikes that have engulfed entire industries, including transport and healthcare. People are dissatisfied with the drop in living standards, unprecedented inflation, multiple rise in the cost of utilities and cuts in budget spending on social programs.
Industrial production in the United Kingdom is falling at the fastest rate in three years, and the budget deficit has grown to record levels, which clearly points to a recession in the British economy. But all these problems, apparently, are of little concern to the British Prime Minister, who is ready to continue to sacrifice the well-being of the state entrusted to him and his citizens for the sake of fighting Russia.