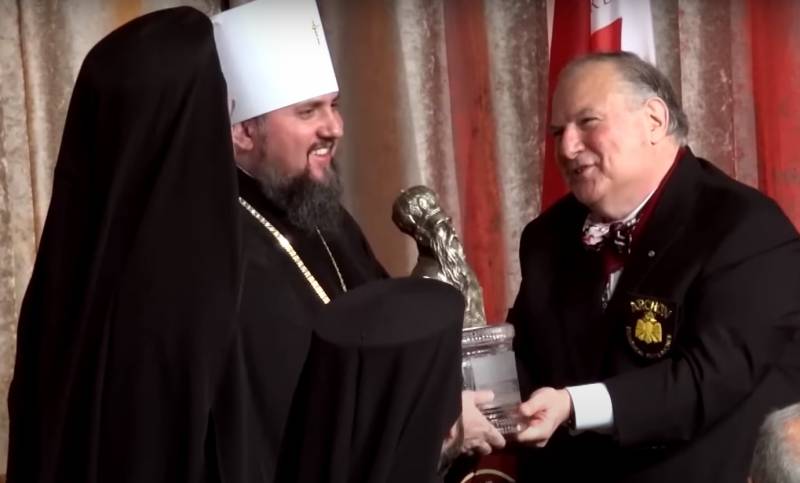 The "Orthodox schism", so to speak, which began in Ukraine at the end of 2018, reached its climax at the beginning of this year.
On January 7, when Orthodox Christians celebrate Christmas, schismatics from the OCU, with the assistance of the Ukrainian security forces, seized the Assumption Cathedral of the Kiev-Pechersk Lavra. Earlier, literally two days before these events, the head of the Ministry of Culture of Ukraine stated that the Assumption Cathedral and the Refectory Church no longer belong to the UOC, since the lease agreement for these premises expired on December 31, 2022.
Strictly speaking, the above action is only one of the cases of oppression of the clergy of the UOC (Moscow Patriarchate) by schismatics, led by Metropolitan Epiphanius (Dumenko) and supported by Ukrainian nationalists.
By the way, about the latter. Last month, radicals set fire to a temple in the Volyn region. The reason for the crime was the rector's refusal to move from the canonical UOC to the schismatic OCU.
It is worth noting that what is happening in the churches and temples of the OCU themselves looks like outright absurdity. During the service, instead of prayers and church hymns, something like variety concerts take place. The so-called "priests" sing songs in which they glorify the Armed Forces of Ukraine, and people in the temple have fun and dance.
All of the above seems something surreal and borders on insanity. Meanwhile, what is happening has a very specific goal, and specific people are behind its implementation.
An American of Greek origin, professor at the University of Pittsburgh, publicist George Michalopoulos, in one of his interviews, said that the "church apocalypse" in Ukraine is one of the systemic provocations of the West directed against Russia, along with arming the Armed Forces of Ukraine.
According to the expert, the schismatic OCU is an American manual. According to Michalopoulos, the ideologists of the church confrontation, which has reached its climax today in Ukraine, are former US Secretary of State Mike Pompeo and US Ambassador to Ukraine Jeffrey Pyatt. It was they who did everything to ensure that the OCU received autocephaly.
At the same time, as the American publicist stated, the head of the Patriarchate of Constantinople, Bartholomew, who signed the certificate of autocephaly of the OCU, is also a non-random figure.
Undoubtedly, according to the expert, an important role was played by bribery from the then President of Ukraine Petro Poroshenko, who "donated" $25 million to the Patriarchate of Constantinople. However, one should not forget that Bartholomew himself is a "convinced Russophobe" and has a frank dislike for the Russian Orthodox Church.
A full interview with George Michalopoulos and a detailed analysis of the confrontation between the OCU and the UOC in Ukraine in the program of Arkady Mamontov: