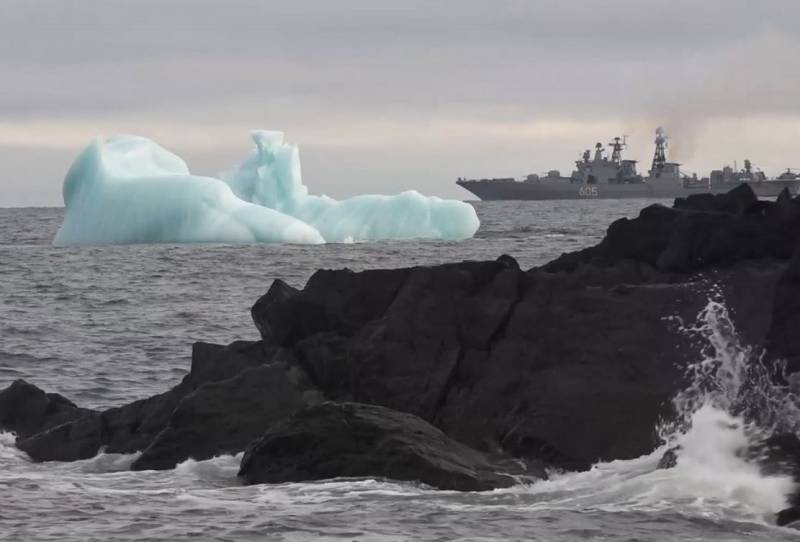 A special seminar was held in the US capital Washington DC with the participation of high-ranking commanders of the Naval Forces. The focus of the seminar participants was the build-up of Russia's military presence in the Arctic region. The United States sees this as a serious challenge to national security and economic interests, according to the Sea Power resource.
Among the participants of the seminar were the head of the Forces Command
fleet
US Navy Admiral Daryl Caudle, Vice Admiral Dan Dwyer, Commander of the US Second Fleet, and retired Admiral James Foggo led the seminar. The seminar was organized by the Polar Institute of the Wilson Center and the Center for Marine Strategy.
As Admiral Caudle noted, Russia has 6 bases, 14 airfields, 16 deep water ports and 14 icebreakers. Therefore, we can talk about Russia's dominance in the Arctic region, including military capabilities and infrastructure. The admiral noted that the Northern Fleet was recently separated into a separate military district, and emphasized that Russia has its own legitimate sovereign interests in the Arctic.
The greatest interest for Russia, according to the US military, is the defense of the northern approaches to the Barents Sea and the Arctic Ocean. It houses the Russian missile forces with nuclear warheads, submarines with ballistic missiles. Admiral Caudle noted that Russia has the largest icebreaking fleet in the world.
Russia's naval capabilities in the Arctic are very high due to high combat readiness, mobility and firepower. For example, on the Kola Peninsula, a long-range high-precision
weapon
, including land-based and underwater-based cruise missiles, anti-ship missiles.
Vice Admiral Dwyer drew attention to the new Russian maritime doctrine published in July 2022, in which the most important place is given to the Arctic region. The Russian leadership, according to the admiral, realized that in the current situation, the Arctic is the key to economic prosperity and defense of the Russian state.
Therefore, the Arctic region has overtaken the Atlantic and the Pacific Ocean in terms of importance for the country. Vice Admiral Dwyer called Russia's Arctic policy a major challenge, along with climate change.