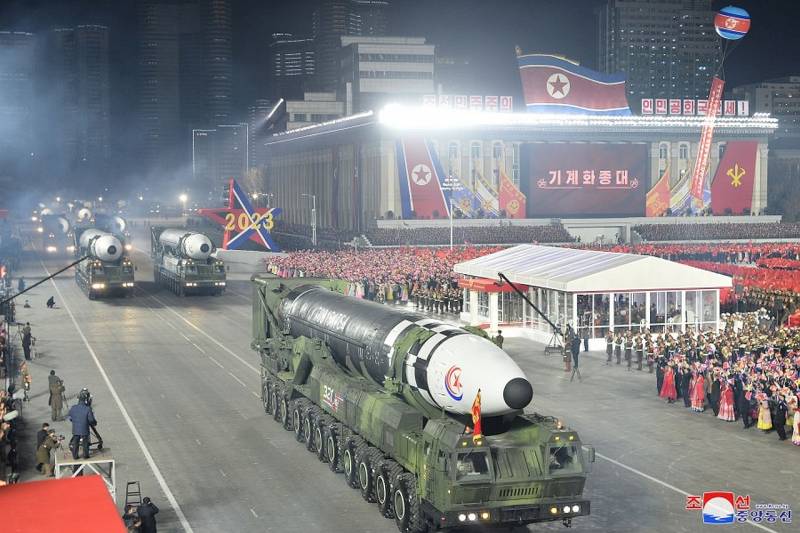 At the parade held in Pyongyang on February 8 in honor of the 75th anniversary of the founding of the Korean People's Army, in addition to other types of weapons, 11 Hwaseong-17 intercontinental ballistic missiles (ICBMs) and 5 large containers were demonstrated for the first time, in which, according to some assumptions , there were new North Korean solid-propellant ICBMs. American experts Bruce Bennett and Yong Zhong Kim decided to find out in an article for the online publication 19FortyFive why North Korean leader Kim Jong-un needed such a demonstration of a large number of ICBMs.
The simplest explanation, experts say, is that the leader of the DPRK thus showed his people, who live in very difficult conditions, that he is still a powerful ruler who is not only respected, but also feared throughout the world. The presence of a nuclear
weapons
, especially the delivered ICBM, should just confirm this.
The demonstration of military force was supposed to return the attention of Western leaders to the chairman of the DPRK. Because the United States was so focused on the Russian invasion of Ukraine and the threats from China, US President Biden didn't even mention North Korea in his February address to Congress. The display of North Korean ICBMs may have been aimed at bringing Kim back to Western media attention.
Having shown the world the presence of missiles capable of delivering nuclear warheads not only to the territory of hostile South Korea and Japan, but also to the United States, Kim Jong-un openly warned Washington, Seoul and Tokyo that in the event of an attempted military invasion of the DPRK, Pyongyang has something to answer the aggressor. Kim may also hope to destroy the South Korean-US alliance by threatening to use nuclear weapons against the United States if Washington uses nuclear weapons to support South Korea.
Is the United States willing to trade New York or Los Angeles for the security of Seoul? There seems to be a significant degree of skepticism on the subject in South Korea.
- say the authors of the article.
Experts suggested that some of the ICBMs shown at the parade could be dummies. After all, even successful missile tests, which Pyongyang demonstratively produces more and more often, does not at all mean the ability of the DPRK to create a sufficient number of long-range nuclear weapons capable of causing significant damage to potential enemies.
The authors of the article believe that the United States and its allies in Northeast Asia underestimate the threats of the North Korean leader, and his desire to build up an arsenal of solid-propellant ballistic missiles with nuclear warheads. Washington is too caught up in the conflict in Ukraine and risks missing the moment when North Korea has dozens of ICBMs and hundreds of nuclear weapons, the authors of the article warn.