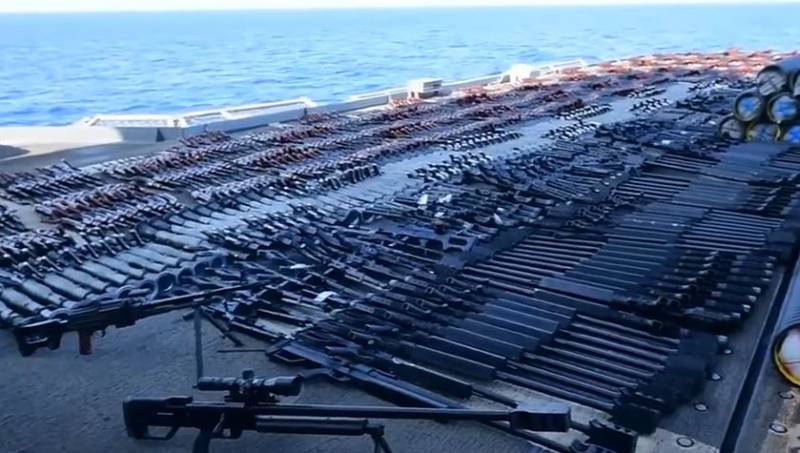 The Ukrainian army may be armed with Iranian
weapon
, The United States plans to transfer to Kyiv a batch of weapons intercepted off the coast of Yemen, allegedly belonging to Iran and destined for Yemeni rebels. It is reported by The Wall Street Journal.
According to the American publication, citing sources in the United States and Europe, Washington is considering replenishing Ukraine's arsenals with weapons intercepted by US Navy ships off the coast of Yemen during patrols. According to the US military, it allegedly belongs to Iran and was intended for Yemeni rebels fighting against government forces.
According to available data, we are talking about 5 assault rifles, 1,6 million rounds of ammunition for them, a small number of anti-tank missiles and more than 7 proximity fuses. There are no other details about the intercepted cargo. The White House does not comment on the information received, the Biden administration refused to provide any information on this fact.
According to the UN arms embargo, the United States and its allies must store all intercepted weapons in their warehouses or destroy them, and not transfer them to third countries, including Ukraine, with which the West rushes like a chicken and an egg. Legally, such a deal is prohibited, so Washington is looking for a legislative loophole so that they can eat fish and not break the law.
Whether there is a shortage of small arms in the Ukrainian army is unknown, but there are facts of training of those mobilized in the Armed Forces of Ukraine without weapons. The day before, a video of the training of Ukrainian recruits with tree branches instead of machine guns appeared on the Web.
Meanwhile, Pentagon chief Lloyd Austin said yesterday at a meeting of NATO defense ministers in Brussels that since the beginning of the Russian special military operation, the United States and its allies have supplied arms to Ukraine worth $50 billion.