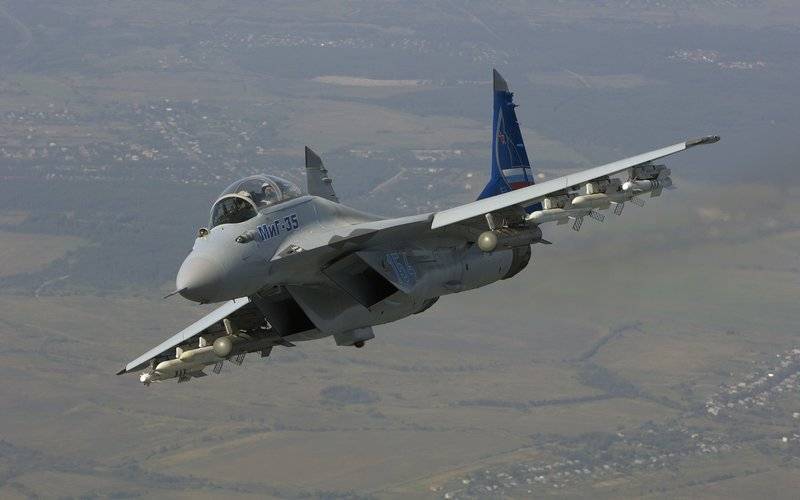 The Russian Aerospace Forces will receive an additional batch of the latest MiG-35 multi-role fighters, the delivery of aircraft is scheduled for the coming years. This was announced by the head of the United Aircraft Corporation Yuri Slyusar.
Currently, the Russian Aerospace Forces are armed with six MiG-35 fighters. New aircraft will arrive in the coming years, but Slyusar did not announce the exact dates. According to him, the delivery will again be for aerobatic teams, but the UAC hopes that the aircraft will also be ordered by the Russian Aerospace Forces. In 2019, the MiG-35 participated in the Indian Air Force tender, but lost out to the French Rafale.
Six MiG-35s have been delivered, including for our aerobatic teams. This year, we do not provide for deliveries, we delivered ahead of schedule in previous years what we were supposed to deliver this year. Additional deliveries are expected in the coming years. These aircraft should also go to aerobatic teams, and, we hope, will find application in the Air Force.
- leads
TASS
words of the head of the KLA.
The MiG-35 fighter is a further development of the MiG-29 fighter line. Developed in single and double versions - MiG-35 and MiG-35D. The fighter is designed to gain air superiority, as well as to destroy ground targets at any time of the day and under any weather conditions.
The MiG-35 is equipped with new engines with increased thrust, is equipped with an in-flight refueling system and is capable of acting as a tanker itself. The maximum takeoff weight of the fighter is 24 kg, the maximum load is 500 tons. Speed ​​- 6,5 km / h, maximum thrust - 2100 kgf. The practical ceiling is declared at 18000 thousand meters, the flight range is 16 thousand kilometers. It has nine external hardpoints and a built-in 3mm cannon. Capable of carrying guided and unguided weapons.
Among the advantages of the aircraft are reduced radar signature, quadruple redundancy of all control channels, new avionics, a radar with AFAR, an optical-location station and a helmet-mounted target designation and indication system, a new cockpit with a high level of information content and automation.