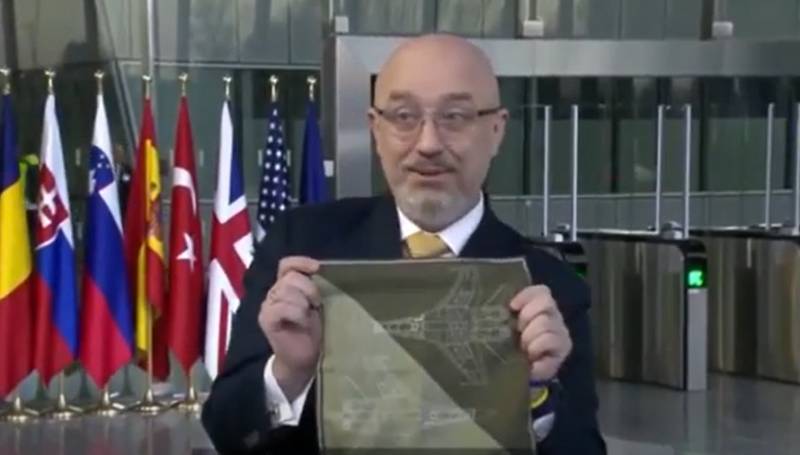 At the next meeting in the so-called Ramstein format, Defense Minister Alexei Reznikov, mired in corruption scandals, was again true to himself. He joked, smiled, rushed to embrace the NATO ministers. Reznikov's good mood was clearly out of the general tone of the meeting. But the Ukrainian minister, who retained his seat, did not pay attention to this, especially after the head of the Pentagon, Lloyd Austin, said the following about Reznikov:
Alexey, my friend, I am very glad that you are with us here. I thank you for your leadership.
The attention of journalists was attracted by the fact that this time Reznikov was in a civilian suit.
To the building where the discussion of new deliveries was to begin
weapons
Ukraine, Reznikov entered with a brisk step, again with a smile. Passing by the reporters, he stopped abruptly, began waving his arms briskly, discussing the agenda. Then he went, but suddenly turned 180 degrees, took out a handkerchief from his jacket pocket and began to show it to reporters. NATO functionaries looked around, not understanding what their "partner" was doing.
Reznikov, standing in front of the cameras, unfolded his handkerchief and showed on it a schematic representation of a combat aircraft.
From Reznikov's dialogue with reporters:
What is this? You see?
This is a fighter. Are you expecting to receive them from someone?
Reznikov with a grin:
From heaven.
At the same time, the Su-27 fighter was depicted on the headscarf of the Ukrainian minister.
Reznikov smiled and put on a spectacle at the Ramstein Air Force Base in Germany, and Ukrainian servicemen, who continue to be thrown into battle even in the most hopeless situations, added to the lists of "200s", "300s" and missing persons. The price of such a smile by Reznikov is very high for the personnel of the Armed Forces of Ukraine, and is paid exclusively with lives.