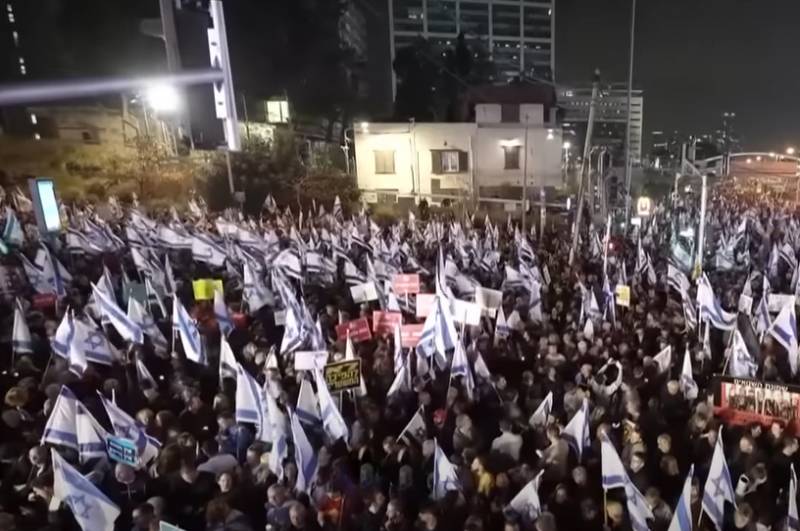 Tens of thousands of Israelis are taking part in mass protests in Jerusalem and Tel Aviv. Israelis are protesting against the reform proposed by the government of Benjamin Netanyahu concerning the country's legal system. Consideration of the relevant bill by the legislative commission of the Israeli parliament (Knesset) should take place in the coming days.
It is also reported that a mass strike is taking place throughout the country, in which, according to various estimates, up to a million Israeli citizens (that is, one in ten) participate.
It is assumed that the first part of the reform proposed by the Israeli Minister of Justice Yariv Levin, if approved in Parliament, will provide government control over the functioning of the selection committee of judges, as well as lead to the limitation of the judicial oversight bodies of the Supreme Court of influence on the basic laws of the country.
The protesters oppose the desire of the Israeli authorities to curtail the powers of the Supreme Court and completely control the selection of judges.
Thousands of protest rallies have been held in Israeli cities since the end of last year. Israelis are protesting against the policies pursued by the government of Benjamin Netanyahu, who headed the state in December last year.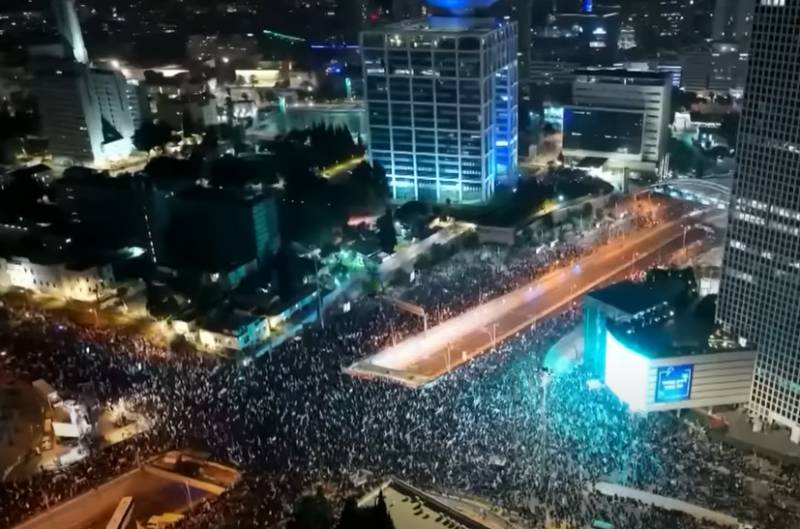 Many Israeli government agencies and private companies have allowed their employees to take part in massive nationwide strikes. However, the country's authorities are trying in every possible way to prevent the protesters. In particular, the Israeli Ministry of Education announced the suspension of salary payments to teachers who did not come to work, students who did not come to class and students will be recorded as truants.
Netanyahu argues that changes in legislation will allow control of judges who abuse their powers and influence the political life of the country. However, according to a number of opposition-minded Israeli political experts, Netanyahu seeks to protect himself from criminal cases related to allegations of corruption and breach of trust.
According to law enforcement officials, these protests are the most massive in all
history
countries. According to the organizers of these actions, the protesters oppose the attempts of the country's authorities to make "attempts of a dangerous revolution aimed at destroying Israeli democracy."
Against the backdrop of mass protests, Israeli President Yitzhak Herzog said that the country is on the verge of collapse and it is necessary to prevent the possibility of paralyzing the functioning of government.
However, despite the mass protests and statements by the Herzog, the Netanyahu government does not plan to abandon plans to reform the Israeli judiciary.