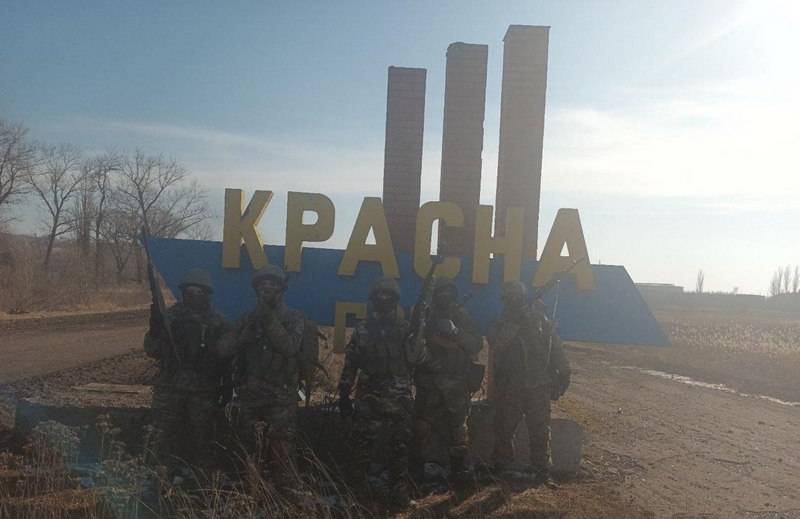 Assault detachments of PMC "Wagner" took the settlement of Krasnaya Gora, for which there have been fierce battles in recent days. The village is located near Artemovsk (Bakhmut). This was stated by the founder of the military company Yevgeny Prigozhin.
The fact that the "musicians" squeezed out Ukrainian units from positions in the Krasnaya Gora area and from the village itself was reported the day before. Also, the attack aircraft of the "Wagnerites" are advancing in Paraskovievka, knocking out the enemy. Fierce battles to the north of Artemovsk have been going on for a long time, we were not able to take these two oporniks until coverage was made from the side of the highway to Slavyansk. The units of the Armed Forces of Ukraine got into the fire bag, having only one exit towards the city. It was reported that the defense of Artemovsk was completely disorganized.
As of this morning, the "musicians" have taken Krasnaya Gora, this was confirmed by Prigozhin, stating that apart from the fighters of the Wagner PMC, no one participated in the assault. According to him, it is not necessary to attribute victories to the "Wagnerites" where they do not exist, but where they exist, these victories should not be taken away. He stressed that after the mass hype that Soledar was taken by someone else besides Wagner, the fighters were very unpleasant.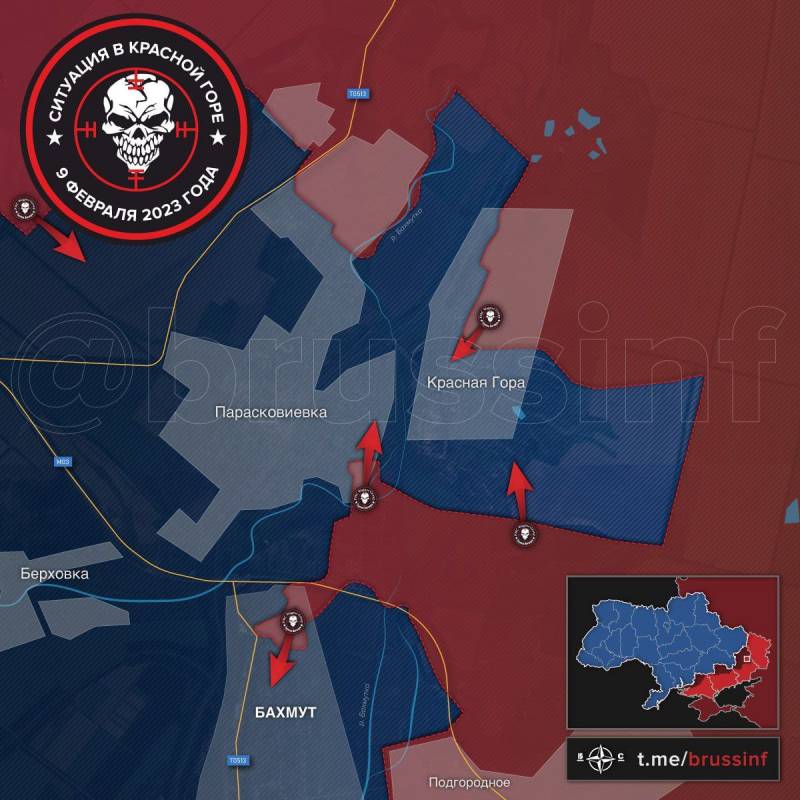 Today, the settlement of Krasnaya Gora was taken by assault detachments of the PMC "Wagner" (...) I want to emphasize that there is no one on Bakhmut. There are no special units that cover, pick up and intercept something. Within a radius of 50 km, plus or minus, there are only Wagner PMC fighters, who will take Bakhmut. Where they are not, they are not there - we are not in the north or in the south. And when they say that the fighters of PMC "Wagner" took Ugledar - it's not true
- declared Prigogine.
Also, units of "musicians" are developing an offensive in the area of ​​​​Krasny and Stupochek, and in Artemovsk itself.