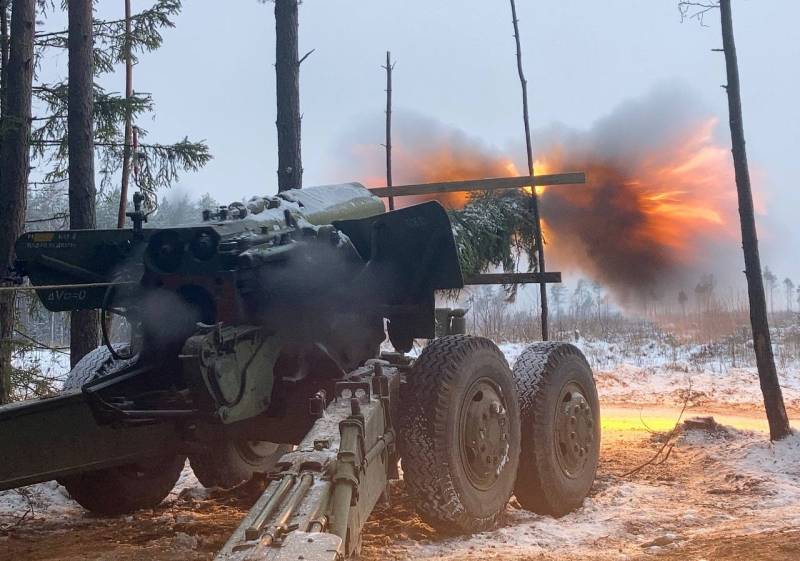 The Ministry of Defense of the Russian Federation in today's report, as always, without details, reports a powerful blow to critical energy facilities and the transport system of Ukraine. Attacks were carried out
drones
and sea, air and land-based missiles. All targets are hit. As a result, the work of a number of defense industry enterprises of Ukraine was stopped, and the transfer of weapons and military equipment by rail to the areas of hostilities was significantly hindered.
According to Konashenkov's report, there was no advance of the Russian troops, as well as the liberation of any settlements, along the front line. Artillery is still very active and
aviation
Armed Forces of the Russian Federation, methodically grinding manpower and destroying guns, military equipment and warehouses with ammunition of the Armed Forces of Ukraine.
Apparently, it will become even more difficult for the Ukrainian military to conduct a counter-battery fight due to the lack of ammunition, which the fighters of the Armed Forces of Ukraine have been complaining about regularly lately. In the past XNUMX hours alone, the enemy has lost seven ammo storage sites, of course, with the ammunition located there. Three warehouses were destroyed in the Donetsk Republic close to the front line. The same amount is in rear storage in the Dnepropetrovsk, Kharkov and Kirovograd regions. One warehouse is covered again in the area of ​​occupied Kherson.
The Armed Forces of Ukraine continue to suffer serious losses in the Donetsk direction, where the Wagner fighters and regular units of the "Southern" grouping of the RF Armed Forces are conducting a joint offensive. Over 140 Ukrainian nationalists, two infantry fighting vehicles, a Polish Krab howitzer, two American M777s, as well as Soviet Hyatsint-B and D-30s were destroyed by artillery and aviation fire here.
In the Yuzhno-Donetsk sector in the area of ​​​​Ugledar, Pavlovka and Novoselovka, the enemy lost about 100 militants, two infantry fighting vehicles, two vehicles, an M109 Paladin artillery system, three D-20 howitzers and one Hyacinth-B.
About 120 people of the Armed Forces of Ukraine were destroyed by artillery fire, TOS and army aviation of the "Center" group of troops in the Krasno-Limansky direction. Under fire were enemy positions in the areas of the settlements of Stelmakhovka and Nevskoye in the LPR, Yampolovka in the Donetsk Republic, as well as Serebryanskoye forestry.
In the Kherson direction, two Msta-B and D-30 howitzers were destroyed during the counter-battery fight.
Probably opened yesterday thanks to the new tactics of carrying out air attacks, near the town of Novy Bug, Mykolaiv region, the S-300 air defense radar was destroyed, and near the village of Shebelinka, Kharkiv region, the radar station for detecting air targets 35D6.