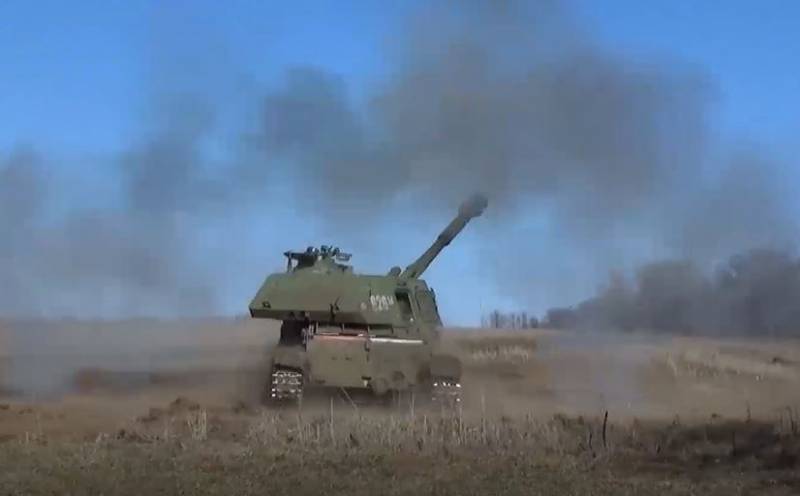 Russia launched another large-scale missile attack on the critical infrastructure and military facilities of Ukraine, during the offensive the settlement of Dvurechnoe in the Kharkiv region was liberated, the Air Force of the Armed Forces of Ukraine lost one helicopter. This is reported in the new report of the Ministry of Defense.
Last night and today passed for Kyiv under the sound of a running engine
drones
-kamikaze "Geran" and flights of cruise missiles, Russia launched a new large-scale strike on the objects of the energy sector of Ukraine and the military structure. There were three rocket waves in total, air raids sounded throughout the territory of Ukraine. More detailed information on the affected objects will be later, now in Kyiv they are counting the losses, and the General Staff of the Armed Forces of Ukraine is telling how Ukrainian air defense shot down all Russian missiles.
Meanwhile, hostilities continue along the entire line of contact, the command post of the 93rd Specialized Brigade of the Armed Forces of Ukraine was hit in the Artemovsk region, and the RAV warehouse was destroyed in the Druzhelyubovka region of the Zaporozhye region. Our fighters again distinguished themselves by shooting down a Mi-8 helicopter of the Ukrainian Air Force near Ternivka, Zaporozhye region.
In the Kupyansk direction, as a result of the offensive of the troops of the Zapad group, the settlement of Dvurechnoye in the Kharkov region came under our control. Ours continue to strike at the enemy in the areas of Novoselovskoye LPR, Gryanikovka and Berestovoye of the Kharkov region. The enemy suffers losses, it is reported that more than 70 Ukrainian servicemen, two infantry fighting vehicles, M777 and D-30 howitzers have been killed.
On Krasno-Limansky, the grouping of troops "Center" defeated the enemy in the areas of Chervonaya Dibrova, Chervonopopovka and Stelmakhovka of the LPR. Losses of the Armed Forces of Ukraine: up to a hundred personnel, four armored cars, a D-20 howitzer, a Grad MLRS, and an AN / TPQ-50 counter-battery radar. An ammunition depot of the Armed Forces of Ukraine was destroyed in the Borovaya area of ​​the Kharkiv region.
In the Donetsk direction, the offensive of the troops of the Yuzhnaya group continues, up to 125 Ukrainian servicemen were destroyed per day, two
tank
, three armored fighting vehicles, five vehicles, a D-30 howitzer and a Grad MLRS. In the areas of Slavyansk and Avdiivka, two ammunition depots were destroyed.
In the South-Donetsk direction, fighting is taking place in the areas of Prechistovka and Vugledar, the enemy's losses amounted to over 60 personnel, one tank, two infantry fighting vehicles, four pickup trucks, three M777 artillery systems, Gvozdika self-propelled guns, D-20 howitzer. Two ammunition depots were destroyed in the Ugledar area.
Up to 60 Ukrainian servicemen, one Msta-B howitzer and two D-30 howitzers were destroyed in the Kherson direction. Also, an ammunition depot was destroyed in the Vyshetarasovka area of ​​the Dnepropetrovsk region.