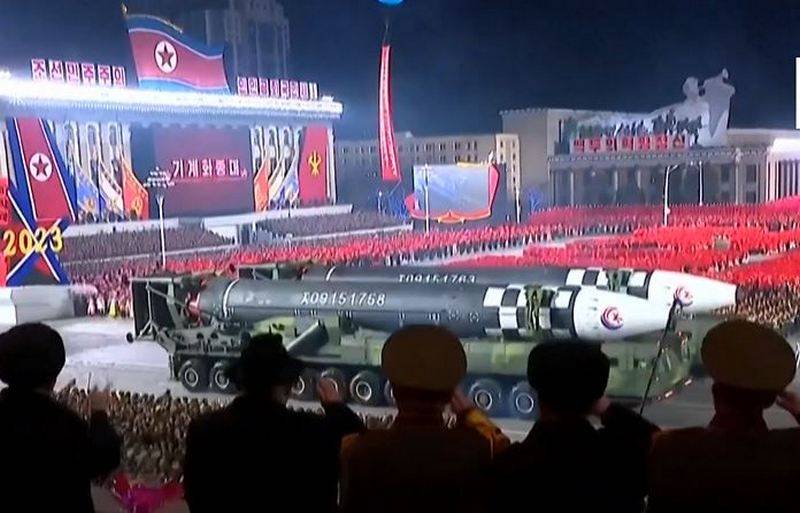 North Korea is capable of crushing US missile defenses, Pyongyang has the necessary number of intercontinental ballistic missiles for this. American experts came to this conclusion after watching the footage of the night parade held in the capital of the DPRK, writes Reuters.
On February 8 this year, a military parade was held in Pyongyang in honor of the 75th anniversary of the founding of the Korean People's Army. The parade demonstrated both ICBMs already in service with the North Korean army and promising intercontinental ballistic missiles capable of reaching any part of US territory. At the same time, the number of missiles shown was the largest for the entire existence of North Korea.
According to American experts, the DPRK has already developed a new solid-propellant ICBM capable of striking any part of the United States. A prototype of this missile was also shown at the parade. To date, the number of ballistic missiles in service with Pyongyang is sufficient to break through the existing American missile defense system. Previously, the Americans believed that only Russia and China were capable of this.
That's more ICBM launchers combined than we've ever seen in a North Korean parade (...) This time, Kim Jong-un let tactical and missile forces speak for themselves
- say analysts.
Meanwhile, North Korea continues to develop and test new types of missiles, including ballistic ones. North Korean leader Kim Jong-un has said that Pyongyang intends to develop a new intercontinental ballistic missile with a nuclear warhead that will outperform all North Korean missiles.