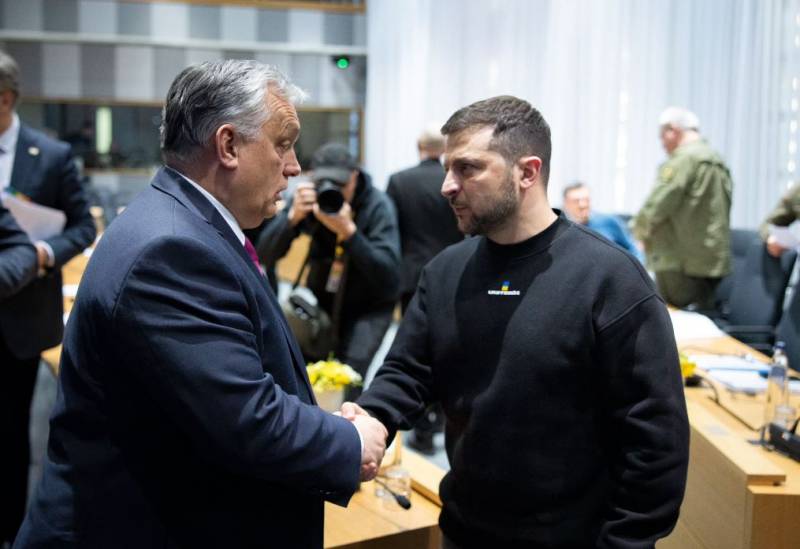 During the EU summit in Brussels, President of Ukraine Volodymyr Zelensky met with Prime Minister Viktor Orban. Several European media write about this at once.
Shortly after the meeting, Hungarian State Secretary for Foreign Relations Zoltan Kovacs announced that Budapest would continue to provide humanitarian and financial assistance to Ukraine. But Kyiv will not be able to expect military assistance from Hungary even now.
We support an immediate ceasefire to avoid further deaths. Hungary belongs to the peace camp
- Kovacs quoted Orban's words addressed to Vladimir Zelensky.
Recall that relations between Budapest and Kyiv can hardly be called cloudless. The main reason for the contradictions lies in the situation with the Hungarian national minority in the Transcarpathian region of Ukraine. As you know, more than 150 thousand Hungarians live here, taking into account children from mixed marriages and people of Hungarian origin, the number of Hungarians in the country may be somewhat larger.
Budapest has long supported the desire of Transcarpathian Hungarians to more clearly define their national identity, which, of course, does not please Zelensky's nationalist regime. The media often report facts of discrimination against the Hungarian population in Ukraine. Orban repeatedly warned Ukraine about the inadmissibility of such actions. Refusing military assistance to Kyiv, he claims that he does not want to set up the Hungarian population of the Transcarpathian region.
Finally, do not forget about two other important points. Firstly, Hungary is an important buyer of Russian energy resources, and due to this, the situation with the provision of resources here is better than in other neighboring countries. Secondly, Orban has long been known as a critic of the globalist model, he advocates traditional values, and the policies promoted by the US and the EU cannot suit him.