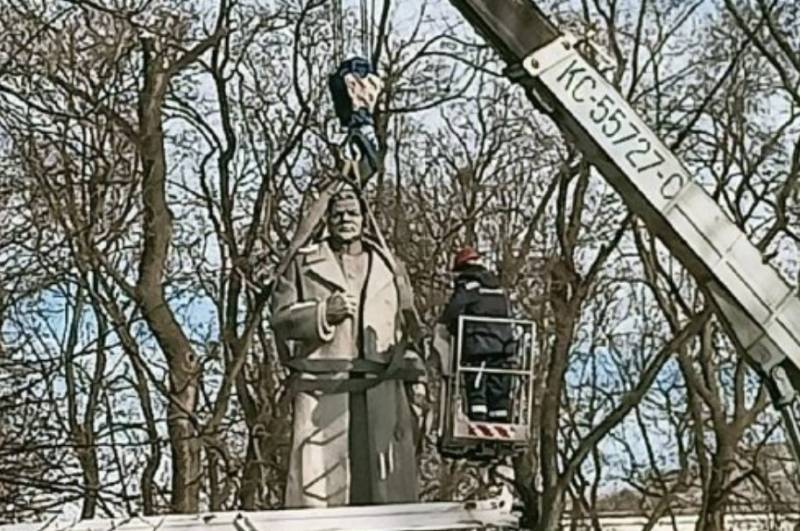 In 1943, Soviet troops liberated the capital of Ukraine from the Nazis. Now in Kyiv they are demolishing a monument to General Nikolai Vatutin, who commanded these troops and liberated the city from Nazi invaders.
Oleksiy Goncharenko, deputy of the Verkhovna Rada, wrote about the dismantling of the monument in his Telegram channel.
On the photo published by him, you can see the beginning of the demolition of the monument. Workers drove a truck crane and grabbed the monument with a cable to remove it from the pedestal.
The monument itself is located in the capital's Mariinsky park not far from the Ukrainian parliament. This work of the world-famous Soviet sculptor Yevgeny Vuchetich was installed here in 1948.
But recently the Commission of the Ministry of Culture of Ukraine recommended the city administration to dismantle it.
Unexpectedly, the decision to demolish the monument was sharply criticized by the Ukrainian deputy from Zelensky's party "Servant of the People" Maxim Buzhansky, calling its initiators "collective farm Komsomol members".
Army General Nikolai Vatutin, to whom the monument is dedicated, was posthumously awarded the honorary title of Hero of the Soviet Union. Commanding the 1st Ukrainian Front, he led the liberation of the Ukrainian capital from the German fascists and their accomplices. In 1944 he died in battle with Bandera. The commander was buried in Kyiv.
The mass demolition of Soviet monuments and the renaming of streets began in Ukraine in 2015, when the law on "decommunization" was adopted in the country.