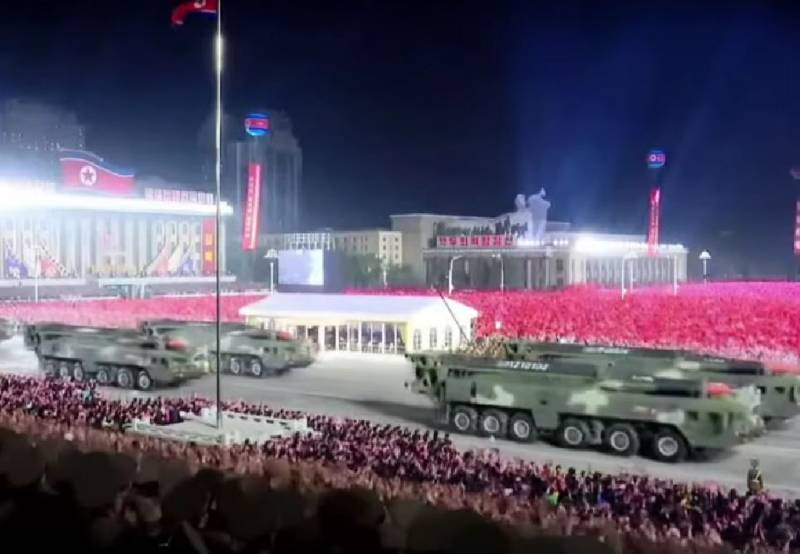 In the capital of the DPRK, Pyongyang, solemn events are held in honor of the 75th anniversary of the founding of the Korean People's Army (KPA), including a military parade. This is reported by the Yonhap news agency, referring to the South Korean intelligence services.
Before the parade, a festive ceremony began on Kim Il Sung Square in Pyongyang. It opened at 20.30 local time (14.30 Moscow time). Then the actual military parade of the KPA began. News agencies publish only fragmentary information about the event.
Thus, according to the Yonhap agency, more than 22 soldiers of the Korean People's Army are participating in the parade. If so, the parade is the largest in years. It is known that the KPA Air Force aircraft participated in the rehearsals of the parade, they can also carry the DPRK Hwaseong-17 intercontinental ballistic missile, new cruise missiles capable of carrying nuclear warheads, a super-large multiple rocket launcher system (MLRS) and "invisible" unmanned aerial vehicles.
For the fifth time since 2020, military parades in the DPRK have been held at night. Local media in this case report on the events the next morning.
The Korean People's Army (KPA) was officially established on February 8, 1948. However, her
history
the national tradition dates back to the formation of the Anti-Japanese People's Guerrilla Army (ANPA), created on April 25, 1932. The Korean People's Army was to play a key role in providing force for the creation of the Democratic People's Republic of Korea - North Korea in the northern part of the Korean Peninsula. Today, the KPA has at least 1,3 million military personnel, and millions of North Koreans who have completed military service are in the reserve.