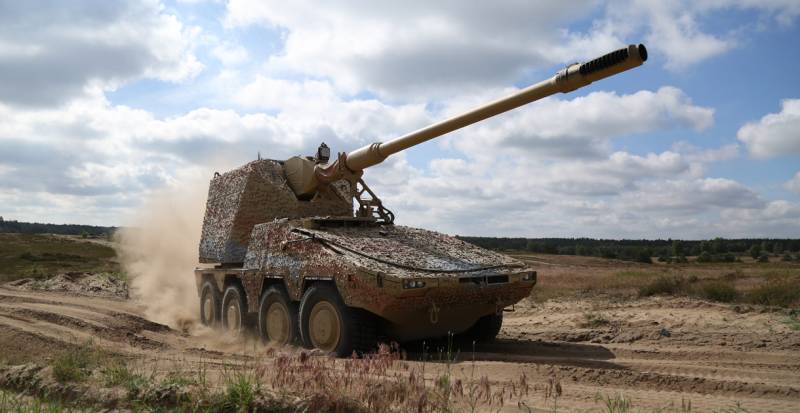 The Bundeswehr is starting to test a new wheeled self-propelled artillery mount RCH-155 of 155 mm caliber, the delivery of which is very much awaited by Ukraine. According to the German press, testing of self-propelled guns by the German military will last until May.
The German army began testing the RCH-155 self-propelled guns, the first customer of which was not the Bundeswehr, but the Armed Forces of Ukraine. The contract for the production of a batch of new self-propelled howitzers for the Ukrainian army was received by Krauss-Maffei Wegmann (KMW). In total, Kyiv should receive eighteen new self-propelled artillery mounts capable of delivering strikes at a distance of more than 50 kilometers.
Kyiv sent a request for the supply of RCH-155 self-propelled guns to Berlin last July, in September it became known that the German government approved the delivery and issued a license for the production of 18 self-propelled guns to KMW. The cost of the contract is 216 million euros, but Kyiv will not have to pay anything, everything will be done at the expense of Germany.
According to the agreement, KMW will deliver the first howitzers no earlier than 30 months after the start of production, i.e. around 2025. The Germans also promise to train Ukrainian crews and supply the Armed Forces of Ukraine with spare parts in case of any breakdowns.
ACS RCH-155 (Remote Controlled Howitzer 155) is an automated turret artillery module AGMx (Artillerie-Geschütz-Modul) with a 155-mm gun from a PzH 2000 howitzer, placed on the chassis of a GTK Boxer (8x8) wheeled armored personnel carrier. The module is uninhabited, so the calculation of the ACS is only two people. The combat weight of the RCH-155 is 39 tons, the module itself weighs 12,5 tons. Ammunition - 30 rounds per module. The declared range is up to 54 km when firing high-precision projectiles, the rate of fire is 9 rounds per minute.