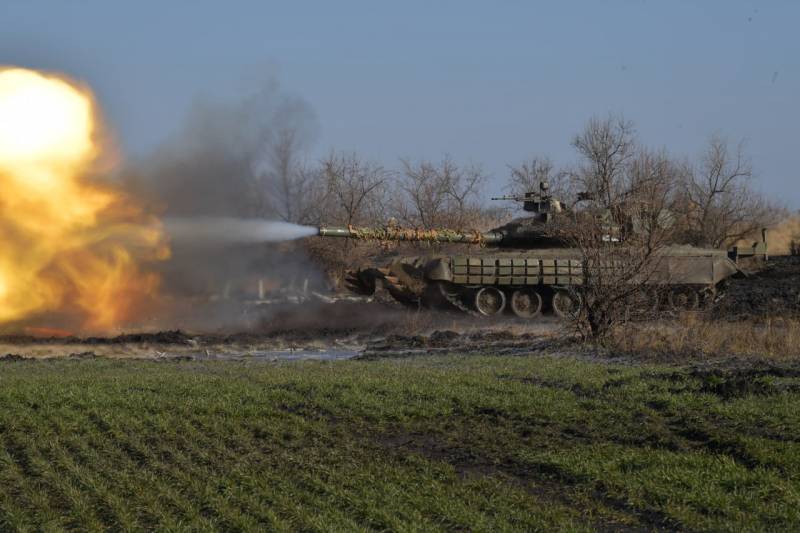 The past day did not bring significant changes to the operational situation, the offensive of the Russian troops continues, the battles are going on in all directions. This is stated in the new report of the Ministry of Defense.
Today the report is short, the military department spoke about the battles in the main directions and the losses of the Armed Forces of Ukraine, no attacks were made on the infrastructure. The General Staff of the Armed Forces of Ukraine suggest that this is due to a storm raging in the Black Sea, which forced all Russian naval carriers of Kalibr to be driven to bases. But in Kyiv they do not rule out that in the coming days it will still "arrive".
In the Kupyansk direction, the destruction of manpower and equipment of the units of the 14th and 92nd mechanized brigades of the Armed Forces of Ukraine in the areas of Ivanovka, Berestovoye of the Kharkov region and Novoselovskoye LPR continues. Enemy losses: more than 50 dead and wounded, two armored combat vehicles, four vehicles and a D-30 howitzer.
On Krasno-Limansky under attack
aviation
, artillery and TOS "Solntsepek" hit units of the 66th mechanized, 25th airborne, 95th airborne assault and 81st airborne brigades of the Armed Forces of Ukraine in the Novosadovoe DPR, Nevskoye, Chervonopopovka and Chervonaya Dibrova LPR regions. The enemy lost over 100 servicemen, three armored cars, and two cars.
In the Donetsk direction, the offensive of the assault detachments of the Yuzhnaya group continues, artillery is actively working. More than 90 people of the Armed Forces of Ukraine, four armored cars, the Grad MLRS and the Msta-B howitzer were destroyed. In the area of ​​​​the settlement of Ilyichovka, the DPR, an artillery ammunition depot was destroyed.
In the South-Donetsk and Zaporozhye directions, artillery troops of the Vostok group in the areas of Ugledar and Vodiane defeated the units of the 1st
tank
and the 72nd Mechanized Brigade of the Armed Forces of Ukraine. Four ammunition depots were hit in the areas of Razliv, Dobrovolye and Novoekonomicheskoe DPR. The total losses of the enemy: more than 80 Ukrainian servicemen, one tank, two armored combat vehicles, two D-20 howitzers, two D-30 howitzers, as well as a Gvozdika self-propelled howitzer.
The counter-battery fight continues in the Kherson direction, up to 20 Ukrainian servicemen, an Akatsia self-propelled howitzer, and an ammunition depot were destroyed in a day.