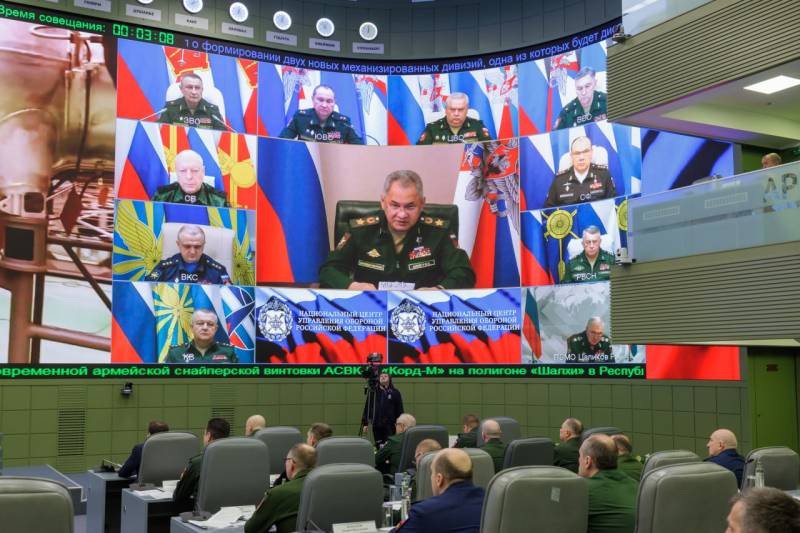 The head of the Russian military department, Sergei Shoigu, spoke at a conference call at the Ministry of Defense. In his opening speech, he spoke about the current situation in the zone of the special military operation and named the losses of the Armed Forces of Ukraine over the past month.
The situation on the line of contact is developing in our direction, Russian troops are conducting successful offensive operations in the area of ​​Ugledar and Artemovsk, recently several settlements in the Donetsk and Zaporozhye directions, including Soledar, have been liberated from the enemy. Of the not so large, but no less important, Kleshcheevka, Podgornoye, Krasnopole, Blagodatnoye and several other settlements were liberated, turned by the Armed Forces of Ukraine into defense centers.
Russian troops continue to destroy both the personnel of the Ukrainian army and Western-supplied equipment. In January alone, the Armed Forces of Ukraine lost more than 6,5 thousand servicemen, 26 aircraft, 7 helicopters, 341 armored vehicles, including
Tanks
and 40 MLRS installations.
The United States and its allies are seeking to prolong the conflict as much as possible by continuing to supply the Zelensky regime with weapons and equipment. The West has already begun deliveries of heavy offensive weapons, openly calling on Kyiv to seize Russian territory. NATO countries are increasingly drawn into the conflict, this can lead to the transition of hostilities to a higher level with an unpredictable outcome.
Russian troops will continue to conduct a special military operation to ensure the security of new Russian regions and protect the people of Ukraine from genocide by the Zelensky regime.
During the meeting, other issues were also discussed, including: re-equipment of the orbital constellation of military spacecraft and the construction of the second stage of the Baikal-Amur Mainline.