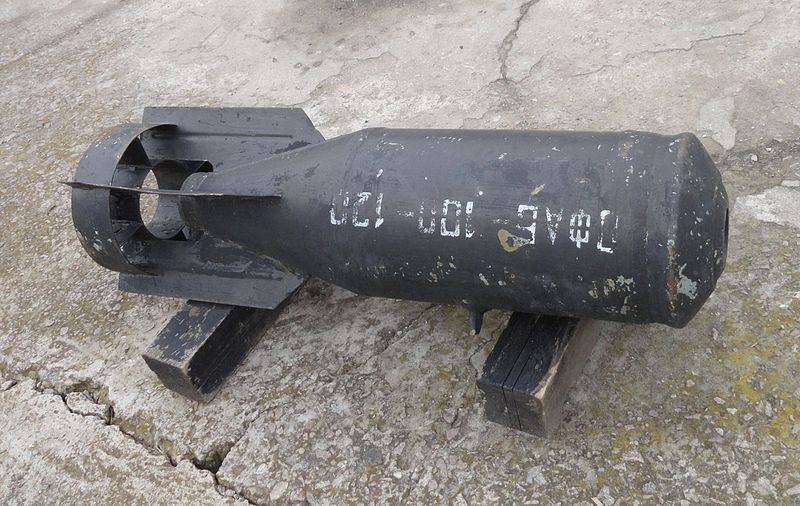 The photo is for illustrative purposes.
At the crash site of the downed Russian air defense
drone
A high-explosive fragmentation bomb was found in a forest near Kaluga. It probably didn't break.
We are talking about OFAB-100-120. Ammunition of this type contains about 46 kilograms of explosive. When such bombs explode, a funnel with a radius of up to five meters is formed. Fortunately, the drone, which allegedly flew from the territory of Ukraine, was shot down far from residential buildings and infrastructure, and the explosion of the UAV did not cause any damage or loss of life.
OFAB-100-120 high-explosive fragmentation bombs are effective in destroying lightly armored military equipment, as well as manpower. The total mass of such ammunition is 123 kilograms.
Presumably, a Ukrainian drone was carrying a bomb in the direction of Moscow. He managed to overcome about 650 kilometers from the Ukrainian border and was shot down at a distance of 150 kilometers from the outskirts of the Russian capital.
This is far from the first attempt by the Kyiv regime to attack objects located at a considerable distance deep in Russian territory. Earlier, strikes were carried out on the air base in the city of Engels, where Russian strategic bombers are located.
Attempts are regularly made to deliver strikes on the territory of Crimea, but in the vast majority of cases, all of them are suppressed by Russian air defense systems.