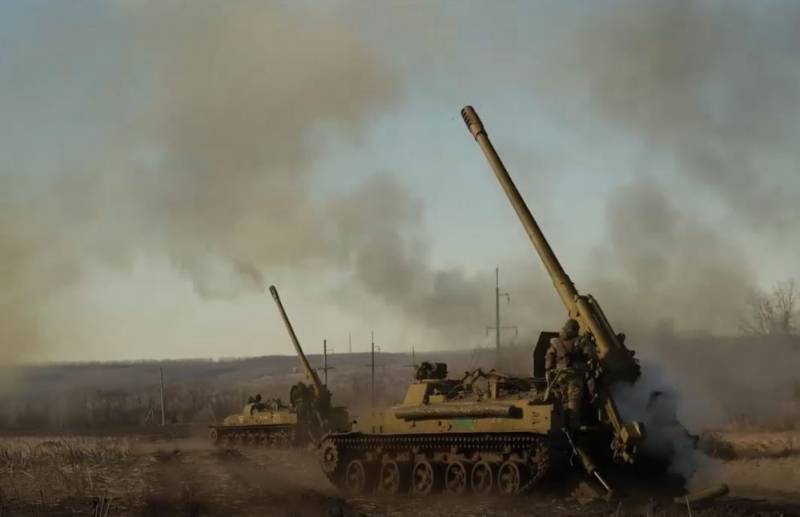 Russian troops continue to advance in the main directions, the enemy, putting up fierce resistance, is forced to retreat. Attempts by the Armed Forces of Ukraine to act in small groups failed, only several Ukrainian DRGs were neutralized on the line of contact in the Kharkiv region.
In the Kupyansk direction, the artillery of the Zapadnaya grouping attacked the positions of the 14th and 92nd Motorized Rifle Brigade of the Armed Forces of Ukraine in the Sinkovka, Ivanovka, Berestovoe districts of the Kharkov region and Novoselovskoye LPR. On the territory of the Kharkiv region, six sabotage and reconnaissance groups of the Armed Forces of Ukraine were discovered and destroyed. The enemy lost up to 35 personnel, an armored car and two cars.
In the Krasno-Limansky direction, the offensive of our troops continues with the support of artillery. Units of the 25th Airborne, 71st Jaeger, 95th Airborne Assault Brigade of the Armed Forces of Ukraine and the 27th National Guard Brigade in the areas of Novosadove, Yampolovka of the DPR, Stelmakhovka, Chervonaya Dibrova of the LPR, as well as Serebryansky forestry again came under attack. Enemy losses: over 120 "two hundredths" and "three hundredths", an infantry fighting vehicle and three armored cars.
In Donetsk, during the offensive, the troops of the Yuzhnaya group occupied new lines, artillery and missile systems attacked the 110th mechanized, 35th and 36th marine brigades of the Armed Forces of Ukraine, as well as the 118th troop brigade in the areas of Spornoe, Avdiivka and Krasnogorovka DPR. During the day, more than 115 Vushniks, three infantry fighting vehicles, four vehicles, as well as a D-20 howitzer and a D-30 howitzer were destroyed.
In the South-Donetsk and Zaporizhzhia directions, the Vostok group destroyed about 130 Ukrainian servicemen from the 72nd OMBR of the Armed Forces of Ukraine in the Ugledar region and the 110th TRO in the Novodarovka region of the Zaporozhye region. In addition, two
tank
, an infantry fighting vehicle, two armored cars, two vehicles, self-propelled guns "Gvozdika", as well as D-30 and D-20 howitzers in the areas of Gulyai Pole, Zaporozhye region and Vodiane DPR. A warehouse of artillery ammunition of the Armed Forces of Ukraine was destroyed in the area of ​​Vuhledar.
In the Kherson direction, a D-30 howitzer and a self-propelled howitzer "Acacia" were destroyed in the course of counter-battery combat in the areas of the settlements of Kachkarovka and Dneprovskoe, Kherson region.