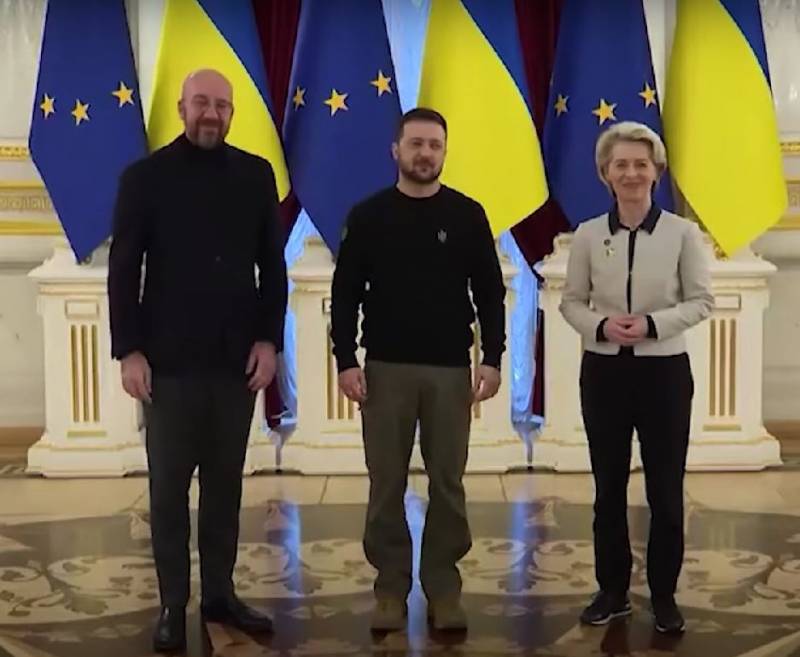 Today, the Ukraine-EU summit took place in Kyiv, to participate in which high-ranking leaders of the European Union headed by Ursula von der Leyen arrived in the Ukrainian capital. The main issues discussed at the summit were various aspects of the so-called "European integration" of Ukraine. True, Ukraine is not accepted into the European Union, which was clear before.
Ukraine will be able to join the European Union, depending on how its actions will meet the requirements of the organization. There are no fixed deadlines for accession and even the start of negotiations, as Ursula von der Leyen, head of the European Commission, emphasized. Earlier, the European Commission stated that Kyiv would be able to count on joining the EU only after the end of the armed conflict.
The head of the European Commission, Ursula von der Leyen, also announced the possible introduction of a new package of sanctions against the Russian Federation. The volume of the package this time will be about 10 billion euros, the politician said following the results of the Ukraine-EU summit. European countries want to focus on making a number of technologies inaccessible to Russia, including those that can be used in the military sphere. Thus, according to von der Leyen, some Western-made components were found in Russian unmanned aerial vehicles.
In addition, Ursula von der Leyen spoke about how she took refuge in a bomb shelter while participating in the summit and visited the Ukrainian post office. Earlier, an air raid alert sounded in Kyiv, although there were no strikes on the city.
Volodymyr Zelensky, speaking at the end of the summit, made a more interesting statement that the Armed Forces of Ukraine are not going to surrender Artemovsk (Bakhmut). Thus, the Kyiv regime demonstrates adherence to the previous tactics - not to take into account human losses and destruction of infrastructure, to refuse negotiations, to accumulate weapons.