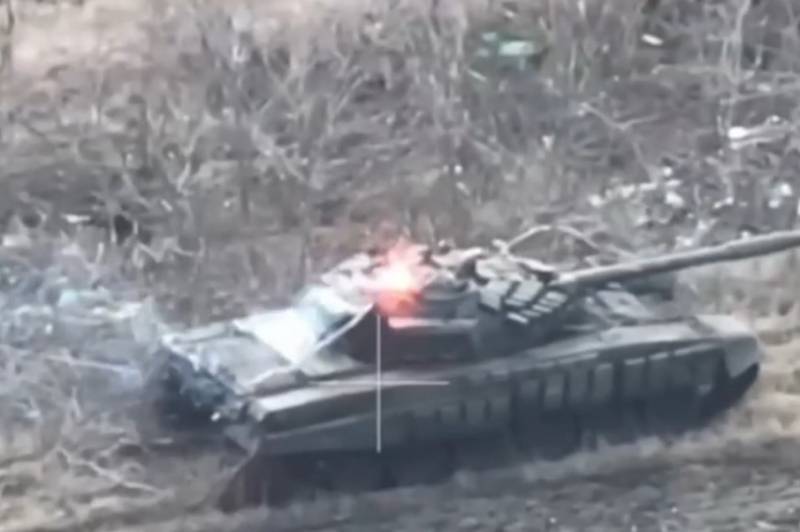 Footage was posted on the Internet showing close combat of the Russian Armed Forces during a special operation. On them you can observe how the enemy's grenade launcher shot ricocheted off the tower of the Russian
tank
.
This was reported by the Telegram channel
"Two Majors"
.
The footage shows an image of the scene of the clash, which was filmed from
drone
. Everything that happens is commented on by a voice-over belonging to the UAV operator. Unfortunately, his comments were generously flavored with non-literary language, so this video is not here.
Now Russian armored vehicles in the combat zone are accompanied by
drones
, which allows you to better assess the situation on the battlefield.
This time, the UAV operator noticed a group of Ukrainian infantrymen. He immediately said that they were armed only with small arms.
weapons
. But then an observer noticed a grenade launcher on one of the fighters. A Russian tank approaching them opened fire on the group, after which it continued to move to the right of their position. It seems that there was no connection with the drone operator, since the combat vehicle did not iron the enemy, but moved to the right, allowing the grenade launcher to strike from behind. During this maneuver, the UAV operator loudly warned the crew of the danger, but his words were ignored or not heard.
Fortunately, the grenade launcher ricocheted off the turret of the Russian tank without harming it. And on the tower, only the engine was left to burn out from a grenade launcher.