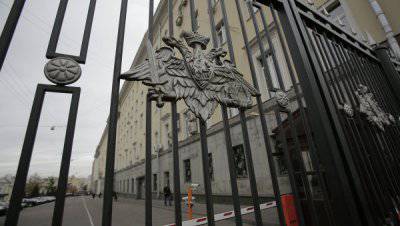 I did not have time to gain full momentum scandal in the Ministry of Defense, associated with the misappropriation and sale of land in the Krasnodar Territory (code
OKATO
corresponds to land plots on the famous Utrish), as new details of corruption schemes began to appear in the main Russian military department. The case again concerns the theft of money through the firm Oboronservis, which has caused a stir in the last few weeks.
It is reported that investigators received a new batch of materials stating that the threads of corruption schemes management passed through Oboronservis. If a week ago they talked about embezzlement in the amount of 3-s billion rubles, now this figure is growing literally every day.
Now there is information that the employees of Oboronservis (a company controlled by the Russian Ministry of Defense) managed to implement a whole microdistrict in the Odintsovo district near Moscow. At clearly reduced prices, 70 residential buildings were finished. Real estate area was 36 thousand square meters. The residential complex covers an area of ​​about 20 hectares.
According to preliminary data, the Odintsovsky microdistrict was sold for 320 million rubles. This is about 7-10 times lower than the nominal value. It turns out that Oboronservis employees were selling housing at a price of about 8800 rubles per square meter. Today, at this price in the suburbs you can buy, perhaps, a country toilet.
As a result, the investigators concluded that the total damage of only one real estate transaction in the Odintsovo region amounted to more than one billion rubles. This billion can be summed up with the three mentioned earlier by the investigating authorities.
But this amount of waste and fraudulent multipassings with an obvious corruption component is clearly not final. Now new cases may arise that are related to the machinations in the Ministry of Defense, which Anatoly Serdyukov recently directed.
Recall that Vladimir Putin decided to remove Serdyukov from office due to the fact that it is necessary to ensure the transparent course of the investigation. In place of Anatoly Serdyukov was the former head of the Moscow region Sergey Shoigu. It was after the appointment of Shoigu as Minister of Defense that the financial scams of Oboronservis in the Odintsovo region surfaced. Accident? It is possible that this is so, but there is an option in which already Sergei Shoigu contributed to the disclosure of corruption schemes used during the time when Serdyukov was in the ministerial chair.