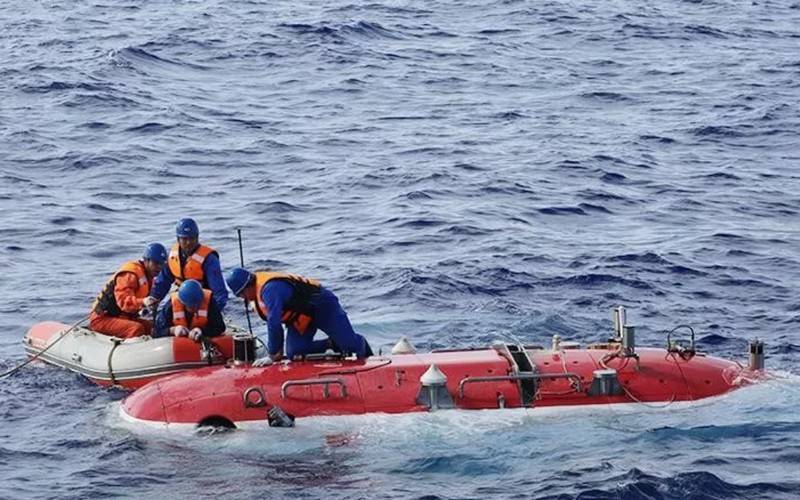 The Russian autonomous uninhabited underwater vehicle Vityaz-D has undergone modernization, having received new capabilities for carrying out work at great depths. Andrey Grigoriev, Director General of the Foundation for Advanced Study (FPI), spoke about this.
The Russian deep-sea vehicle "Vityaz-D" was developed by the Central Design Bureau "Rubin" in the interests of the Advanced Research Foundation. Unlike foreign submarines
drones
, Russian is a fully autonomous uninhabited underwater vehicle using elements of artificial intelligence. "Vityaz-D" is part of the deep-sea diving complex, where, in addition to it, there is a deep-sea bottom station and control room equipment.
In 2020, on May 8, the Vityaz sank to the bottom of the Mariana Trench, reaching a depth of 10 km 28 meters. During three hours of being in the deepest basin of the World Ocean, the Russian apparatus carried out mapping, photography and video filming of the seabed, and installed a pennant dedicated to the 75th anniversary of Victory in the Great Patriotic War at the bottom of the Mariana Trench.
Now the device has undergone modernization, the details of which are not disclosed. However, it is noted that its functionality has been expanded, allowing for continuous work at the study site. Last year, the device completed a series of tests in the deep waters of the Pacific Ocean, fully confirming its functionality.
The uninhabited underwater robotic complex "Vityaz-D" was modernized in terms of expanding its functionality. In fact, now it includes two devices, which allows continuous work in a given area.
- leads
TASS
Grigoriev's words.