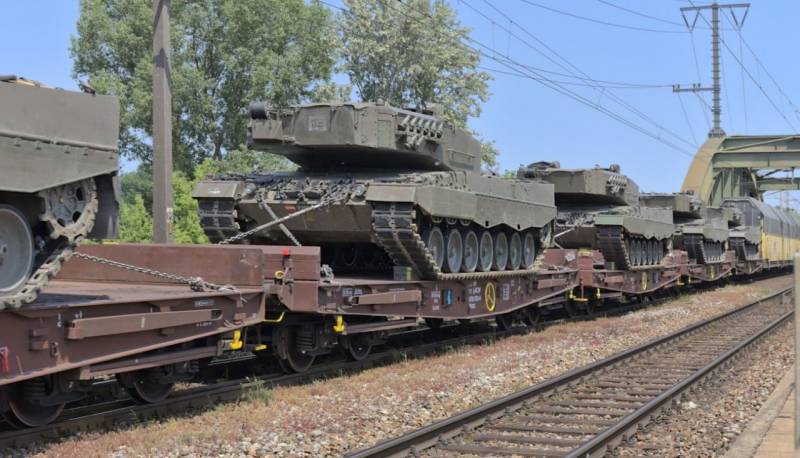 Ukraine will receive
Tanks
Western production in several "waves", follows from the statement of the head of the Ukrainian Foreign Ministry Dmitry Kuleba. In the first wave, Kyiv expects the delivery of the bulk of heavy armored vehicles.
The coalition of Western countries planning the transfer of tanks to Kyiv, today has 12 countries. According to the same Kuleba, it is too early to say who will supply tanks, how much and when, since most of these countries have not yet decided. But Kyiv expects that in the first wave, the Armed Forces of Ukraine will receive from 120 to 140 Western-made tanks.
As part of the first wave of provision, the armed forces of Ukraine will receive from 120 to 140 units of modern tanks of Western models. These are Leopard 2, Challenger 2, M1 Abrams. And we really count on Leclerc
- said the Ukrainian minister.
Judging by Kuleba's statement, the first wave of tank deliveries will drag on for quite a long time, since the United States, for example, plans to send their M1 Abrams no earlier than the end of this year, or even in 2024. And the German Leopard 2 is still not clear. There is a feeling that the Ukrainian minister put everything together and blurted out without thinking, revealing the regime's dream of getting more tanks right away. With the coalition, too, everything is not as simple as the head of the Ukrainian Foreign Ministry is trying to make, some countries have already left it, refusing to supply armored vehicles, others will not enter it. There is a Poland with great ambitions, and three Baltic limitrophes that are cheering for Warsaw.
Recall that to date Kyiv has been promised 14 Leopard 2A6 tanks from Germany, 14 Challenger 2 tanks from Great Britain and 14 Leopard 2A4 tanks from Poland. They should act in the spring of this year, starting from March, ending with the end of May. Another 31 M1 Abrams tanks were promised by the Americans, but not before the end of the year.