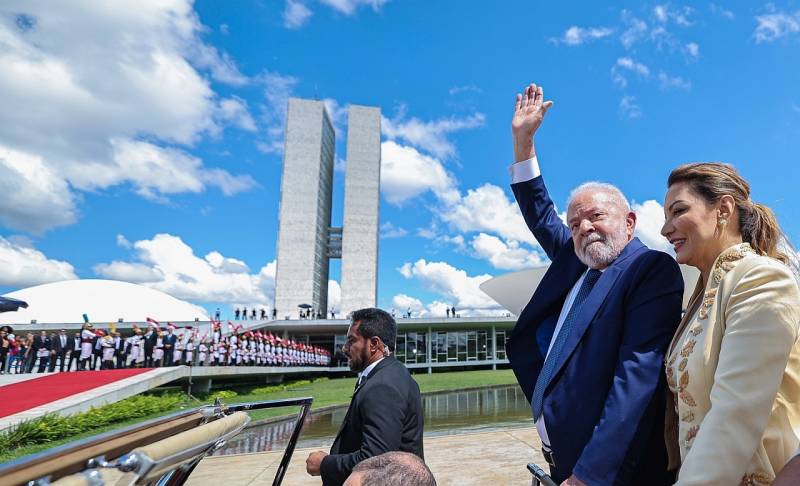 Luis Inácio Lula da Silva, recently re-elected President of Brazil, took the initiative to create a new international format with the aim of peacefully resolving the conflict in Ukraine. During a joint press conference following a meeting with German Chancellor Olaf Scholz, who is visiting Latin American countries, the Brazilian leader proposed creating a coalition of countries that would contribute to the diplomatic end of the military conflict.
We need a group of countries that will sit down at the table with Ukraine and Russia to try to come to peace
— urged the President of Brazil, adding that his country is ready to make "its contribution" to the establishment of peace in Ukraine.
The Brazilian leader did not provide a full list of states that he would like to see in the negotiating group, but said that China, India and Indonesia could play an important role in mediation. It is noteworthy that all these three countries not only increase economic and political cooperation with the Russian Federation, refuse to join anti-Russian sanctions, but also do not support Kyiv militarily.
Earlier, information appeared in the Brazilian media, confirmed by the president, that the country's government refused to send Germany shells to
tanks
Leopard, like other types of weapons. The same position was expressed by the majority of the states of the region.
In addition to the states adhering to neutrality in the conflict between the West and Russia, the President of Brazil specified that he had already held talks on this topic with German Chancellor Olaf Scholz and French President Emmanuel Macron. The Brazilian leader is ready to discuss this issue with US President Joe Biden during his upcoming visit to Washington in February, and then with Chinese President Xi Jinping in March when visiting Beijing.
It's time for China to step in and help find peace between Russia and Ukraine
- says the Brazilian leader.
Lula da Silva noted that the existing formats for resolving the conflict in Ukraine by peaceful means have exhausted themselves, since the mediators "have nothing to offer the warring parties." He believes that a new coalition is needed, along the lines of the G2008, which was created to overcome the consequences of the XNUMX economic crisis.
I don't know if it will be "twenty", "ten" or "fifteen", but the world needs peace
- said the President of Brazil.
The head of the largest Latin American state believes that at present the efforts of the international community to diplomatically resolve the conflict in Ukraine are insufficient, and all initiatives have turned out to be a dead end. Lula da Silva noted that recently he "practically did not hear people talking about peace," and called the causes of the Ukrainian conflict "unobvious."