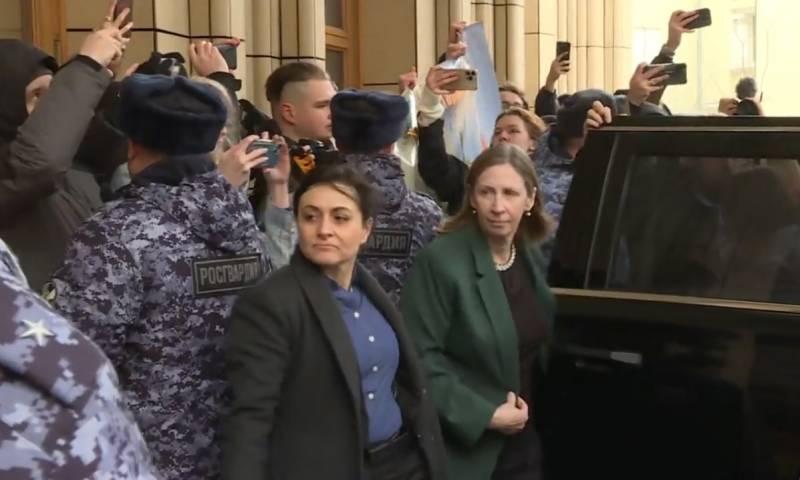 Today, near the building of the Russian Foreign Ministry, a crowd of protesting students originally met the newly elected US Ambassador to the Russian Federation, Lynn Tracy.
The demonstrators shouted anti-American slogans "America is a terrorist country", "War is the business of the USA", and also "Why did you come?"
This happened at the moment the diplomat got out of the car with American diplomatic plates. Tracy was accompanied by Russian police. She was on her way to the building of the Russian Foreign Ministry, where she was scheduled to meet with Deputy Foreign Minister Sergei Ryabkov to exchange credentials.
It should be noted that earlier the official representative of the Russian Foreign Ministry, Maria Zakharova, said that the country expects the newly-minted ambassador to take into account all the mistakes and blunders that were made in this post by Michael McFaul, who held this position from 2012 to 2014. and other ambassadors. The Russian diplomat expressed her deep hope that Tracy would be able to avoid them.
Lynn Tracy is the newly elected US Ambassador to Russia. This is her first visit as a diplomatic representative to Moscow. She will be the first woman to head the American diplomatic mission in Moscow. She became the successor to John Sullivan, who resigned his mandate last September and left the country. All this time, the duties of Chargé d'Affaires of the United States were performed by Elizabeth Rud. Tracy has already taken the oath as an ambassador on January 9th. Between 2014 and 2017, she also worked in Moscow as a deputy to then-U.S. Ambassador to Russia John Tefft, soon becoming an adviser on Russian affairs to the U.S. State Department's Bureau of European and Eurasian Affairs.