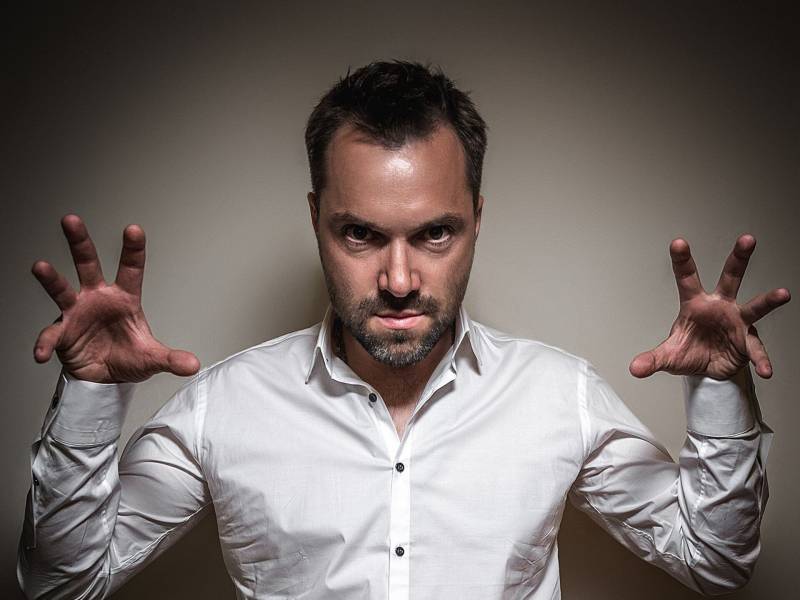 How to choose that Lucy ...
Alexey "Lyusya" Arestovich was not perceived as a serious politician in Ukraine and Russia for a long time. Perhaps only his resignation turned him from a court political clown into something more real. He was always charged with the fact that, as an actor, he played the role of the singer Lucy Zaitseva, disguised as a woman.
Because of this, the unofficial nickname "Lucy" once stuck to him. Aleksey Arestovich, the son of the military, half Belarusian, half Pole, was born in a military town in Georgia. It has a very indirect relationship with Ukraine.
He received the nickname Lucy after the film "Do not be afraid, I am near", where his hero, in order to compromise an opponent, dresses up as a girl, an aspiring singer Lucy Zaitseva. The film did not have a big resonance, but the nickname Lucy stuck to Arestovich firmly and, apparently, for the rest of his life.
He still passed the army
In accordance with family continuity, Lucy still served. And he even finished his service with an officer rank, only the circumstances of his dismissal are unclear. There is an opinion that he resigned from the post of military psychologist with a scandal. Because of what there was a scandal - it's hard to say. But the fact is that Lucy is no longer in the ranks of the Armed Forces of Ukraine.
The position of a military psychologist is very murky and controversial. How Arestovich understands this topic - again, it is not clear. It is only obvious that he is a good PR person. Therefore, of course, Zelensky faced a very serious opposition option. This is far from the wasted Medvedchuk and not the Rostov alcoholic Yanukovych.
Did he fight?
The details of Arestovich's service are unclear. It is only known for certain that he served in the intelligence unit, and retired with the rank of captain (according to other sources - a major, there is a version that he was demoted "for special merits") due to alleged disagreement with appointments to command positions of random people .
He really was in the so-called ATO zone. What he did there is covered in darkness. It is relatively plausible that he was a military psychologist. He does have a military background.
This is where all the proven facts about Arestovich end. Then an autobiography begins, similar to Malaya Zemlya, only, unlike dear Leonid Ilyich, he wrote it, apparently, with his own hand. In a military biography of his own spill, Arestovich mentioned that he allegedly crossed the front line 33 times in the course of his intelligence activities.
Evil tongues (which is typical both in Ukraine and in Russia) claim that in reality Arestovich only posed for television cameras when correspondents arrived at the front. What really happened - who will say now, but maybe in the near future we will find out at least something similar to the truth.
There is no doubt that the Ukrainian Ministry of Defense will dig under the disgraced Alexei Nikolayevich. Of the documentary facts, the photograph of Arestovich, taken near Kramatorsk, where he holds an AK-74 assault rifle without a magazine, deserves special attention.
There is, however, proof of Arestovich's professionalism as a scout. In 2003, while sitting at an Israeli military forum, he met two Russian officers. Having managed to convince them that he was a Russian military man and went through the Chechen war, he pulled out a number of secret information from them.
Political position
It would be wrong to say that Arestovich has some kind of political position, since during his career he has demonstrated an amazing ability to change shoes in the air. During the military conflict in the Donbass, his rhetoric was in many ways reminiscent of a character from the other side of the front line - Igor Strelkov.
Assessments of the situation at the front were objective and close to reality, like those of Strelkov, devoid of jingoistic patriotism, for which he, apparently, fell out of favor. Arestovich took into account, probably, the experience of the enemy, also resigned of his own free will with no less scandal than Strelkov, but, unlike the latter, who hid for a long time from human eyes, he quickly went on promotion.
The position turned out to be rather strange: a freelance adviser to President Zelensky. In this position, Arestovich was engaged almost exclusively in PR, bribing the public with his insinuating voice and an abundance of references to psychology. In this regard, of course, Zelensky's talking head looked much more respectable than, for example, Maria Zakharova, not to mention Jen Psaki.
But for all his seeming adequacy, Arestovich dramatically changed his style of behavior in his new position. There was no question of any desire to cut the truth-womb. Began to prevail hat-throwing moods. This went with a bang after the start of the military conflict with Russia: the layman, listening to Arestovich on TV, heard what he would like to hear, and no matter how much it corresponded to reality.
Therefore, Lucy was forgiven even for his fundamental lack of command of the Ukrainian language, from which he was exempted from studying at school as the son of a military man. Nevertheless, Arestovich, even with such a desire to promote the Zelensky regime at any cost, showed a certain foresight.
In particular, long before the partial mobilization in Russia, he predicted that Russia could not do without it. Even before the start of the NMD, he predicted both strikes from Belarus and an attempted siege of Kyiv. As soon as the SVO began, Arestovich immediately made a statement with a forecast that the war would drag on for a very long time and would be sluggish.
After such a statement, apparently, our hero was slapped on the hat on Bankovaya. Lucy's rhetoric immediately changed, apparently in the direction that was beneficial to Zelensky.
Current metamorphoses
Arestovich's rhetoric in the last week can, without further ado, be called anti-Ukrainian. Well, if everything were limited only to stating the fact of the unsuccessful shooting down of a Russian missile, which cost the lives of people in an apartment building. But then he encroached on the sacred, saying that the Ukrainian anthem does not contain positive.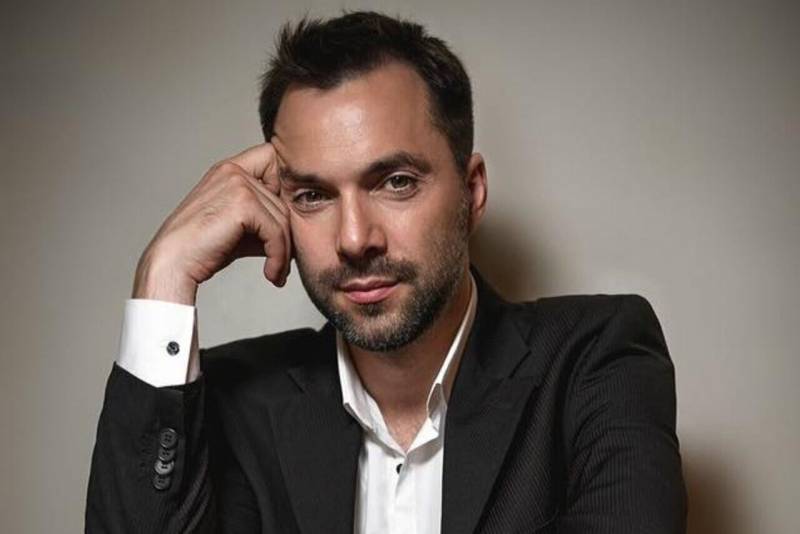 Arestovich is clearly working for the conjuncture: he is not so stupid as to understand that no one in Ukraine, except for the authorities themselves, will listen to jingoistic speeches. In Ukraine, the people managed to get tired of such protracted hostilities, and the mood there can be expressed by a quote from Yaroslav Hasek: "The Sovereign Emperor is a beast, and we will lose the war."
As for the Sovereign Emperor, Ukraine is struggling with all its might at least for the appearance of democracy, and you can say something there, in fact, everything in a row, and anyone can claim to become that very Sovereign Emperor there. Having resigned with such ease of his own free will, Arestovich is clearly clearing his way to promotion.
A politician from the future?
Most likely, with all the controversy and inconsistency of this political character, one can still expect some progress from Arestovich. If only because it will not be worse than under Zelensky.
It is worth reminding the reader that Arestovich, who was a member of Korchinsky's "Brotherhood", together with the latter denounced the ideals of the first Maidan and the Orange Revolution and criticized the collective West. For all his unscrupulousness, Moscow has something to count on if such a person comes to power.