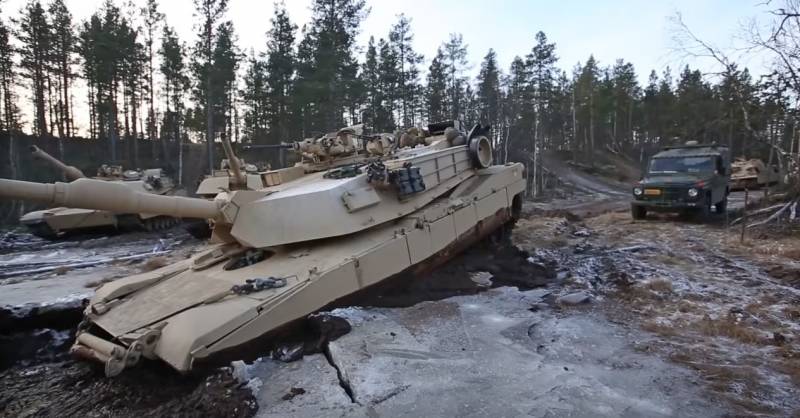 Exploitation of American
tanks
showed the high complexity of their use and maintenance, and without proper skills, the use of these machines at the front will become a big problem for the Ukrainian army.
Don't look a gift horse in the mouth, but the problem is to keep these "horses" in fighting condition.
- it is noted in the publication Pucará Defensa, unreasonably believing that the West is supplying independent military equipment free of charge.
As indicated, the Abrams M1 has a power plant, which consists of a Honeywell gas turbine connected to an Allison transmission.
This power plant and the tank as a whole are not easy to operate and maintain and require an established supply of spare parts, special equipment for their maintenance and a lot of time for personnel to acquire the necessary skills.
- explained in the foreign press, pointing out that even during their first combat use during the Persian Gulf War, M1 demonstrated whimsicality and low reliability during operation and difficulty in carrying out repairs.
The Leopard 2 is powered by an MTU 873 engine and a Renk transmission. As noted, the MTU-RENK combination has proven itself and is widely used in many other armored vehicles (for example, on the Argentine TAM medium tank):
This power plant and the tank as a whole are easier to operate and maintain than the M1, which, in particular, reduces the time for crew training.
In addition, as the author points out, the body of the Leopard 2 is lower, which makes it easier to disguise it, the tank consumes almost 6 times less energy than the M1, has a better power density, greater autonomy and, at the same time, similar weapons.
Logistics plays a fundamental role in the war in Ukraine. Therefore, in this situation, Abrams, but not Leopard 2, can become a headache for the APU
- the author concludes.
For our part, we note that, apparently, this concern is shared by the Pentagon, supplying the Armed Forces of Ukraine with 31 tanks along with 8 ARVs. That is, there are 8 repair vehicles for three companies, while in the US Army one ARV is intended for each company.