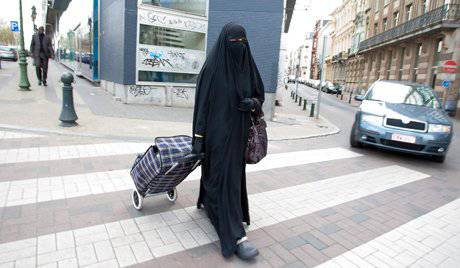 Statistical studies in Belgium predict a significant increase in the proportion of Muslims in the country's population by 2030 year. About the fact whether Belgium is threatened with Islamization and why the idea of ​​multiculturalism in Europe failed, Professor Maxim Kiselev told the Voice of Russia.
According to published data, the share of Islam in Belgium may be 2030 by the year 10 percent of the population. Local newspapers remind that the predictions made by sociologist Olivier Servé, who predicted that, over time, the parties representing the Islamic community will put their candidates to the Belgian elections come true in this way.
What future awaits Belgium, and how Europe is threatened by Islamization, Maxim Kiselev, a professor at the Russian University of Peoples' Friendship, told the Voice of Russia:
- What threatens Belgium and all of Europe with an increase in the number of Muslims? Will the region turn into Islamic over time?
- This is a very difficult question - will it turn or not. But now, judging by the latest municipal elections in Brussels, quietly turns. Now two representatives of the Islam party, who have entered the municipal administration of Brussels, quite openly say that this is apparently a matter of decades. In any case, those politicians who came from Islamists are aimed specifically at making the region Islamic. And this fact is somewhat scary.
It is evidence that the conversation that began about the collapse of multiculturalism, which in February 2011 of the year was recognized first by Angela Merkel and then by other European politicians, remains relevant. And, really, it seems to me, Europe is beginning to face a very serious problem.
- But in principle, what the worst will happen if Muslims will hold any posts in power? What does it threaten with? Probably nothing wrong with that?
- This is absolutely nothing terrible, I completely agree with you here. But the fact is that in this case even such a very openly expressed policy of Muslim leaders to transform Belgium into a Sharia state suggests that the freedom of some will triumph at the expense of the freedom of others. Imagine Belgium is a Christian country, and despite all the contradictions between Flanders and Walloon, despite all the economic discussions that take place between the two largest provinces, suddenly Belgium becomes an Islamic state. That is, will it suggest that the entire Christian population of Belgium today becomes adherents of Islam?
- And do the calls to create a Sharia state in Belgium really sound there already?
- I looked, in particular, at the statements of Reduan Arush, the new councilor of the municipality in Brussels from the Islam party, who quite openly speaks of the future Belgium, living under Sharia law. Let's imagine for a moment on the spot, say, an average Belgian. Does he have to see any colossal advantages of Islam over the religion that fathers and grandfathers professed?
- No, of course, I do not think so.
"I don't think so either." I am quite familiar with Belgium, I have been to this country many times. Belgium is a very tolerant and moderate in terms of religiosity country. And I do not think that for Belgium in general questions of faith as such are super-actual. But, nevertheless, I do not think that people would like it. Remember what happened in Switzerland when suddenly the muezzins began calling Muslims to pray at five in the morning in small Swiss towns. Would you like to be woken up at five in the morning with a voice not from your prayer or from your religion?
- And then, because there are a lot of atheists in the country, not only religious people live there.
- Of course. I'm talking about this, that in Belgium a really calm attitude to religion. There are so many people who simply stand in this case out of any kind of faith. And I do not think that they will be enthusiastic about the idea of ​​a Shariah state. Moreover, we know that this
stories
there are so many dark sides of it. So far, the requirements of Muslims are extremely, I would say, practical. These are halal dinners in schools and enterprises, the transformation of Muslim holidays on weekends, although here we also have a very serious and big question. If the number of Muslims in the country is growing and, accordingly, their presence in the productive forces of the country will be significant, if Muslim holidays become a weekend for the whole country, then this is a serious blow to the economy. Well, wearing hijabs in schools. This problem with hijabs, having manifested itself so brightly in its time in France, remains relevant.
- But if we talk about Europe, except for Belgium, do such calls still sound somewhere?
- You know, the question is quite complicated, because if we talk about Islamization, then, probably, it concerns many European countries. First of all, Germany. Although in Germany the problem is still very complicated by the fact that after the entire history of Nazism in the country, the Germans are trying to be extremely sensitive about the issues of faith and the issues of other peoples living there. But the number of people practicing Islam in Germany is very significant. And for Germany, as well as, I think, for Belgium, this, unfortunately, is a rather forced and hopeless story, simply because most of the countries of Western Europe are aging countries. They drastically reduce the number of working-age population in the labor markets.
- And nothing remains, how to attract migrants from Asia, from other countries ...
- Absolutely, there is nothing left but to attract massively workers. For Germany, this is, say, mainly Turkey. But to a large extent this is also relevant for Belgium. There are workers from Turkey and African countries professing Islam. The same problem exists in the UK. We remember when David Cameron supported Merkel and Sarkozy, who recognized the collapse of multiculturalism.