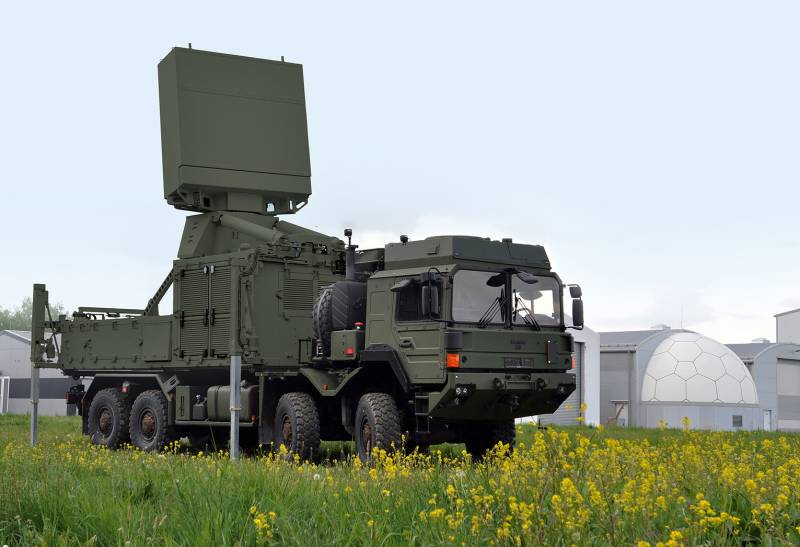 Ukraine receives from abroad radar stations of various types and for various purposes. Since last autumn, it has been supplied with TRML-4D multifunctional radars manufactured by the German company Hensoldt. Such equipment, first of all, is intended for use as part of the IRIS-T anti-aircraft missile system, but its use as a separate means of illuminating the air situation is not excluded.
Small batches
At the beginning of last autumn, it became known that Germany plans to transfer to the Kyiv regime several promising IRIS-T air defense systems developed and manufactured by Diehl Defense. Soon they announced in what configuration and with what composition of funds these complexes will be supplied.
So, as the main means of detection and target designation, the TRML-4D type radar was included in the complex. An air defense system of this composition was demonstrated earlier, and in 2021 it was ordered by the Egyptian army. The radar for the air defense system was supposed to be supplied by Hensoldt under a subcontract. The cost of such a contract was not specified - it was designated as tens of millions of dollars.
By mid-October, the first of the promised air defense systems was delivered to Ukraine. A few days later, on October 20, Hensoldt confirmed the transfer of the first TRML-4D radar of its production as part of this complex. In addition, she recalled that in the coming months, three more new radars will be shipped as part of three German air defense systems.
On January 18, Hensoldt announced the receipt of another contract, this time independent. The customer was probably the federal government of Germany. The contract provides for the manufacture and shipment to Ukraine of two more TRML-4D radars. The exact cost of the equipment was again not indicated. Delivery time - within the next three months.
Thus, to date, Hensoldt has received orders for six new-type radars and is already fulfilling them. Up to four radars intended for IRIS-T anti-aircraft systems were handed over to the customer and sent to Ukraine. Two more such products will be manufactured and shipped in the coming months. How they are planned to be used - as part of the air defense system or independently - is not reported.
Doubtful result
Imported TRML-4D radars are actively used by Ukrainian formations as part of foreign air defense systems. The results of the use of German IRIS-T, like other anti-aircraft systems, are well known. Stations are really capable of detecting various targets and issuing target designation to missiles.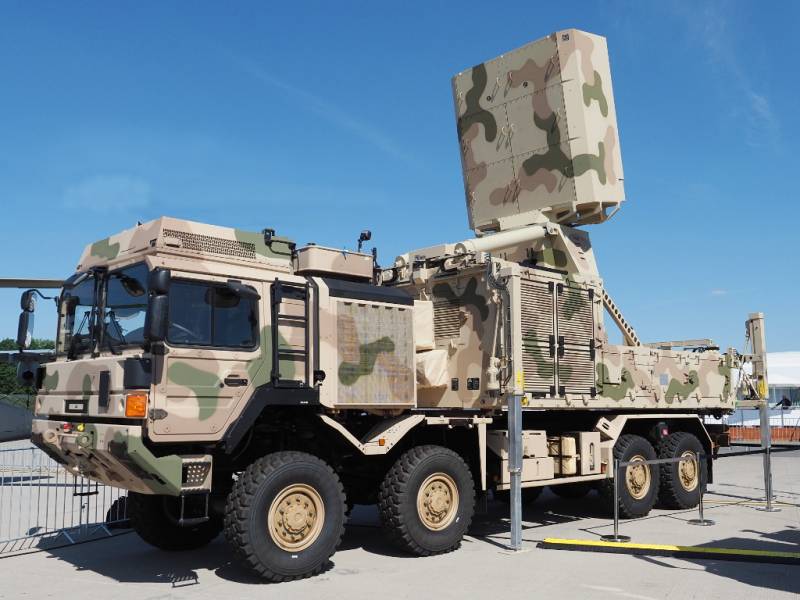 However, due to illiterate operation and improper deployment, the actual "air target" for an attack often turns out to be a residential building or an office building. The real target, in turn, continues to fly along the intended route.
However, such dubious results do not prevent the Ukrainian air defense from declaring the defeat of all targets seen and the successful reflection of strikes. Foreign suppliers, in turn, talk about the high role of their products in protecting Ukraine from Russian high-precision weapons. This is not surprising - both the manufacturer and the operator need to maintain their reputation by any means.
latest model
The TRML-4D product is one of Hensoldt's latest developments in the field of radar equipment. This project was developed during the second half of the last decade. In 2018, at one of the exhibitions, for the first time, information about it was revealed, a layout and promotional materials were shown. Then the work continued, and in 2021 for the first time presented a full-fledged prototype.
The TRML-4D radar is positioned as a mobile multi-functional air situational lighting system with high performance characteristics. The station can work independently and track air targets in a given area, or be used as part of one or another air defense system as the main means of detection.
It is curious that it was the last operating option that was most actively promoted by the development company and subcontractors. Potential customers were offered several options for the IRIS-T air defense system from Diehl Defense, incl. equipped with a new radar from Hensoldt.
An anti-aircraft complex of this composition has already gone into series and is being prepared for shipment to customers. Egypt became the first customer for IRIS-T with TRML-4D at the very end of 2021. He was supposed to receive his radar and air defense systems in the coming years. However, as it became known recently, the implementation of the Egyptian contract was shifted to the right. First of all, Hensoldt and Diehl Defense should produce equipment for Ukraine.
Technical features
TRML-4D is a mobile radar on a truck chassis, capable of independently moving between positions and being on duty for a long time. A housing with electronic equipment and an antenna device is mounted on a chassis with sufficient characteristics.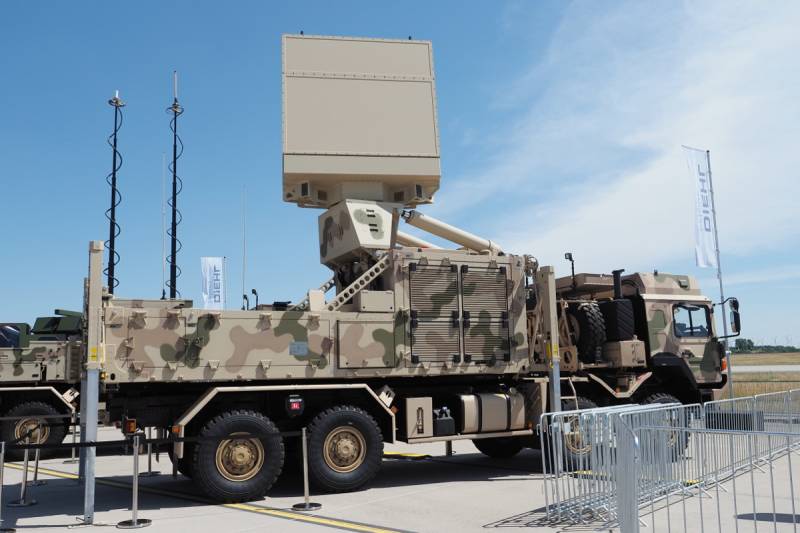 The radar is pulse-Doppler and operates in the C-band. The station is equipped with an active phased array with elements based on gallium nitride. Scanning in azimuth is carried out by rotating the antenna. Vertical scanning in the sector from -2° (from -10° due to beam redirection) to +70°.
The manufacturer reports that TRML-4D is capable of detecting air targets at ranges from 200 m to 250 km and at altitudes up to 40 km. At the same time, confident recognition and tracking of an object of the "fighter" type begins at a range of 120 km, a "cruise missile" - 60 km. Declared the possibility of simultaneous tracking of 1500 targets. It is claimed that the radar has improved detection characteristics of small and low-altitude targets, such as UAVs or high-precision
weapon
.
The station has a number of necessary functions. She is able not only to accompany the target, but also to determine its class and type. When used as part of an air defense system, a launched missile is determined, the moment of hitting an air target is determined, etc.
The radar's own equipment processes the incoming information and outputs it in the form of ready-made data - target tracks, their coordinates, intended type, etc. The station is equipped with a modern digital radio communication system of NATO standards. With its help, interface with air defense command posts, elements of anti-aircraft systems, etc. is provided.
Advertising and practice
TRML-4D is one of the latest German-designed radars and is distinguished by high performance characteristics. The possibility of effectively solving all the main tasks, both independently and as part of complexes and divisions, is declared. The station is of interest to buyers, which is already confirmed by an export order.
A few months ago, TRML-4D products got the opportunity to take part in real combat work and show their actual characteristics and capabilities. All the details of the use of such radars as part of the air defense system are still unknown, but the main trends have already emerged. In general, we are talking about the low efficiency of the use of technology - due to its own shortcomings or due to illiterate use and other factors.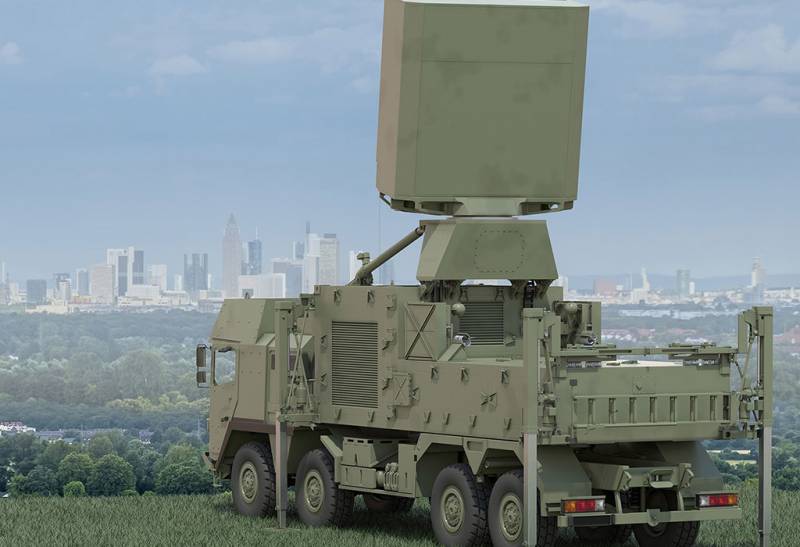 It seems that the German-made radars cope with the task of illuminating the air situation and give target designation to fire weapons. Nevertheless, the placement of stations among urban areas, the low level of preparation of calculations, etc. do not allow to realize the potential of technology. In addition, all these factors negatively affect the use of air defense systems, which include TRML-4D stations.
A separate problem is the small number of complexes and stations. All 4-6 German-made radars, despite their high performance, will be able to cover only certain areas, and more radars are needed to create a full-scale radar field. At the same time, the Russian army regularly knocks out radars and other radio equipment of Ukrainian formations and systematically destroys any air defense centers.
As far as is known, the Ukrainian IRIS-T air defense systems are still working and causing damage to surrounding objects. The defeat of such targets has not yet been reported. However
news
this kind may appear already in the near or medium term. How exactly the Russian army will decide to hit the German air defense systems and radars is not yet clear. It is armed with electronic warfare equipment to suppress enemy radars, as well as a wide range of fire weapons with different characteristics and capabilities. In the meantime, apparently, a search for suitable weapons and tactics is underway, as well as appropriate plans are being drawn up.
It should be noted that the defeat or destruction of foreign radars and anti-aircraft systems will have special consequences. So, the Kyiv regime will be left without the next elements of the already not the most numerous air defense. In turn, its foreign partners will suffer reputational damage, and the position of IRIS-T or TRML-4D products on the market will worsen.
Risk Tests
The events of recent months have shown that foreign partners view Ukraine as a training ground for solving several basic tasks, and this affects the nature of military-technical "assistance". Thus, the Kyiv regime is mainly given the old materiel, which otherwise would have had to be disposed of on its own.
Also, modern samples of various kinds are transferred in limited quantities: as it is now clear, for additional tests and for advertising. However, a few "advertising" equipment faces active opposition from the Russian army, cannot show its full potential and often dies under Russian blows. Probably, the "tests" of the new German TRML-4D radars will not be easy either. A well-known sad fate awaits them, as well as a deterioration in the image and problems on the international arms market.