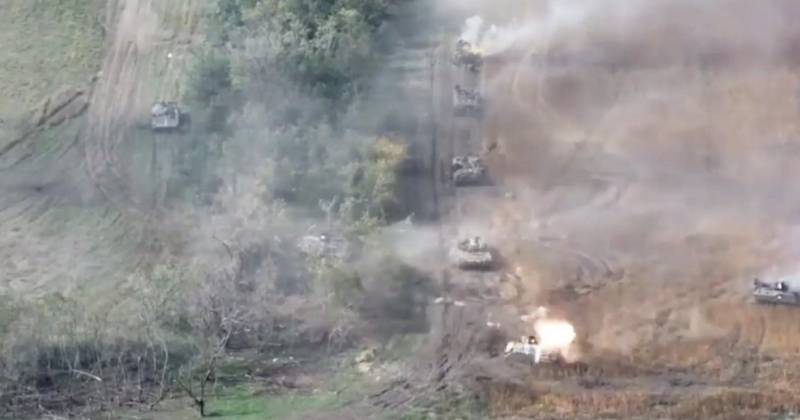 In October 2022, after the enemy switched to a massive counteroffensive, heavy battles were fought on the right bank of the Dnieper. In the area of ​​\u76b\uXNUMXbthe settlement of Kostromka, there were units of the XNUMXth Airborne Assault Division. Thanks to the fighters of this formation, an archival video of the battle of the Russian
tank
, who single-handedly opposed all the enemy forces thrown into the attack.
The enemy, trying to capture the village, used his typical tactics: equipment with motorized rifles lined up in dense battle formations (in this case, in two columns) and moved in zigzags along forest plantations, thus masking their movement. When approaching the Russian positions, the vehicles were supposed to disperse and storm.
The accumulation of the enemy, consisting of more than 20 BMP-1 and YPR-765 armored personnel carriers and 4 T-72B tanks supporting them (one with a mine trawl), was detected by a reconnaissance UAV, and artillery began to work on it. However, the main losses to the enemy were inflicted by the crew of the T-72B3, entering alone into battle with superior enemy forces.
The Russian tank, being in an ambush in front of the right column, began to work out on the enemy moving on the left. In dismay, the crew of one of the YPR-765s decided that they were firing from vehicles coming from the right and opened fire on their own. Confusion began, part of the motorized riflemen dismounted, trying to hide in the forest belt.
After realizing the threat, one of the T-72Bs entered the battle with a Russian tank, but got hit in the frontal part of the hull and began to roll back. Part of the enemy armored vehicles began to move against the T-72B3, including trying to outflank it. Under these conditions, the crew of the Russian tank decided to leave the battlefield. In total, during the battle, two mechanized companies of the Armed Forces of Ukraine lost eight pieces of equipment.