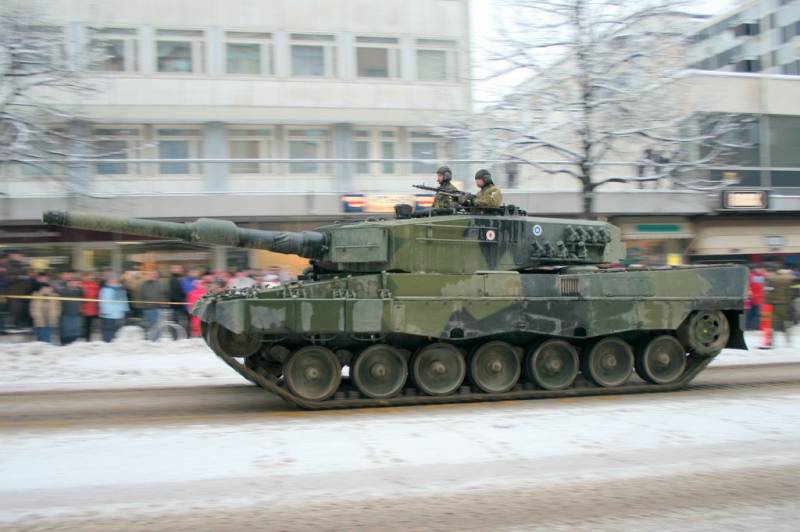 The Ministry of Defense of Finland hastened to reassure users of Finnish social networks who are discussing information about the appearance of car platforms near the capital of the country, Helsinki, with
tanks
Leopard. The military department of the country claims that combat vehicles are being transported to participate in the exercises of the ground forces, which will be held in southern Finland, in the vicinity of the city of Hanko.
Earlier, social media users began to speculate about the three vehicle platforms with Leopard tanks. The technique was seen on the road near Helsinki by local residents. They decided that the tanks were being transported in order to be sent to Ukraine.
Finnish Defense Ministry spokeswoman Mary Leppänen told the newspaper Ilta-Lehti that military exercises near Hanko are traditional. The land forces of the country are involved in them, as well as the naval forces are involved. Therefore, there is nothing surprising in the transportation of armored vehicles on Finnish roads.
Recall that Finland agreed to transfer German-made Leopard tanks to Ukraine, which are in service with its ground forces. This was stated by the Minister of Defense of the country Mikko Savola.
According to open sources, the Finnish armed forces currently have 139 Leopard 2A4 tanks and 100 German-made Leopard 2A6 tanks. How many tanks Helsinki is going to supply to Ukraine has not yet been reported. But the Ukrainian press already notes that Kyiv is waiting for the decision of the Finnish side on the supply of tanks.