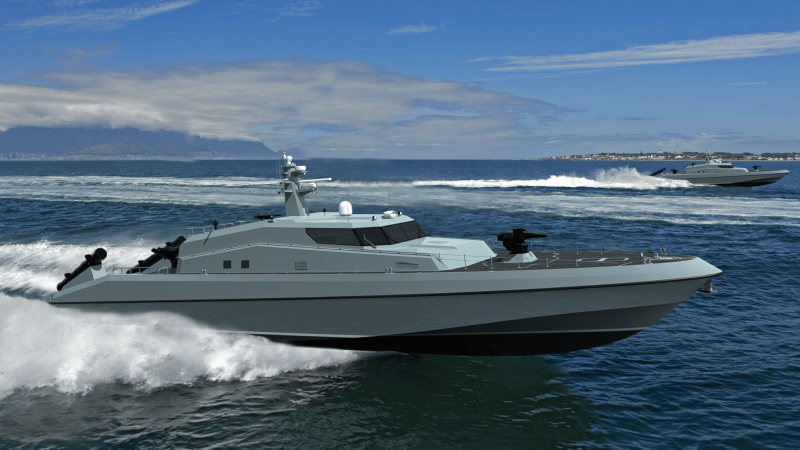 The Turkish Navy may soon be replenished with new interceptor boats capable of operating in the exclusive maritime zone of the state. Ares Shipyard, which created for the Turkish
fleet
maritime surface
Drones
ULAQ, announced the completion of work on two new projects of patrol boats.
Ares Shipyard specialists have developed two new ARES 32 series speedboats under the names Dagger and Predator ("Dagger" and "Predator"). The number "32" in the name means the length of the boat in meters. According to a press release, both boats are capable of speeds up to 45 knots, have high maneuverability and are capable of operating in seas up to 6 points. The declared cruising range is 2 miles, which allows the boats to operate not only in the exclusive maritime zone, but also beyond.
Dagger and Predator are identical boats, differing only in armament. If the first one is armed with eight short-range anti-tank missiles with combined guidance (IR and laser), then the second one has more solid weapons - two cruise missiles with a range of more than 150 km and four L-UMTAS short-range laser-guided anti-tank missiles. Also, both boats have remote-controlled stabilized combat modules with a 23-mm or 30-mm automatic cannon, as well as two 12,7-mm machine guns.
Thanks to the X- and S-band radars installed on board, the combat control system and other equipment, the boat is able to detect targets at a fairly large distance and destroy them, while the boat itself is difficult to detect, because due to its design it has elements of stealth.
The developers plan not only to supply boats of the ARES 32 series to the Turkish fleet, but also for export. Potential buyers will be the countries of Africa and the Middle East.