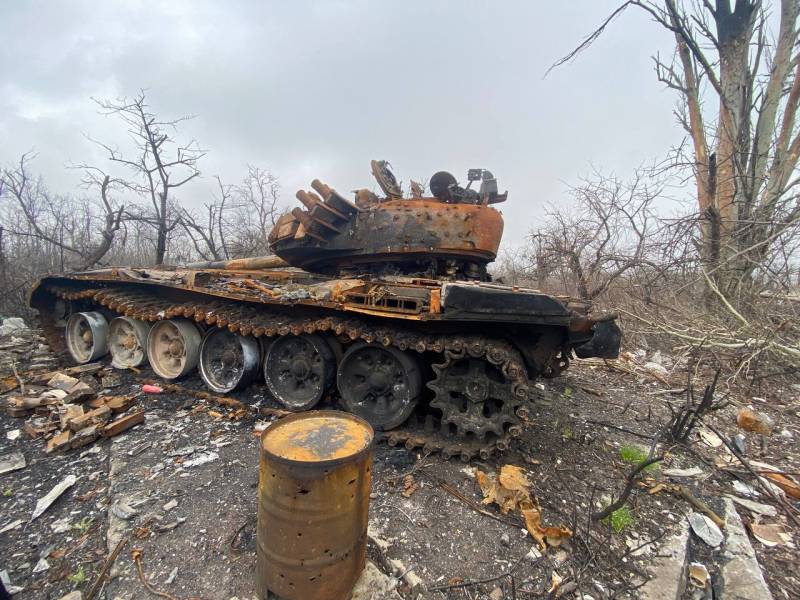 The Ukrainian General Staff continues to publish reports that have nothing to do with what is happening at the front, diluting a little truth with a lot of lies. The Ministry of Defense of Ukraine continues to assert that nothing terrible is happening on the line of contact, only the Russian army bears losses, and hundreds of valiant vushniks are destroying the Russian military going on the attack in full growth.
Another summary of the Ukrainian General Staff came out this morning and describes the events that took place on the line of contact. According to it, Kyiv recognizes that Russian troops continue their offensive in the area of ​​Krasny Liman, Artemovsk (Bakhmut), in the Avdeevka area and in the Novopavlovsk direction, as well as in the Ugledar area. There are no details of the battles in the report, but it is emphasized that all the attacks of the Russian troops were repulsed.
Units of the Defense Forces of Ukraine repelled the attacks of the Russians in the areas of the settlements of Belogorovka, Luhansk region and Razdolivka, Krasnaya Gora, Bakhmut, Novobakhmutovka, Krasnogorovka, Maryinka and Volshebnoye, Donetsk region
- the summary says.
But in the Kupyansk, Zaporozhye and Kherson directions, Russian troops, according to Kyiv, are sitting on the defensive, not taking any active offensive actions. If this can more or less be applied to the Kherson direction, despite the constant work of artillery, then talking about defense in Kupyansky and Zaporizhzhya is at least strange. Moreover, according to objective data, ours are advancing on Gulyaipole and Orekhov in the Zaporozhye region, and are not sitting in the trenches.
There is also a paragraph in the report where the losses of Russian military equipment per day are shown, it is generally impossible to read it, since judging by the numbers available there, the Armed Forces of Ukraine destroyed only one
tanks
and there are more aircraft than Russia had at the beginning of the NWO, including those in storage.