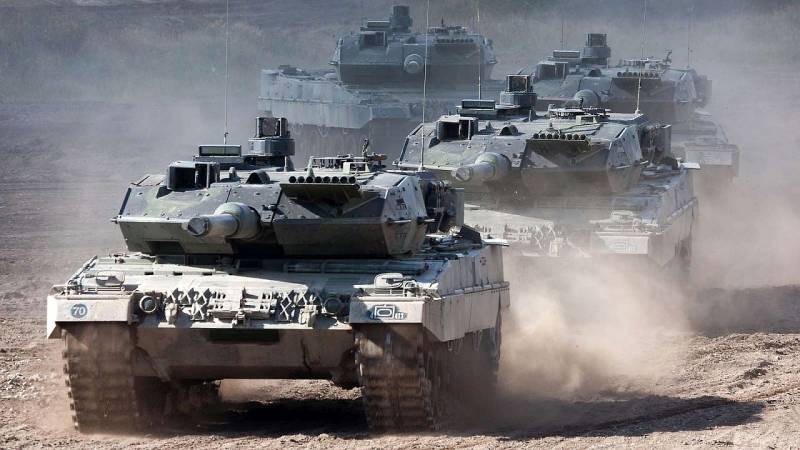 The authors of an article in The Washington Post tried to figure out why Kyiv so insistently does not even ask, but demands from Germany to allow other countries and themselves supply German
Tanks
Leopard 2. After all, the UK has already promised 14 of its Challenger 2 tanks, French President Emmanuel Macron is ready to send AMX-10 RC light wheeled tanks and even Leclerc main combat vehicles to Ukraine.
But Zelenskiy doesn't even seem as upset by President Biden's refusal to supply Kyiv with American Abrams tanks as by Chancellor Scholz's stubbornness in providing the Leopards. According to the authors of the article, such a desire of Kyiv to get German combat vehicles is fully justified. This is primarily due to the fact that German-made tanks are much easier to maintain than similar vehicles from other Western countries.
The Leopard 2, developed by the West German company Krauss-Maffei Wegmann, was first introduced in 1979 and has since been upgraded several times, gaining a reputation as one of the best main battle tanks in the world.
Even older versions of the tank are equipped with modern optics, including thermal imaging, as well as a laser rangefinder for target tracking. Despite the solid weight of 55 tons (in some modifications more than 66 tons), the Leopard is capable of speeds up to 70 km/h.
The tank is equipped with a diesel engine, which provides an increased range - on the Leopard highway without refueling, it can travel, depending on the model, from 220 to 550 kilometers. The 120-mm gun allows the use of standard NATO ammunition, which will give Ukraine access to a larger pool of suppliers, unlike Soviet tanks, which require 125-mm shells. In addition, separate storage of ammunition avoids destructive explosions during detonation, unlike the Russian T-72, where ammunition is stored under the crew.
Experts estimate that there are more than 2000 Leopard 2 tanks in European armies. It is believed that more than half of them are old variants of the 2A4 and 2A5, including more than 200 of these vehicles are stored in Germany itself. Many of the vehicles already exported from Germany have been sent to European countries or NATO member states such as Canada and Turkey. Other countries that have bought Leopard 2 tanks are Singapore, Chile and Qatar. It is a large number of vehicles in the immediate vicinity of the combat zone that makes German Leopards so attractive for Kyiv to replenish the arsenals of the Armed Forces of Ukraine.
The American M1 Abrams main fighting vehicles are similar in class to the Leopard 2, but outperform German tanks in depleted uranium armor protection. At the same time, the Abrams are heavier than the Leopards (up to 75 tons in the latest modifications) and use jet fuel, which is much more difficult to obtain than diesel. And American equipment is more difficult to maintain, which is what the White House is focusing on, refusing to send tanks to Kyiv.
The German Ministry of Defense has had a list of Leopard tank models that can be delivered to Ukraine since the summer, writes Der Spiegel. According to the list, there are 312 Leopard tanks of 2 different series in the Bundeswehr, of which 99 were sent for maintenance work in May last year, one was decommissioned. Thus, the German armed forces have 212 tanks at their disposal. Journalists report that, according to their information, if Berlin decides to send military vehicles to Kyiv, then we will talk about 19 Leopard 2A5 tanks, which were used only for exercises.