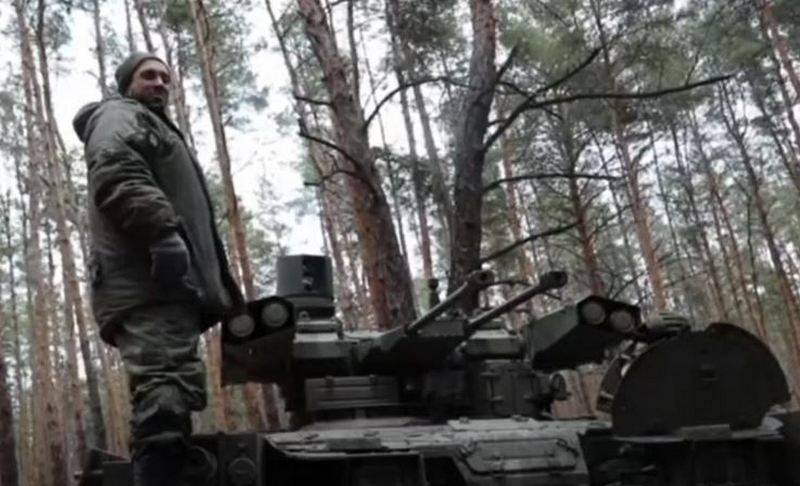 The Russian army is actively using combat support vehicles in combat operations within the framework of the NMD
tanks
"Terminator", but they rarely get on footage, especially in combat conditions. The Ministry of Defense decided to correct this omission and posted a video with a BMPT in battle on its TG channel.
The Russian military showed the work of the Russian tank and BMPT "Terminator" to destroy the group of the Armed Forces of Ukraine in one of the directions of the NMD. Where the video was filmed and when is not reported, but judging by the forests, it happens closer to the Kharkiv region, and since tank support combat vehicles are in service with the Central Military District units, this is one of the areas where the "O" - "Brave" group operates. Moreover, a couple of weeks ago there was information about the participation of "Terminators" in the battles near Svatovo.
Now to directly to the battle, which was filmed from a drone. According to the description of the video, intelligence of the Russian Armed Forces uncovered the advance of a group of the Armed Forces of Ukraine with the support of an infantry fighting vehicle and a tank in a forest. A Russian tank moved forward to intercept the group along with a BMPT. Upon arrival, the crew of the Terminator started a fight with the Ukrainian group, and the tank went around it and opened fire from the flank. As a result of well-coordinated work, the BMP and the tank of the Armed Forces of Ukraine were destroyed, the personnel of the Armed Forces of Ukraine partly moved into the category of "XNUMXth", and partly escaped.
The video footage clearly shows how the BMPT works with two 30-mm cannons, literally mowing everything in front of it. Trees fall under shells of this caliber, and God only knows what the Ukrainian infantry felt there.
BMPTs appeared in the NVO zone last spring, but the Ministry of Defense officially announced this in July. The Terminator is armed with two 2A42 automatic cannons of 30 mm caliber, a 7,62 mm PKT machine gun, four launch canisters for guided missiles of the 9M120 family (Ataka complex), and two grenade launchers.