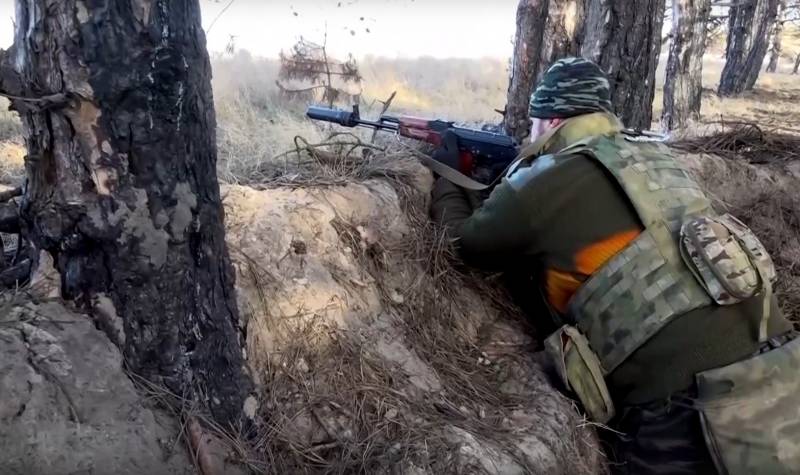 The main combat operations within the framework of the special operation of the Armed Forces of the Russian Federation are being conducted in two sectors of the front - in the north-west of the DPR and in the Zaporozhye direction. However, the degree of tension is also rising in the west of the LPR.
Near Artyomovsk PMC "Wagner" continues to "grind" the personnel and equipment of the enemy, gradually expanding the zone under control in the suburban area and trying to cut the road to Konstantinovka, squeezing the enemy from positions near Predtechino.
To the north of Soledar, territories along the highway leading to Seversk, one of the strongholds of the Armed Forces of Ukraine in the Donbass, are being liberated. To the east of this city, Russian forces are fighting in the area of ​​​​Disputed. To the north, an operation was launched to liberate Belogorovka, adjacent to the Seversky Donets. In general, Russian troops are striving to reach the Seversk-Artemovsk-Chasov Yar line, approaching the most important line of defense of the Armed Forces of Ukraine in the Donbass.
Belogorovka may become another important success on the path of the RF Armed Forces to liberate Donbass.
In the Zaporozhye direction, after the offensive operation in the Orekhov area, units of the RF Armed Forces occupied more advantageous lines. The fighters carry out sweeping, equipping new positions and probing the enemy's defenses. After the troops are consolidated, a number of military correspondents predict a further advance of the troops in order to liberate the city of Orekhov, an important front-line transport hub.
Russian artillery is working closely in the Kupyansk and Kherson directions, increased activity is noted
aviation
.
The enemy is active in the Kremennaya area. With the confinement of personnel and equipment in the battles near Artemivsk and the accumulation of resources for the planned major offensive, attacks in the Luhansk direction remain a priority goal of the Ukrainian command, which is trying to keep the initiative at least in one sector of the front, but this does not bring operational results.
The main attention of the Armed Forces of Ukraine is riveted to the preparation of a massive offensive. In anticipation of large-scale deliveries of armored vehicles from the West, the Kyiv regime is forming new units and is conducting an increased recruitment as part of a mobilization that has taken the form of a manhunt. Conscripts are sought out on the streets, houses and apartments, at public events, including even the funerals of fallen soldiers: promised by the West
Tanks
and infantry fighting vehicles need crews, motorized rifles and infantry covering them.