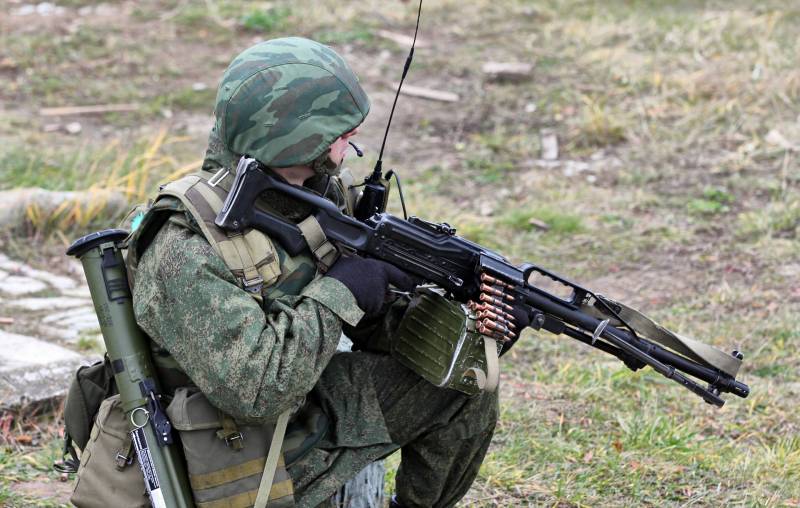 Photo by: Vitaly V. Kuzmin
In conversations with our infantrymen participating in the SVO, the topic of machine guns arose several times. Mainly because the machine gunners raised it.
It is probably worth starting with the presentation of the image of a modern machine gunner, since such an image exists, and it is very remarkable.
The machine gunner and his second number can be immediately distinguished from ordinary fighters. These are such hefty boars, with increased carrying capacity so that you can carry everything you need.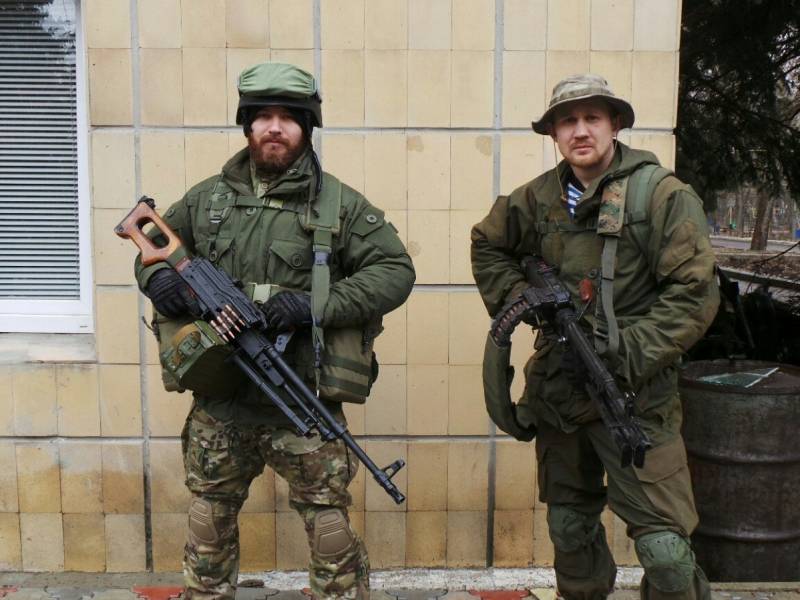 What is necessary is the PKM machine gun itself, from 1000 to 1500 rounds for it, two machine guns with 8 magazines each (there is no
weapons
at least enough, as they explained to me), grenades and plus it would be very nice to have something from the category of RPG-26 - RPG-30. Just in case, because it can be just anyone.
We are not talking about small things anymore, it is clear that in order to effectively move all of the above, comrade machine gunners simply must have the appropriate dimensions and physical strength.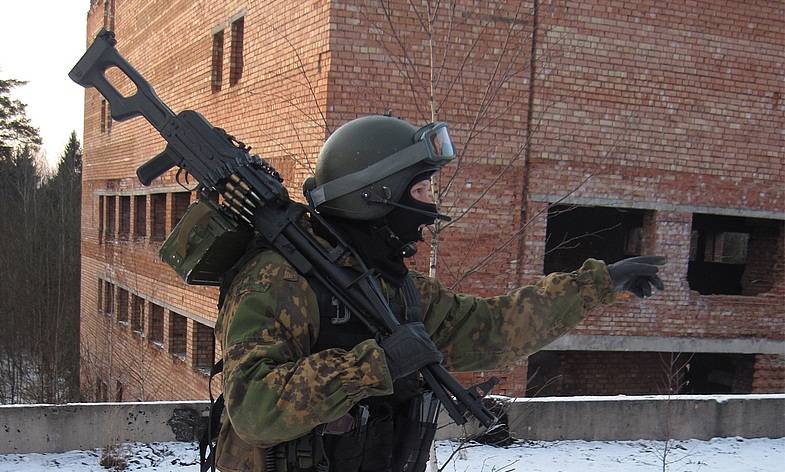 Of course, now there may be readers who personally knew "from such a" machine gunner, 170 cm tall and weighing a kitten. But our people have always been strong in terms of fairy tales and legends, Russian fairy tales are the most fabulous.
Therefore, it is not surprising that my interlocutors had a height of 190 cm and weight per centner. Otherwise, nothing, here is pure physics. Physics, although physical education is also very relevant.
What we were talking about. The fact that PKM is quite a good weapon. Well tailored, tightly sewn, no problems with ammunition, everything was done long before the advent of PKM, moreover, for 10 years of continuous war. The cartridge is powerful, it flies accurately, it's not for nothing that they say about this machine gun "quick-firing sniper", the barrel length will even be longer than that of the SVD. And penetration is quite, but this is generally known to everyone.
All the pros and cons of the PKM and the Pecheneg were sorted out a long time ago, only one thing was added new: the inability to practically shoot at long distances. More precisely, you can shoot, it's a matter of accuracy, because to ensure it, sighting devices of a different level are required than a rear sight with a front sight and a bar. Well, since we have no problems with anything in the army, as the generals from the General Staff say, except for unshaven beards, then getting at least the "Angle" is another quest.
In general, comrade machine gunners say out loud that if everything is arranged in such a way that each PKM will come with a satchel with a sleeve for supplying cartridges, a collimator sight, an optical one and a night one - nothing more is actually needed. With such a machine gun (if there are 1000 rounds of ammunition in the knapsack and another 750 on the second number loaded), you can reach not only Kyiv, but also Berlin.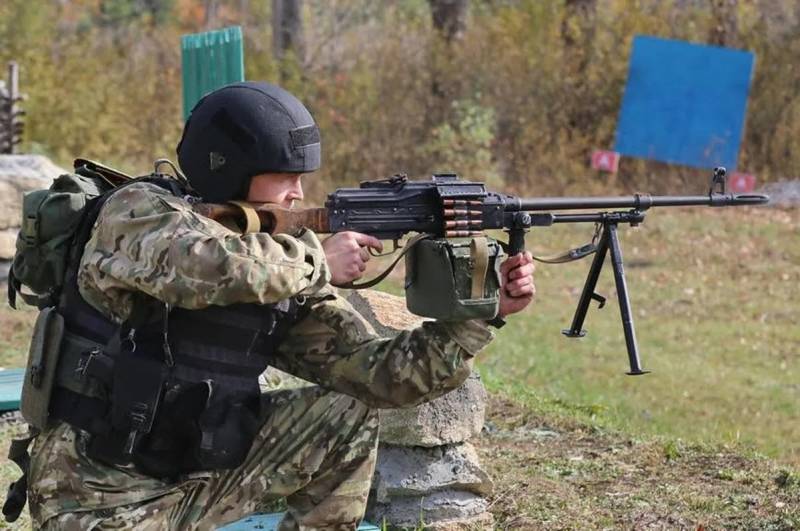 But this is on condition that all this splendor will be made and issued to machine gunners. So far, you understand, everything is at the level of the Great Patriotic War in this regard.
But in conversations such an interesting question was raised as the taking back of the abandoned cities.
Everyone is well aware that the cities will have to be taken. And not in a swoop, as in February-March, but in the course of stubborn and bloody battles. Like Soledar, only even cooler, because the Ukrainians have time to prepare.
And considerations were expressed on the topic that a slightly different machine gun is really needed for urban battles. In urban areas, firing distances are much lower than outside settlements, and therefore:
- the caliber may be less than 7,62 mm, 5,45 mm will do just fine. But the stock of cartridges can be taken more. Actually, for this they came up with a caliber of 5,45 mm;
- the barrel can and should be made shorter, the firing range in the city of 1-1,5 km is not needed;
- adjustable butt;
- tactical handle;
- collimator sight.
If you look at the world analogues, then we got the FN Minimi Para or M249 SAW in the American transcription.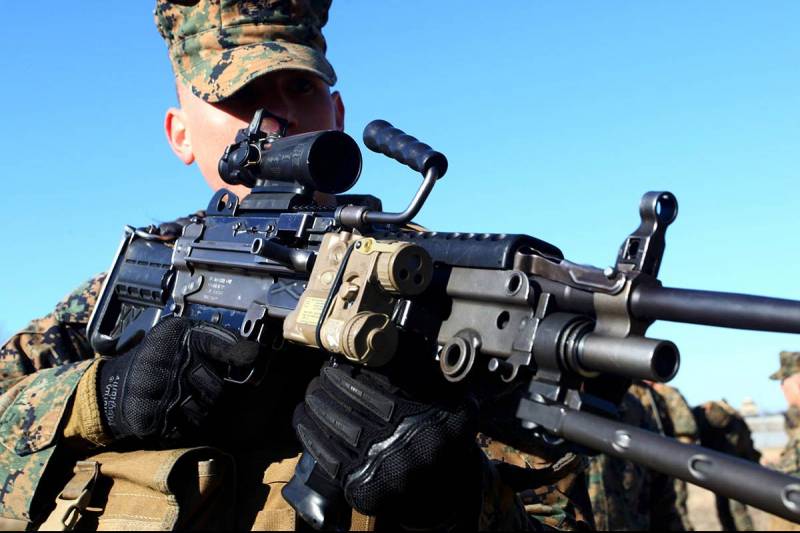 FN Minimi Para is just what we were talking about. Compared to the base model FN Minimi, it is lighter (6,56 kg vs. 8,17 kg with a non-folding stock), shorter (766 mm vs. 1015 mm), the barrel is shorter (349 mm vs. 465 mm) and therefore slightly lower muzzle velocity (866 m/s versus 950 m/s).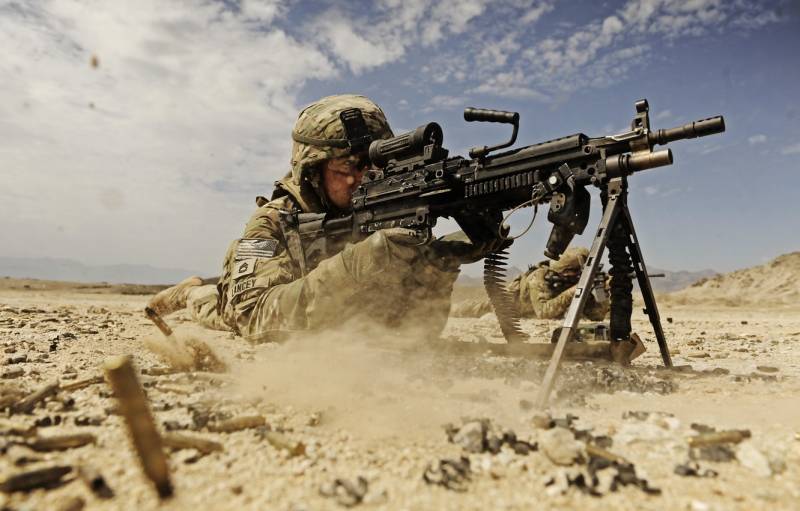 If we compare the Belgian machine gun with the Russian Pecheneg, then the numbers are about the same: FN Minimi Para is lighter (6,56 kg versus 8,2 kg), shorter (766 mm versus 1155 mm), the barrel is shorter (349 mm versus 658 mm) . But the Belgian's muzzle velocity is higher: 866 m/s versus 825 m/s. But this is already being played by more modern Belgian gunpowder, as it seems to me.
All in all, the more compact and lighter FN Minimi Para is the ideal weapon for working in urban areas. A weapon to suppress all living things: shooters, less cool machine gunners, grenade launchers, mortar gunners, snipers. The main thing is really that the lead shower does not stop in the direction from which the threat was coming, the rest will be completed by attack aircraft, which, under the cover of a machine gun, will get closer to the enemy and neutralize him.
Here we do not have such a machine gun.
We don't even consider the RPK-16, because although it is better in terms of performance characteristics (as they say) than the RPK-74, because it is made on the basis of the AK-12 (which also claims a wagon), but in fact it is an assault rifle with an elongated barrel and the same combat characteristics.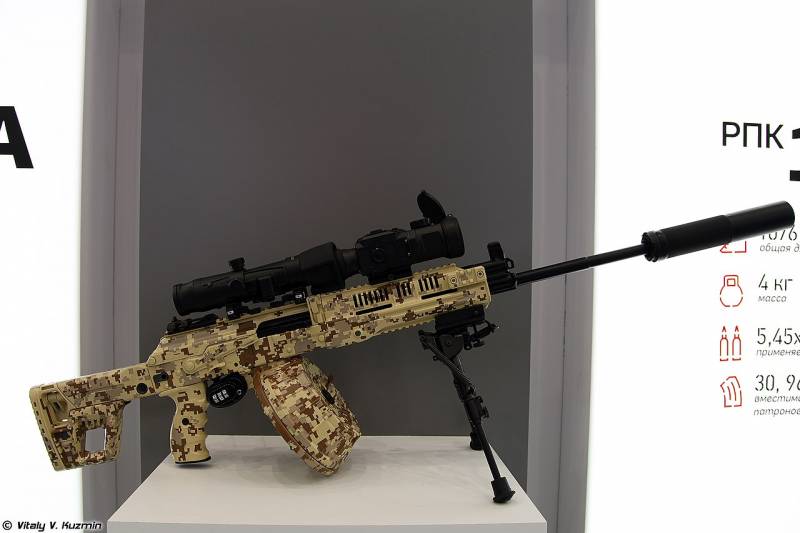 Yes, it is considerably lighter than the FN Minimi Para, 4,5 kg versus 6,56 kg, but otherwise the RPK-16 is inferior. Even the Kalashnikov concern does not have data on the initial speed of the bullet, but the rate of fire of the RPK-16 at 700 rounds per minute is lower than that of the Belgian machine gun, which produces up to 900 rounds per minute.
The option to change the barrel (this RPK-16 differs from the RPK-74) is useful, just here you can change the "field" barrel 580 mm long to a shorter "assault" barrel 415 mm long, but the manufacturer does not recommend doing this in the field .
Well, the main drawback of the RPK-16, of course, is the lack of tape power. All machine gunners talk about it. Store for 30 or 45 rounds - it's not serious, yes, "military experts" murmur that it is possible to hit targets with sniper shots at a distance of up to 600 meters. Well, yes, with a whole and a front sight, sniping accurately. From an under-machine gun, which is the LMG class, or if in Russian, then light machine guns.
For our opponents from NATO, any machine gun must "eat" the tape.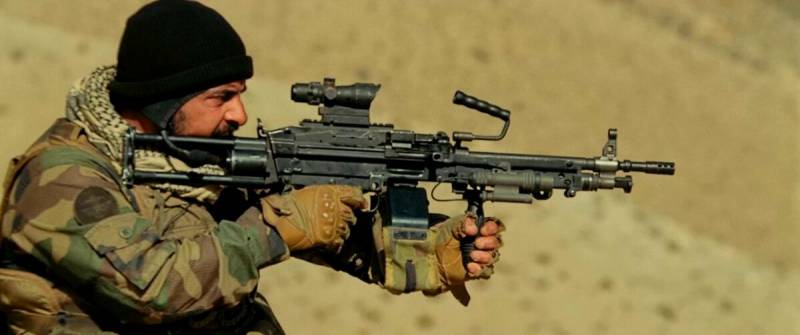 A magazine from a rifle can be inserted when there is simply no way to reload the "korobas" or the cartridges are simply over. A temporary measure, but, in fact, the machine gun should be fed from a box of 200 or 250 rounds. This gives the density of the fire. And magazines from rifles are really a temporary measure.
For RPK-16 there is something in between a box and a magazine. This is a "tambourine" for 95 rounds. But we will not discuss it, since none of the four participants in the conversation saw him in the eye.
In general, the appearance of an assault machine gun for urban development has been formed. And the army needs such a machine gun, since military operations are conducted not where it is convenient, but where it is necessary.
Many may object: would it not be very bold to have a separate machine gun for combat in the city, a separate one for the field? Where to attack? And what will it look like?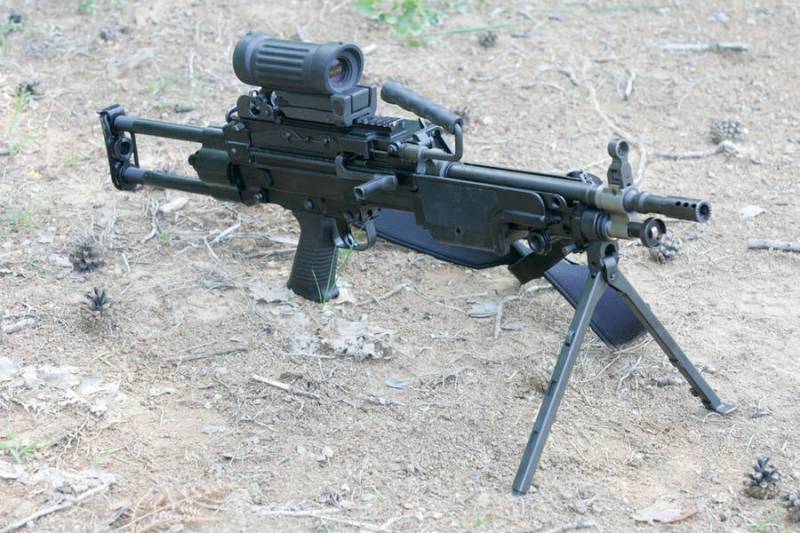 It will look normal. We change clothes for the army twice a year, and nothing. And then from the warehouses to issue THAT machine guns instead of THESE - and suddenly there is a problem. And where to attack ... To manufacture in factories! Moreover, not so many of these machine guns are needed. Yes, the National Guard will definitely not refuse. Marines. Airborne Forces (in general, the easier it is, the better). In general, we are not talking about hundreds of thousands, but actually about thousands. Well, maybe tens of thousands. Small numbers for a concern like Kalashnikov. Moreover, there are some developments on a shortened machine gun in the stash.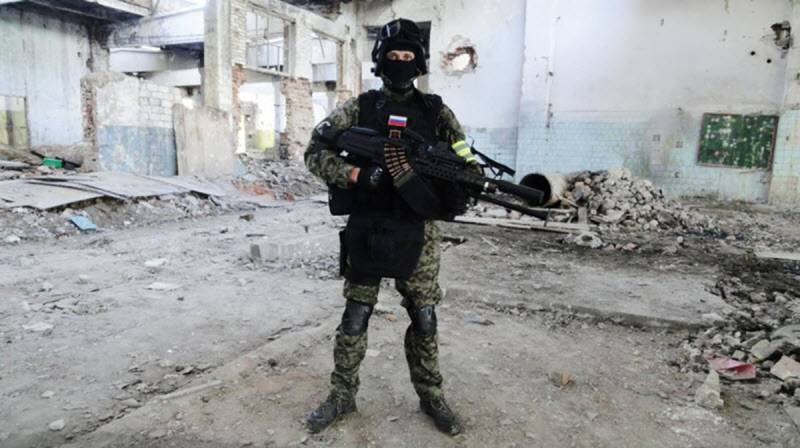 This machine gun has already been shown even to Putin, but you yourself know that he is shown a lot of things in the framework of all these exhibitions, but there is no sense in this. However, work on the bullpup machine gun was carried out, and it is in metal in Izhevsk.
Okay, okay, bullpup was not mastered, it happens. What is worth taking and supplying the Pecheneg with a shortened barrel (450-500 mm), the telescopic butt and quick-release bipods in the Pecheneg-SP model already exist. Equip the machine gun with sights more complex than a mechanical sight - and, in fact, everything is ready!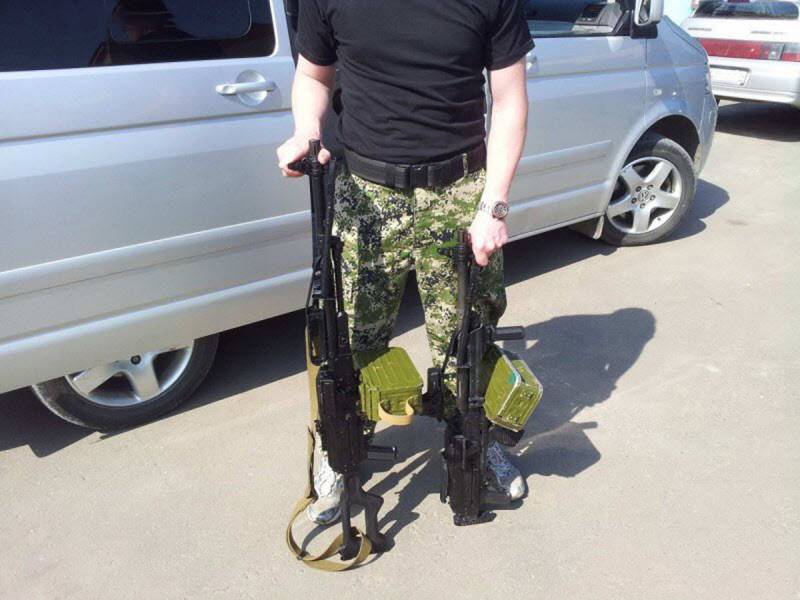 Of course, this would also have a smaller caliber, to increase the wearable ammunition ...
Although the fighter of the assault detachment Pavel believes that if he had been given just a PKM with a collimator sight and a "night light", and a satchel for 1000 rounds and a supply sleeve of decent quality, he would have done things in any locality. And it doesn't matter how the enemy would gain a foothold there, "that would already be their problem."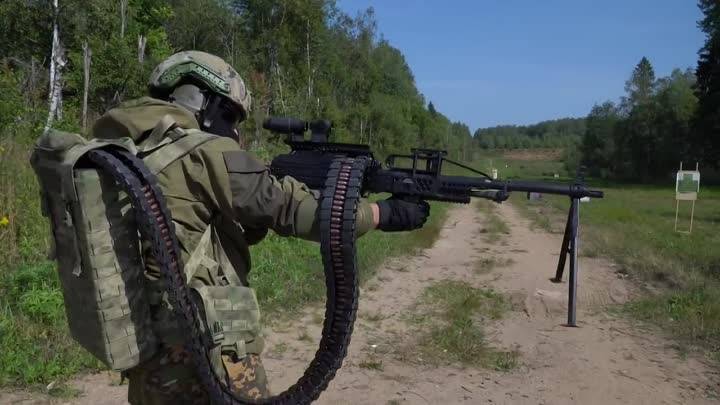 A convenient and effective machine gun in a city, especially in a city turned into a fortress, is a very necessary thing. And the Russian infantry needs such a machine gun. Although, it seems to us, others would not have refused such weapons for sure.