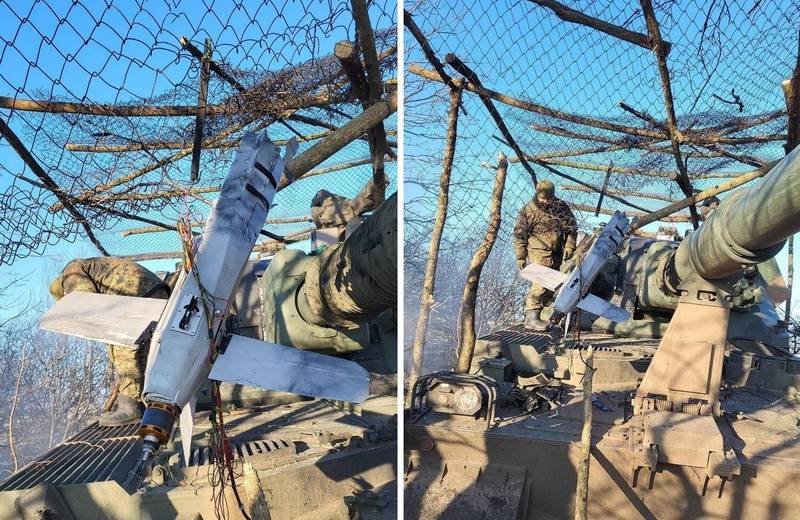 Loitering ammunition "Lancet", used by the Russian military to destroy the artillery of the Armed Forces of Ukraine, has recently begun to cause many problems to the enemy. The use of electronic warfare systems, anti-aircraft systems and small arms against them
weapons
they did not bring success and another means was invented - the so-called "anti-drone nets", which are stretched over equipment or weapons. The first reports of such UAV countermeasures appeared in December last year.
On Russian Internet resources, photos of the Ukrainian Crab self-propelled howitzer appeared, over which the crew pulled a metal mesh in order to counter Russian UAVs. Reportedly, the grid saved the self-propelled guns from the loitering ammunition "Lancet-3". The photo shows a drone stuck in the net and not reaching the artillery mount itself. Where these pictures were taken and when, there is no information.
Earlier, Ukrainian resources repeatedly reported that "Russian
Drones
". Pictures were also posted with these same nets stretched over weapons. As emphasized, the photos were taken at the positions of the Armed Forces of Ukraine, the time and place are not indicated. In particular, it was shown how Ukrainian artillerymen tried to cover the American M777 howitzer with the help of such a net.
The effectiveness of such protection is unknown, since most nets are not metal, but ordinary camouflage. In the case of the Polish self-propelled guns, a metal mesh was used, it was she who stopped the Russian Lancet. Earlier, Ukrainian resources distributed footage of two Russian drums
drones
"Lancet-3M", allegedly stuck in a camouflage net stretched over
a tank
T-72M APU. It is possible that it was these pictures that prompted the Ukrainians to use the mesh as a protective tool.
These kinds of shots could be just another Ukrainian production with fragments of a Russian drone hung in advance under the net.