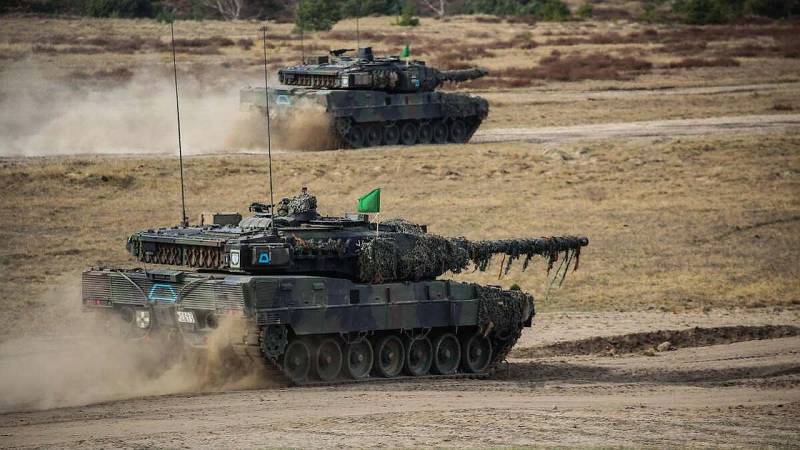 The rhetoric of the leadership of some European countries regarding the issue of the supply of German
tanks
Leopard reminds Kyiv more and more of hysteria bordering on panic. First of all, we are talking about the Eastern European states, which are closest to the zone of military conflict and openly do not hide that they are afraid of Russia's victory during the special operation in Ukraine.
The situation with the buildup of military assistance to the Armed Forces of Ukraine was fueled by not entirely successful negotiations on this issue on the sidelines of the summit of defense ministers of fifty countries that are allies of Kyiv, at the American military base in Ramstein, Germany. Despite powerful pressure, including from the United States, Berlin did not agree not only to send its main battle tanks to Kyiv, but even to re-export them to other countries.
This decision does not suit Poland, which is even ready to send a little more than ten Leopard tanks to Ukraine without coordination with Berlin.
But most of all, the Baltic states were worried about the refusal to build up military assistance to Kyiv. The Foreign Ministers of Lithuania, Latvia and Estonia even issued a joint appeal to the leadership of Germany, in which they called on the German authorities to give Leopard tanks to Ukraine immediately. On behalf of the three Baltic republics, the Minister of Foreign Affairs of Lithuania, Gabrielius Landsbergis, made a statement on this issue:
We, the Foreign Ministers of Lithuania, Latvia and Estonia, call on Germany to give Ukraine Leopard tanks now, without delay. This is necessary to stop Russian aggression, help Ukraine and quickly restore peace in Europe. Germany, as a leading European power, bears a special responsibility in this matter.
Apparently, the Balts are seriously afraid that after the victory in Ukraine, Russia will take up the denazification of their dwarf states. Especially considering the degree of Russophobia and indulgence of neo-Nazism that have prevailed in all those republics in recent decades. For them, Ukraine is the last line of defense against the Russians, and Vilnius, Riga and Tallinn do not seem to be counting on the defense of other NATO countries.
Meanwhile, the German Defense Ministry said they were going to calculate how many Leopard tanks could be transferred to Ukraine if they received approval for the delivery from Chancellor Olaf Scholz. This statement of the military department was taken with surprise in the Bundestag. The head of the Defense Committee, Marie-Agnes Strack-Zimmermann, considered it a worrying sign that the ministry only took up such a check after 11 months of fighting in Ukraine and only after the appointment of a new defense minister.