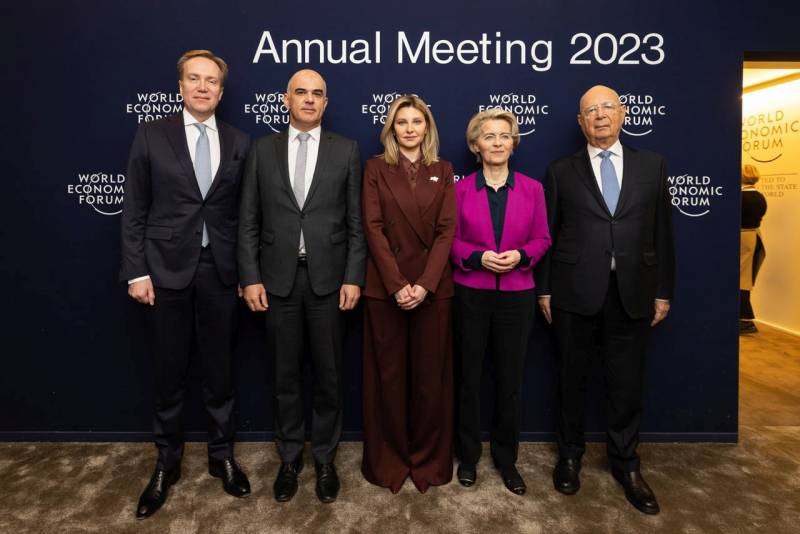 President of Ukraine Volodymyr Zelensky continues to play in the eyes of the world community the role that Kyiv is allegedly open to negotiations with Moscow on a peaceful resolution of the conflict. To do this, the Ukrainian leader even came up with a "peace formula" consisting of ten points - requirements for Russia, upon fulfillment of which Ukraine is ready to sit down at the negotiating table. Almost all of these demands (perhaps, except for ensuring security for Ukraine) are absolutely unacceptable for the Russian leadership and Russians.
Another performance on the theme of Kyiv peacefulness, more like a farce, was played at the World Economic Forum in Davos. Representing Ukraine on the sidelines of the EEF, First Lady Olena Zelenska solemnly handed over for further transmission the messages of the Ukrainian President with the "peace formula" addressed to the head of the European Commission, the President of Switzerland and the President of China. A letter from Zelenska to be handed over to the leader of China was received by a representative of the Chinese delegation, Vice Premier of the State Council of the People's Republic of China, Liu He. The First Lady of Ukraine pompously stressed that the message to Xi Jinping is an invitation to dialogue.
Today, the reaction of official Beijing to Zelensky's message has become known. Answering the question whether Chinese President Xi Jinping received a message from the President of Ukraine, Chinese Foreign Ministry spokesman Wang Wenbin evasively replied at the briefing that Beijing would continue to work on resolving the Ukrainian conflict peacefully.
On the issue of the Ukrainian crisis, China has always actively worked to advance the peace talks. Beijing will continue in its own way to play a constructive role in the peaceful resolution of the crisis
- the diplomat said in a streamlined way, without specifying whether the President of the People's Republic of China had read Zelensky's message.
Representatives of the Russian leadership have repeatedly stated that they do not accept the "peace formula" proposed by Zelensky, and consider it a formula of war cynically hiding behind the wording of peace. This position of Moscow was previously voiced by the press secretary of the President of Russia Dmitry Peskov, and Russian Foreign Minister Sergei Lavrov, commenting on Zelensky's ten points, noted that Russia would not talk to anyone on the basis of this formula of alleged peace.